Mayim Bialik Reveals Her Oh-So-Nerdy 1995 Email Address To Stephen Colbert
The Big Bang Theory star also admits which job perk made her return to acting—and it's the last thing you'd expect.

Following the Season 10 finale of The Big Bang Theory that left fans gushing over Amy (Mayim Bialik) and Sheldon's (Jim Parsons) engagement, Mayim Bialik stopped by The Late Show, where she and Stephen made a few personal revelations.

WATCH: Sheldon Makes A Life-Changing Move On The Big Bang Theory Season Finale (SPOILERS)

In addition to making Colbert blush about coitus, Mayim talked about getting her PhD in neuroscience and shared the first email address she used back in college—which would make her character on The Big Bang Theory proud. Given her own background and Stephen's affinities for astronomy and all things Tolkien, she also helped him understand the difference between "nerds" and "geeks."

Watch the full interview above to find out what Bialik chose as her email address in college.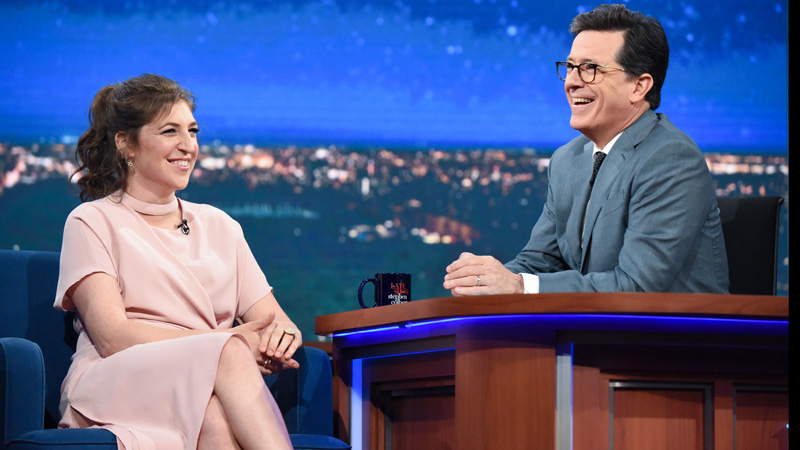 The Big Bang Theory star also shared details about her new book, Girling Up: How to Be Strong, Smart And Spectacular. Bialik uses her scientific background and lessons on what it means to be a woman in order to help young girls who may feel like they don't fit in—as she experienced growing up, herself.


Tune in to @colbertlateshow for my 1st appearance as top guest on a late night show ever! An honor to have this happen w/ a man I so admire! pic.twitter.com/QoVHwQbmC7

— Mayim Bialik (@missmayim) May 12, 2017
WATCH: The Big Bang Theory Stars Breakdown The Massive Finale Moment (SPOILERS)
Watch all-new episodes of
The Late Show with Stephen Colbert
weeknights at 11:35/10:35c on CBS and
CBS All Access
.
Plus, catch up on episodes of
The Big Bang Theory
on
CBS All Access
.