Brad Pitt, Ricky Gervais, Jennifer Garner, And Metallica Coming To The Late Show
Plus, Stephen welcomes Danny McBride, Jane Krakowski, Julie Chen, Gina Rodriguez and more!

Last week was a big one at The Late Show, as Stephen hosted a reunion with Jon Stewart and an army of former Daily Show correspondents. There's an extended, uncensored version of the group's panel conversation exclusively for CBS All Access subscribers.

Of course, last week was also memorable because President Trump fired James Comey as director of the FBI, and we got access to several rough drafts of that letter: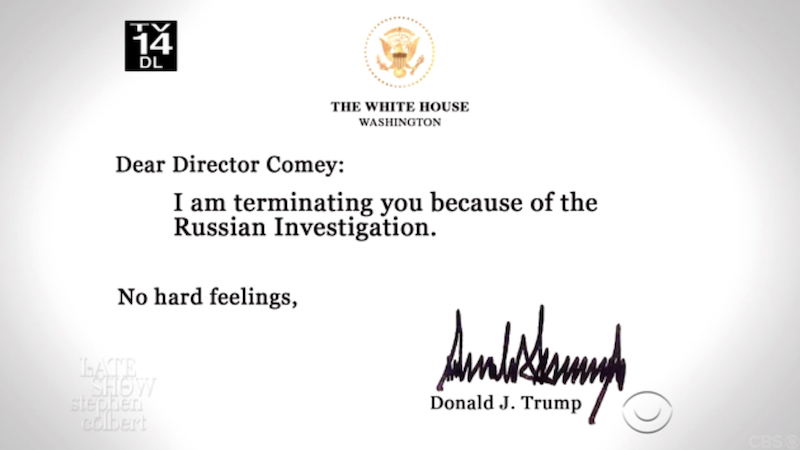 Now there's an important position to fill in Washington, but don't worry. This week, Stephen will be interviewing all of the following candidates for the job.

Monday, May 15: actor Danny McBride; actress Jane Krakowski; musical performance by Metallica

Tuesday, May 16: actor Brad Pitt; actress Gina Rodriguez; actor and director Ben Falcone; musical performance by Jesus and Mary Chain

Wednesday, May 17: Julie Chen, host of the CBS daytime talk show The Talk; actor Matt Walsh; baseball legend David Ortiz

Thursday, May 18: comedian Ricky Gervais; actor Corey Hawkins; musical performance by The xx

Friday, May 19: actress Jennifer Garner; comedian Demetri Martin; comedian Paula Poundstone

Watch all-new episodes of The Late Show with Stephen Colbert weeknights at 11:35/10:35c on CBS and CBS All Access.