Former Secretary of State Hillary Clinton made her first late-night television appearance since the presidential election, joining Stephen Colbert on The Late Show for a wide-ranging interview that covered what happened in 2016 and what's happening today in the Trump administration.

What Happened also happens to be the title of her new book. She called the process of reliving the election "painful and horrible," but explained in the interview why she felt it was important for her to address the events of the past couple years.

After assuring her supporters that "I am not going anywhere," Hillary's first segment on Tuesday night tackled Russia and her take on their efforts to influence the election—plus the ongoing risks in 2018 and 2020. She addressed Putin's role directly, saying that "he really doesn't like democracy." She also described her personal interactions with him as only a former Secretary of State could do, from Putin's his tendency to manspread to an unexpected "invitation."

WATCH: Hillary Rodham Clinton Experienced Putin's Sexism Firsthand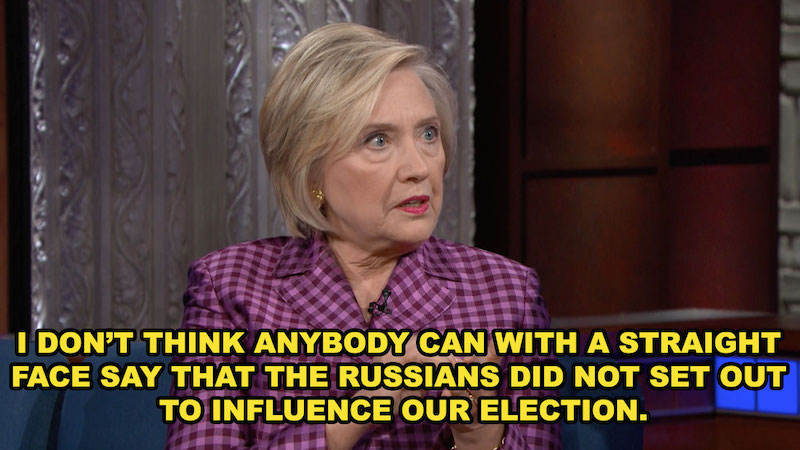 In the night's second interview segment, Hillary turned her attention to some of the things President Donald Trump is doing now, including criticism of his "dark, dangerous" speech to the United Nations. She also spoke about how to lead with diplomacy and what she would have done in that speech had she been at the dais.

Oh, and there was chardonnay.

WATCH: Hillary Clinton: Nobody's Talking About Contesting The Election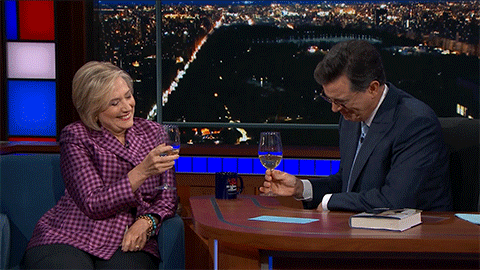 In addition to the parts of the interview which aired during the network broadcast, there was another segment that's available exclusively online.

Stephen had a live election night special, and had prepared some material in the event Hillary had won. He finally got a chance to share it with her, including one very, uh ... revealing photo.

WATCH: Stephen Hands Hillary Clinton A "Cheeky" Dossier Of Unused Election Night Jokes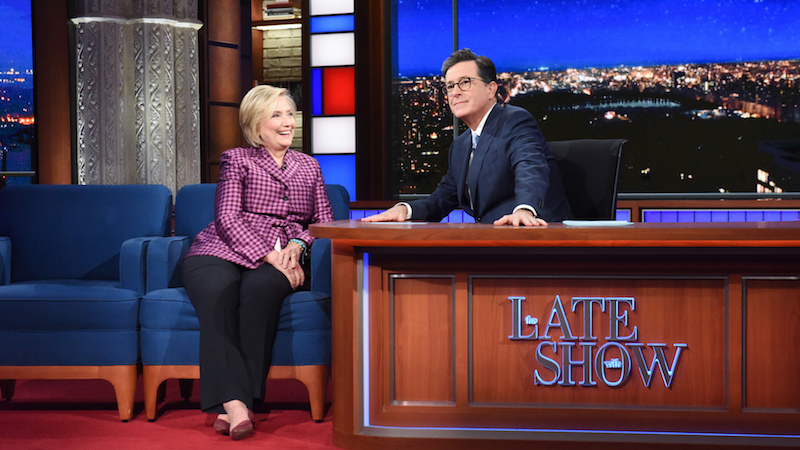 The former Secretary of State first visited The Late Show on Tuesday, Oct. 27, 2015 for an interview in the Ed Sullivan Theater. She also hung out with Stephen at Carnegie Deli for an interview that aired the night before the New York Democratic primary in April 2016.

Tuesday's full episode, including Stephen's monologue about the news of the day and an interview with actress Emma Stone, is available to stream now.

Watch all-new episodes of The Late Show with Stephen Colbert weeknights at 11:35/10:35c on CBS and CBS All Access.