We've got a big week ahead, but first it's time for a quick victory dance: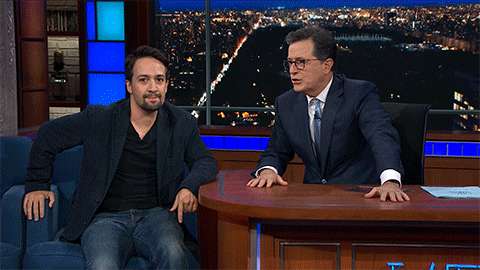 Last week, Stephen and The Late Show helped raise a whopping $1,000,000 to support our fellow citizens of Puerto Rico with hurricane relief. There are a lot of people to thank, including hundreds of celebrities and thousands of viewers who posted their awkward teenage photos on social media as part of the #PuberMe campaign. You can enjoy a number of clips (and awkward celebrity teen photos) on our site, and remember that you can still personally make a difference with a contribution today. Every bit helps!

DONATE NOW: Quick And Easy Ways To Help Our U.S. Citizens In Puerto Rico

As a reward for your selfless generosity, we're going to give you another great week of shows ...

Monday, Oct. 9: actor Jackie Chan; journalist Bob Schieffer; Trombone Shorty sitting in with Jon Batiste and Stay Human

Tuesday, Oct. 10: actress Tracee Ellis Ross; actor Luke Evans; musical performance by Jade Bird

Wednesday, Oct. 11: actor Andrew Garfield; actress Tracey Ullman; musical performance by Wolf Parade

Thursday, Oct. 12: comedian Bill Murray; actress Claire Foy; musical performance by Bill Murray with Jan Vogler and Friends

Friday, Oct. 13: talk show host Conan O'Brien; comedian Tig Notaro

Watch all-new episodes of The Late Show with Stephen Colbert weeknights at 11:35/10:35c on CBS and CBS All Access.