We're not sure what we're going as for Halloween, but fortunately at The Late Show we can always find a few costumes laying around the Ed Sullivan Theater: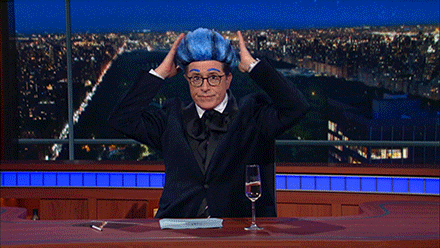 If you still need some costume ideas, might we suggest something from this collection of Halloween themed Trump merchandise?

One thing we do have planned for Halloween week? A great guest lineup!

Monday, Oct. 30: comedian Billy Eichner; actress Anna Camp; musical performance by Weezer

Tuesday, Oct. 31: actor Mark Ruffalo; journalist Chris Matthews; comedian Gilbert Gottfried; Thundercat sitting in with Jon Batiste and Stay Human

Wednesday, Nov. 1: actress Nicole Kidman; actor Jonathan Groff

Thursday, Nov. 2: actress Whoopi Goldberg; actress Kathryn Hahn; musical performance by Courtney Barnett & Kurt Vile

Friday, Nov. 3: journalist Ronan Farrow; author Walter Isaacson; musical performance by Kelsea Ballerini

Watch all-new episodes of The Late Show with Stephen Colbert weeknights at 11:35/10:35c on CBS and CBS All Access.