Sometimes when we find out there's going to be a big guest on The Late Show, we get a little excited. Like this: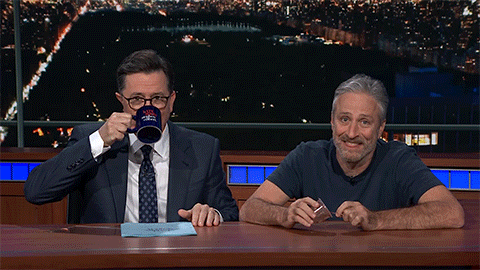 Put on your ponchos, because it's going to be that kind of a week.

Stephen will be hosting some of the biggest names in politics, music, film, and television—including former Vice President Joe Biden returning for his third appearance on The Late Show.

Is it possible for a week to have too many stars? Nope.

But one night? Sure.

For that, don't forget our good friend Jon Stewart will be hosting a fundraiser special called Night Of Too Many Stars on Saturday, Nov. 18.

He stopped by last week to tell everybody about it and reveal the amazing prize we're giving away, a chance to win a night under Stephen's desk—with Jon Stewart.

Here's who will be joining the show this week...

Monday, Nov. 13: Vice President Joe Biden; interview with and performance by Elton John

Tuesday, Nov. 14: actor and filmmaker Tyler Perry; comedian Anthony Atamanuik; journalist John Avlon

Wednesday, Nov. 15: comedian Jordan Peele; actress Alia Shawkat; stand-up comedy performance by Paul Mecurio

Thursday, Nov. 16: actor Ben Affleck; director, screenwriter, and actress Greta Gerwig; musical performance by Dead & Company

Friday, Nov. 17: journalist Norah O'Donnell, co-anchor of CBS This Morning; musical performance by Dead & Company

Watch all-new episodes of The Late Show with Stephen Colbert weeknights at 11:35/10:35c on CBS and CBS All Access.