6 Things We Learned From Michael Wolff's Revealing Interview With Stephen
The author of Fire and Fury: Inside The Trump White House sat down on The Late Show for a no-holds-barred conversation.

Bestselling author Michael Wolff stopped by The Late Show Monday night to discuss his explosive new book, Fire and Fury: Inside The Trump White House.

Sitting down with Stephen for a lengthy back and forth, Wolff gave a no-holds-barred interview that touched on myriad topics covered in the tell-all book, including (but not limited to) the President's alleged affection for TV screens and cheeseburgers, Ivanka Trump and Jared Kushner's own Presidential aspirations, and Ivanka's opinion on her dad's infamous coif, among other salacious details.

The journalist also didn't hold back as he answered Stephen's questions about Fire and Fury, telling the host why there are so many press leaks in the White House, what he really thinks of his primary source, Steve Bannon (Wolff thinks he's more of a "very stable genius" than the man currently in the Oval Office), and what the former Chief of Staff's political endgame could be.

Here are a few more things we learned from Wolff's ultra-revealing interview with Stephen.

1. President Trump was (probably) watching the interview.
"You know, he's watching," Wolff told Stephen at the top of the interview. "One of the remaining contacts I have [at the White House] said [Trump] asked for my media schedule today. So that might mean that all he's done today is watch me on television."

2. Wolff believes Steve Bannon's involvement in Fire and Fury signifies "a break from Trump."
"My theory on this is that he thought Roy Moore would win in Alabama," Wolff said. "If Roy Moore won in Alabama, that would mean the President lost; Steve Bannon won and would go into the 2018 race as the dominant alt-right Trumpian figure. And this was his break from Trump."

3. Wolff thinks Bannon is more of a "very stable genius."
"I don't agree with virtually anything Steve believes in," clarified Wolff. "But Steve is logical, smart, funny, goal-oriented, he knows what he wants. He's a legitimate figure in the White House."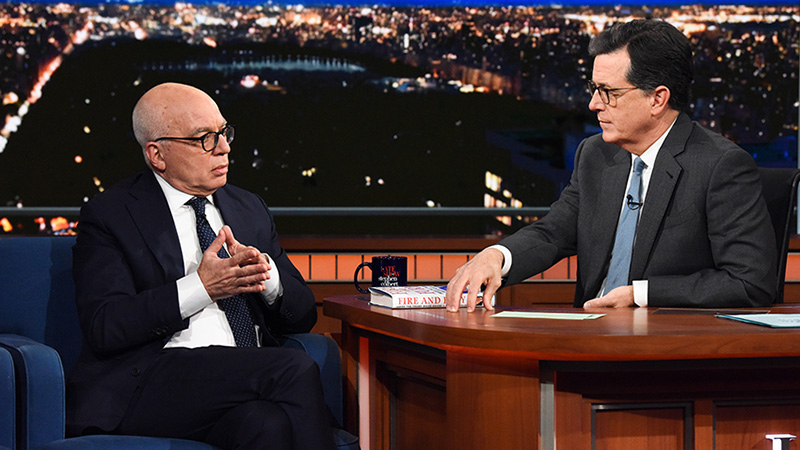 4. Wolff wishes he'd gotten a Trump nickname.
"I feel wounded!" he told Stephen at not getting a Trump nickname. (Hey, there's still time.)

5. Everybody in the White House allegedly has their own press secretary.
"The President has his own press secretary—not Sean Spicer, but his private press secretary," said Wolff. "Jared had a press secretary, Steve Bannon had a press secretary... So there are all of these different press operations. So the answer [to] 'Why are there so many leaks in this White House?' That's what they did all day. That's what the operation was. There were essentially different White Houses with these little staffs, going out, talking to the press all day long."

6. Wolff thinks Bannon is waiting for the right time to launch a comeback.
So why, asked Stephen, would Bannon say he regrets his comments in Fire and Fury? "It's Steve's strategy," Wolff replied. "I'd say he's gonna work his way back in until he can finally pick the right time to take down Donald Trump."

Watch all-new episodes of The Late Show with Stephen Colbert weeknights at 11:35/10:35c on CBS and CBS All Access.