Oprah Winfrey, Helen Mirren, And Chelsea Clinton Coming To The Late Show
Plus, Stephen welcomes Mindy Kaling, David Oyelowo, Adam Rippon​, and more!​
Oprah is coming!
Now that we have your attention ...
Oprah is really coming!
The Oscar-Tony-Emmy-(Primetime-and-Daytime!)-Golden-Globe-and-NAACP-Image-Award-winner is merely the leading role model for all humanity, and as we discovered when she dropped by
The Late Show
last year,
can also make a sexy breakfast
.
Is there anything Oprah
can't
do?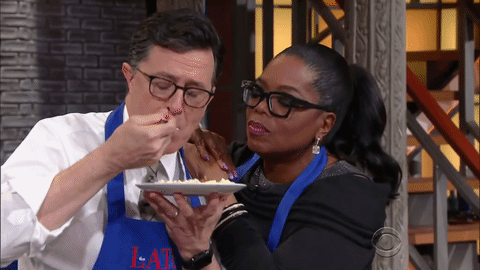 Also, if you're still basking in the post-Oscars glow, make sure to watch some of our highlights from last week, including
Jennifer Lawrence's much talked about interview (and drinks) with Stephen
, the
second part of their interview with Jennifer's words for her haters
,
Steve Buscemi auditioning for every Best Picture nominee
, and a
commercial for XXX fish movies inspired by The Shape Of Water
.
Looking ahead, we've got a huge week of blockbuster guests in store for you ...
Monday, March 5:
actor David Oyelowo; author Chelsea Clinton; businesswoman and TV personality Martha Stewart
Tuesday, March 6:
the
Oprah Winfrey; actor Justin Hartley
Wednesday, March 7:
actress Reese Witherspoon; Olympic Bronze Medalist Adam Rippon; musical performance by Ben Harper and Charlie Musselwhite
Thursday, March 8:
actress/comedian Mindy Kaling; journalist Chris Hayes; stand-up comedy performance by Amberia Allen
Friday, March 9:
actress Helen Mirren; interview with and musical performance by David Byrne
Watch all-new episodes of
The Late Show with Stephen Colbert
weeknights at 11:35/10:35c on CBS and
CBS All Access
.