Bid On Paintings By Stephen Colbert To Help The American Art Therapy Association
Now's your chance to win one of three pieces made by Stephen while helping a great cause!
Posted on Mar 14, 2018 | 06:30pm
When Stephen Colbert visited with licensed art therapist Rachel Brandoff for a segment on
The Late Show
, he found some emotional relief in the process of painting and drawing.
Now, for the first time, Stephen is making his art pieces available through this public auction, with 100% of the proceeds going to the
American Art Therapy Association
.
You can watch Stephen's full art therapy segment segment on the Wednesday, March 14, 2018 episode and see which issues he was able to work out.
How do I bid on Stephen's art?
Go to our listings on eBay and they'll take it from there. Apparently they have more experience running online auctions than our intern Gary (nice try, though, Gary!). There are three pieces to bid on:
- Item 1
- Item 2
- Item 3
What is the American Art Therapy Association?
We'll let them put it in their own words: "The American Art Therapy Association is an organization of professionals dedicated to the belief that making art is healing and life enhancing. Our mission is to serve our members and the general public by providing standards of professional competence, and developing and promoting knowledge in, and of, the field of art therapy."
What did our lawyers have to say about this?
Auction open to U.S. residents age 18 and over only. By clicking on these links, you will be leaving CBS' website and will be going to a website that is not affiliated with CBS. CBS is not responsible for the content or availability of any linked website, and you agree to be subject to the Terms & Conditions of any linked website.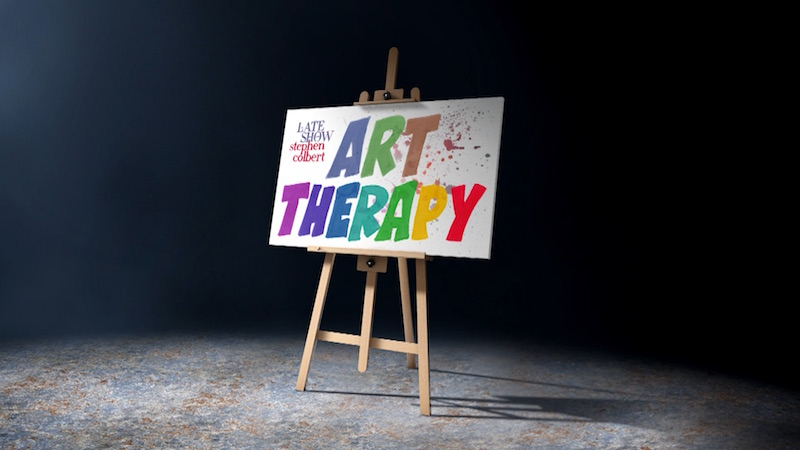 Watch all-new episodes of
The Late Show with Stephen Colbert
weeknights at 11:35/10:35c on CBS and
CBS All Access
.