The Neighborhood And Cedric The Entertainer Aim To Tell Human Stories
The new CBS comedy is all about the things that unite us… even if it's not always easy to find common ground.
Posted on Aug 5, 2018 | 01:55pm
There's a new family in town, and not everybody is happy about it.
In the new CBS comedy
The Neighborhood
,
Cedric the Entertainer
stars as Calvin, the cantankerous patriarch of the Butler family—Tina (
Tichina Arnold
), Marty (
Marcel Spears
), and Malcolm (
Sheaun McKinney
)—whose patience is tested when the bubbly Johnson family moves in next door.
Dave (
Max Greenfield
), Gemma (
Beth Behrs
), and their son Grover are about to find out that fitting into their new digs isn't as easy as they expected.
At the 2018 Television Critics Association in Beverly Hills, the cast, along with the show's creator and Executive Producer, Jim Reynolds, spoke about why they think
The Neighborhood
is the kind of show that everyone can relate to—because it's about
all
of us.
Reynolds kicked things off with a blanket statement about his intent with creating the show. "This is a show about people," he said. "This is a show about families, neighbors, friendships. This is a show primarily about human relationships."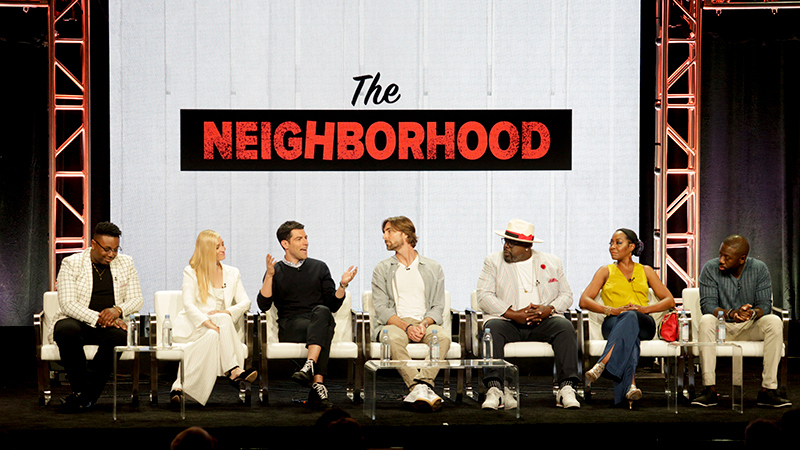 Reynolds explained how the show is loosely based on his own experience of moving into a traditionally black neighborhood in Los Angeles. "What I discovered in that process, remembering things we all kind of learned—and sometimes forget about—the power of humanity, kindness, and basic principles of being a good neighbor and wanting to bring that to television at a time when people are very busy at trying to position us as opposites. Focusing more on what we have in common."
But it was series star and Executive Producer Cedric the Entertainer that brought a critical element to
The Neighborhood
(along with his amazing comedic chops, of course). "When I started to get involved, I thought the main thing that was missing was the actual point of view of the black guy," Cedric explained.
"[Jim] had a point of view moving into a black neighborhood, but didn't have the point of view of the other side... if you get that point of view, you get more into the human side, the relationship side, and what it takes to live in harmony with someone next door to you—white, black, or otherwise."
Most of all, the panelists stressed how discussion of hot-button race and social issues is just another layer that exists on top of the show's primary focus: the human stories.
Reynolds explained that it was important to deal with those subjects using a diverse set of characters. "Issues aren't black and white, forgive the pun, but these are complex things. You only really start to learn and grow when you start to see outside of yourself."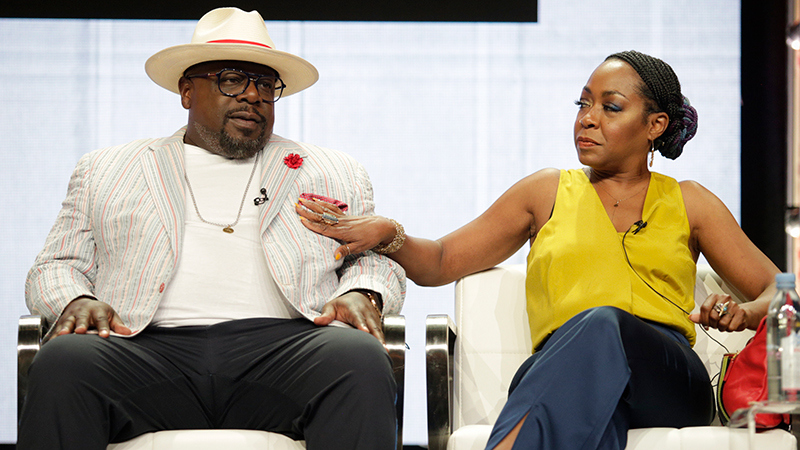 McKinney chimed in, "[Jim's] managed to create what I think is a platform. I think the show is not about solving any problems, it's about asking a question and opening a dialogue. The show opens that door in a very comedic way... To make you feel like I feel when I go anywhere in the world, and that's what drew me to the show."
Arnold added, "We're going to be able to bridge some gaps that are necessary."
Greenfield, meanwhile, reflected on his experience thus far, and decided that whether
The Neighborhood
is a huge hit or not, "This is the most authentically organic, diverse group of people that I've ever seen in an entertainment environment. Regardless if this things fails or if it's a huge success, I know I'm coming out of this as a different person than I was before... hopefully the audience will too."
Watch the series premiere of
The Neighborhood
on Monday, Oct. 1 at 8/7c on CBS and
CBS All Access
.