8 Things We Learned From The Good Wife Panel at PaleyFest: From guest stars to possible spinoffs, The Good Wife answers all your burning questions.
On Saturday, March 7 Julianna Margulies, Matt Czuchry and Christine Baranski joined creators, Robert and Michelle King, of The Good Wife and shared insights and stories onstage at PaleyFest LA.

The event, moderated by future Late Late Show host James Corden, could be seen as one of his last dress rehearsals before taking his permanent spot at the desk on March 23 at 12:35am.
1.Things got off to a cheeky start.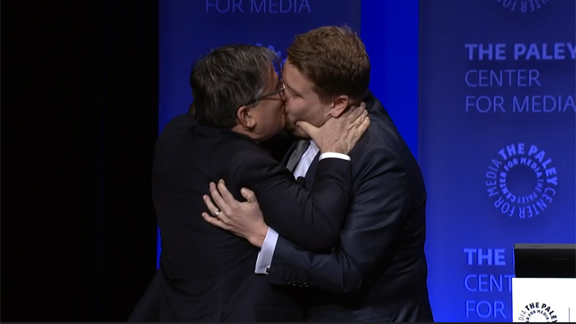 2. Corden politely reminded Julianna that she is not an actual lawyer.
Julianna Margulies explained that after finding out Josh Charles was planning to leave the show as his contract was ending, she negotiated for him to stay through the majority of the show's fifth season so that his character's story could be wrapped up.
3. Kalinda won't be going out 'Will Gardner-style'
When asked about Kalinda's departure at the end of this season, Robert King gave reassurance that Kalinda won't be going out with a "bang." Additionally, Czuchry promises "closure" for Kalinda with Cary, Alicia and Diane.
4. Margulies wants to see Alicia leave Peter
Margulies revealed that she hopes Alicia will leave Peter for good. "I would truly love to see her leave Peter," to which Margulies received high approval.

5. Sometimes the actors are the last to know.
Matt Czuchry found out his character was going to prison in a surprising way. "I went into a wardrobe fitting and saw that there was a prison jumpsuit. I'm serious. I was like, 'Wait a minute. Where are the suits?'"
6. Not many people say 'no' to guest starring.
Julianna Margulies calls it a "luxury of riches" when it comes to guest stars. But the actors still have their sights set on a few stars. Christine Baranski admitted to a crush on Alan Rickman, while Matt Czuchry wouldn't mind working alongside Chris Pine and Ryan Gosling.
7. A spin-off could happen.
There are so many characters that could do a show of their own, "the difficulty we have is we're micromanagers," Robert King admitted. We're keeping our fingers crossed for a Elsbeth Tascioni spinoff!
8. Each actor identifies with their character, in some way.
Growing up an athlete, Czuchry shares Cary's competitive drive. Baranski aligns with viewers when it comes to their love of Diane Lockhart's sophisticated and powerhouse looks.

Watch the full panel here!