Grab your pompoms, put on your school colors, and get ready for The Price Is Right's College special!

This Friday, Drew Carey and the cast will welcome some friendly competition as they reveal their college rivalry brackets. The best news? You're invited to play along, too!

The universities in the running for this year's title are as follows:
UNC vs. Duke
Harvard vs. Princeton
Texas vs. Oklahoma
Auburn vs. Alabama
Washington State vs. Washington
UVA vs. Virginia Tech
Arizona vs. ASU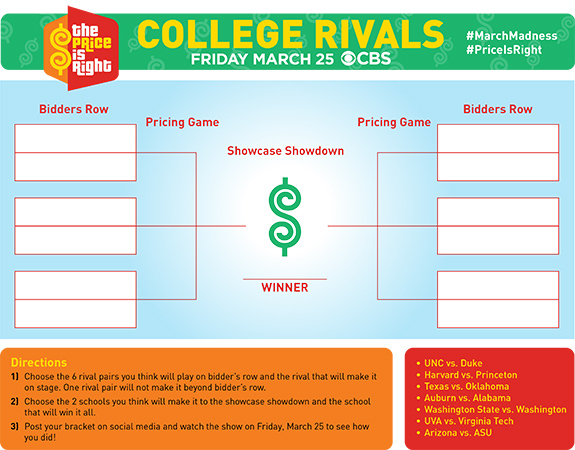 Playing along is easy. All you'll need to do is fill out your bracket by following these three steps:
Choose the six rivals you think will play on bidder's row and the rival you think will make it up on stage. One rival pair won't make it past bidder's row, so choose wisely!
Select the two schools you think will make it to the showcase showdown and designate the school you think will take it all.
Post your bracket on social media, and watch the show on Friday, March 25 to see how you did!
So, what are you waiting for? Start thinking of who you want to see make it to the end.
Good luck, and may the best school win!
Watch The Price Is Right on CBS
More on CBS.com:
The Happiest Expressions On The Price Is Right
9 Secrets Of The Price Is Right's Plinko