Pati Jinich Recipes
Posted on Jun 1, 2015 | 11:00am
Chef and Host of "Pati's Mexican Table" Pati Jinich was here and made her delicious Mexican version of a Philly Cheesesteak. Here are all of her flavorful recipes worthy of a fiesta!
Recipes courtesy of Pati Jinich
Mexican Steak and Cheese in Pita Bread
Faroladas
Serves 4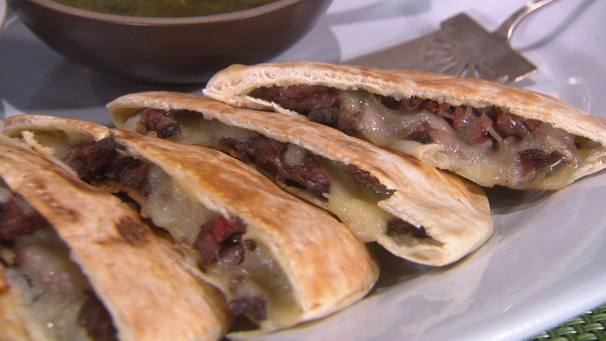 12 ounces skirt steak Kosher or coarse sea salt and freshly ground black pepper 2 tablespoons vegetable oil 4 pita breads 2 cups shredded Monterey Jack, mild cheddar, Muenster, or mozzarella cheese (about 8 ounces) Cut the steak into 4 pieces and sprinkle with salt and pepper to taste. Heat the oil in a large skillet or grill pan over medium-high heat until hot but not smoking. Add the steak and cook for about 2 minutes per side, or until browned. Remove from the heat and let rest for at least 5 minutes. Thinly slice the meat across the grain, then cut into small bite-sized pieces. Set aside. Heat a comal, griddle, or large skillet over medium heat. Heat the pita breads for about 1 minute per side, so that they are easy to open. Cut them in half to make pockets. Stuff each pocket with some of the shredded cheese, meat, and then a bit more cheese. Be generous, and don't worry if some of the meat or cheese falls out of the pockets. Place the pitas on the hot comal and cook until they are lightly browned and crisp and the cheese begins to ooze out. Then do what I do: Let that oozing cheese get crispy and brown too. Serve immediately.
See Also:
Duff Goldman's Apple and Mushroom Stuffed Flank Steak Recipe
Veggie Stuffed Avocado with Oregano Lime Cream
Aguacate Relleno de Verduras
Serves 6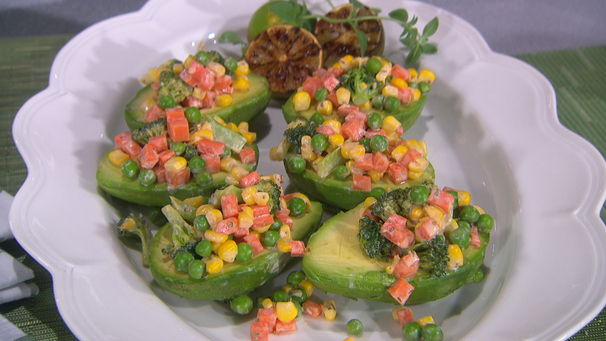 1 cup diced broccoli florets, including the stem 1 cup peeled and diced carrots ¾ cup green peas, fresh or frozen ¾ cup corn kernels 1 tablespoon crumbled dried oregano, preferably Mexican 3 tablespoons Mexican crema or Latin-style cream 1 tablespoon mayonnaise ¼ cup freshly squeezed lime juice 1 tablespoons sauce from chipotles in adobo sauce, or to taste 1 teaspoon Worcestershire sauce ½ teaspoon kosher or coarse sea salt, or to taste ¼ teaspoon freshly ground black pepper, or to taste 3 large ripe avocados Bring salted water to a boil in a medium saucepan over medium heat. Drop in the broccoli florets, cook for only 20 seconds, remove with a large slotted spoon and place in a bowl. Repeat with the carrots, corn and peas. Heat a small saute pan over medium-low heat. Once it is hot, sprinkle the oregano and let it toast, stirring constantly, for only 15 to 20 seconds. Remove from the heat and scrape the oregano into a small bowl. Incorporate the Mexican cream, mayo, lime juice, sauce from chipotles in adobo, Worcestershire sauce, salt and pepper. Mix well and pour onto vegetable mix. Cut the avocados in half and remove the pits. With a large soup spoon, scoop out the entire avocado halve and place on an appetizer plate. Spoon a very generous half cup of veggies on top. Repeat with the rest of the avocado halves. If there are any veggies left – depending on size of avocados – distribute amongst the plates, even if it is not over the avocado halves.
See Also:
Evette Rios' Creamy Avocado Pesto Pasta Recipe
Sweetened Cold Pressed Coffee
Bomba
Makes 4 servings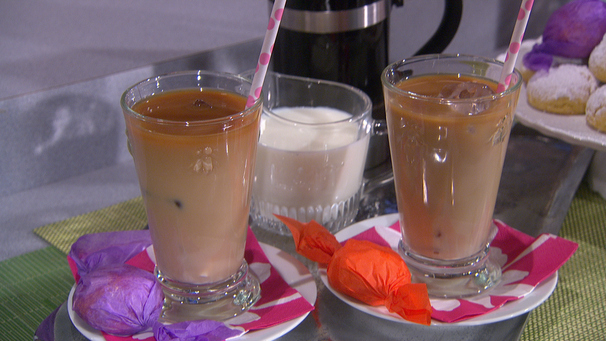 1 cup ground coffee 5 cups water Sweetened condensed milk Ice cubes Lowfat milk (optional) Place coffee in large container; add water and stir to combine. Cover and allow to "brew" overnight. Using a fine mesh strainer, strain mixture into a large pitcher. Alternately, you can use a French press to strain out the grinds. Discard coffee grinds. Cover and refrigerate until chilled. To serve, squeeze 1 to 2 tablespoons sweetened condensed milk in each glass. Fill with ice; top off with coffee. Stir. Stir in milk.
See Also:
Fabio Viviani's Espresso Coffee Granita Recipe
Triple Orange Mexican Wedding Cookies
Polvorones de Naranja
Makes 26 to 30 cookies, depending on size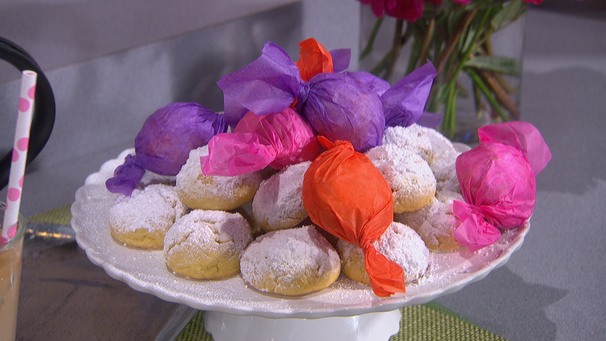 ½ pound (2 sticks) cold unsalted butter, cut into small pieces, plus more for the cookie sheets 1 cup confectioners' sugar, plus more for dusting 1 large egg 1 large egg yolk 1 tablespoon packed grated orange zest ¼ cup freshly squeezed orange juice 2 tablespoons orange flavored liqueur 3 ½ cups all-purpose flour, plus more for dusting ½ teaspoon baking soda In a food processor, pulse the butter with the confectioners' sugar until combined. Add the egg, yolk, orange zest, juice, and orange flavored liqueur and pulse, until thoroughly mixed. The dough will look rather loose: That's OK. Add the flour and baking soda and pulse until the mixture starts to come together into small chunks. Scrape down the sides of the bowl with a spatula if necessary, and pulse again. Turn the dough out, gather it into a ball, and wrap it in plastic wrap. Refrigerate for at least 30 minutes or up to 24 hours. Preheat the oven to 350°F, with racks in the upper and lower thirds. Line two cookie sheets with parchment paper or butter them and dust them with flour. Roll the dough into 1- to 1 ½-inch balls and place on the cookie sheets, spacing them 1 inch apart. Give each one a light pat on the top to flatten it slightly. Bake until the cookies are cooked through, their bottoms are golden brown, and their tops are light golden brown, about 18 to 20 minutes. Remove the cookies from the oven and transfer them to a cooling rack to cool completely. Sift a generous load of confectioners' sugar over the cooled cookies.
Related Links:
Frank Pellegrino Jr. Recipes
Paul Bartolotta Recipes
Marjorie Johnson Recipes