Actress Bridget Moynahan and best-selling author Wendy Howard Goldberg stopped by The Talk to share some of the family recipes that Blue Bloods fans have been drooling over for six seasons. Bridget knows best from having a seat at the dinner table in her role as Erin Reagan, while Wendy is the wife of Blue Bloods executive producer Leonard Goldberg. Together they give us a small taste of the 120 recipes that await you in the newly-released Blue Bloods Cookbook. Take a peek at a few of their amazing dishes below!

All recipes courtesy of the Blue Bloods Cookbook.

Veal Scallopini
Serves 4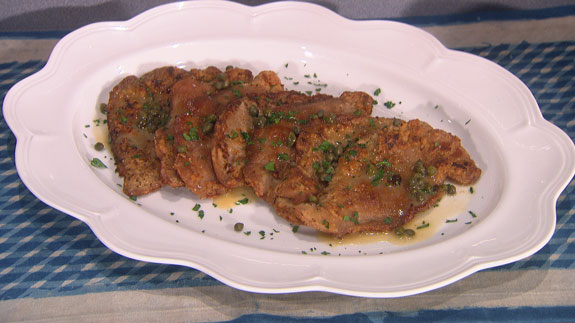 Ingredients
½ cup all-purpose flour
1 teaspoon dried oregano Kosher salt and freshly ground black pepper
1 pound veal scallopini (or use veal cutlets pounded thinner than ¼ inch)
¼ cup canola oil
4 tablespoons (½ stick) cold unsalted butter, cubed
2 tablespoons marsala wine
2 tablespoons capers, drained
1 tablespoon chopped fresh flat-leaf parsley

Procedure
1. In a small bowl, whisk together the flour and oregano and season liberally with salt and pepper. Dredge the cutlets in the flour, coating them all over. Shake off any excess flour and transfer the cutlets to a clean plate.
2. Heat the oil in a large skillet over high heat. Working in batches, fry each cutlet until golden brown, about 1½ minutes per side. Transfer to a clean plate.
3. Drain the oil from the skillet and reduce the heat to medium. Add the butter and stir until it has melted. When the butter begins to brown stir in the marsala and capers. Taste and add salt and pepper as needed.
4. Return the veal to the skillet and cook until heated through, about 3 minutes. Arrange the veal on a serving plate and dress with the sauce. Sprinkle with the parsley and serve.

Perisimmons with Pomegranate
Serves 4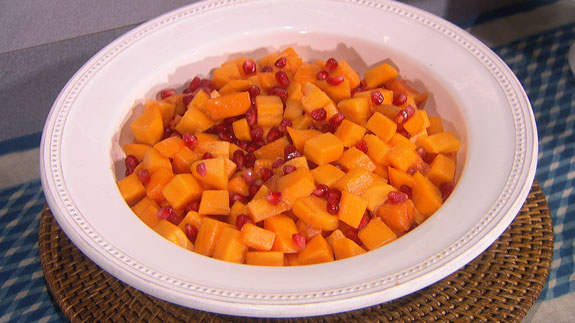 Ingredients
2 cups peeled and diced persimmon
2 cups pomegranate seeds
2 tablespoons fresh lime juice

Procedure
In a large bowl, combine all the ingredients and stir to mix. Refrigerate for 10 minutes or up to 1 hour before serving.

Apple Pie
Serves 4 to 6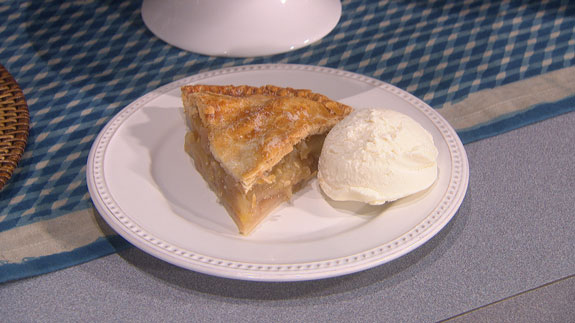 Pie Ingredients
2 frozen pie crust sheets, defrosted
¾ cup sugar
3 tablespoons all-purpose flour
1/8 teaspoon salt
½ teaspoon freshly grated nutmeg
Dash of ground cloves
1 large Granny Smith apple, peeled, cored, and thinly sliced
2 large Cortland apples, peeled, cored, and thinly sliced
2 large McIntosh apples, peeled, cored, and thinly sliced
2 tablespoons cold unsalted butter, dices
½ lemon

For Egg Wash and Finishing
1 large egg
1 tablespoon heavy cream
1 tablespoon sugar

Procedure
1. Preheat the oven to 450°F. Line the bottom of a 9-inch glass pie plate with one of the pie crust sheets.
2. In a large bowl, sift together the sugar, flour, salt, nutmeg, and cloves. Whisk together until thoroughly combined. Add the apple slices to the bowl and toss until the apples are completely coated.
3. Fill the lined pie plate with the apple slices, arrange them as compactly as possible. Depending on the size of the apples you've used, you may have some left over.
4. Spread the butter pieces evenly over the apples. Squeeze the lemon over the apples, being careful to catch and discard the seeds.
5. Center the second crust on top of the pie. Press the edges of the top and bottom crust together, the use a fork to make a uniform pattern all the way around the edge. Trim any extra crust around the edge of the pie. Slice three slits in the top to allow steam to escape.
6. Wrap the edge of the pie crust with wide strip of aluminum foil to prevent the edges from burning. Bake 15 minutes, then reduce the oven temperature to 350°F and bake for 35 minutes more.
7. In a small bowl, whisk together the egg and cream for the egg wash. Remove the pie from the oven and remove the foil. Brush the top of the pie with the egg wash, sprinkle the sugar over the top, and bake for 15 minutes more.
8. Transfer the pie to a wire rack and let cool for at least 10 minutes before serving.