Get Pati Jinich's Carnitas Tacos and Pineapple Margarita Recipes
Posted on Apr 15, 2016 | 11:00am
Television host, author and resident chef of Washington D.C.'s Mexican Cultural Institute, Pati Jinich, returned to "The Talk" to share a few irresistible dishes from her newest cookbook. Check out the recipes below for a taste of her tortilla soup and carnitas tacos. And if you've got a fiesta coming up, then her pineapple margaritas are a must! Once you're hungry for more, be sure to pick up a copy of her book, "
Mexican Today
," available in stores now!
Recipes courtesy of Pati Jinich
Tortilla Soup
Sopa De Tortilla
Serves 6 to 8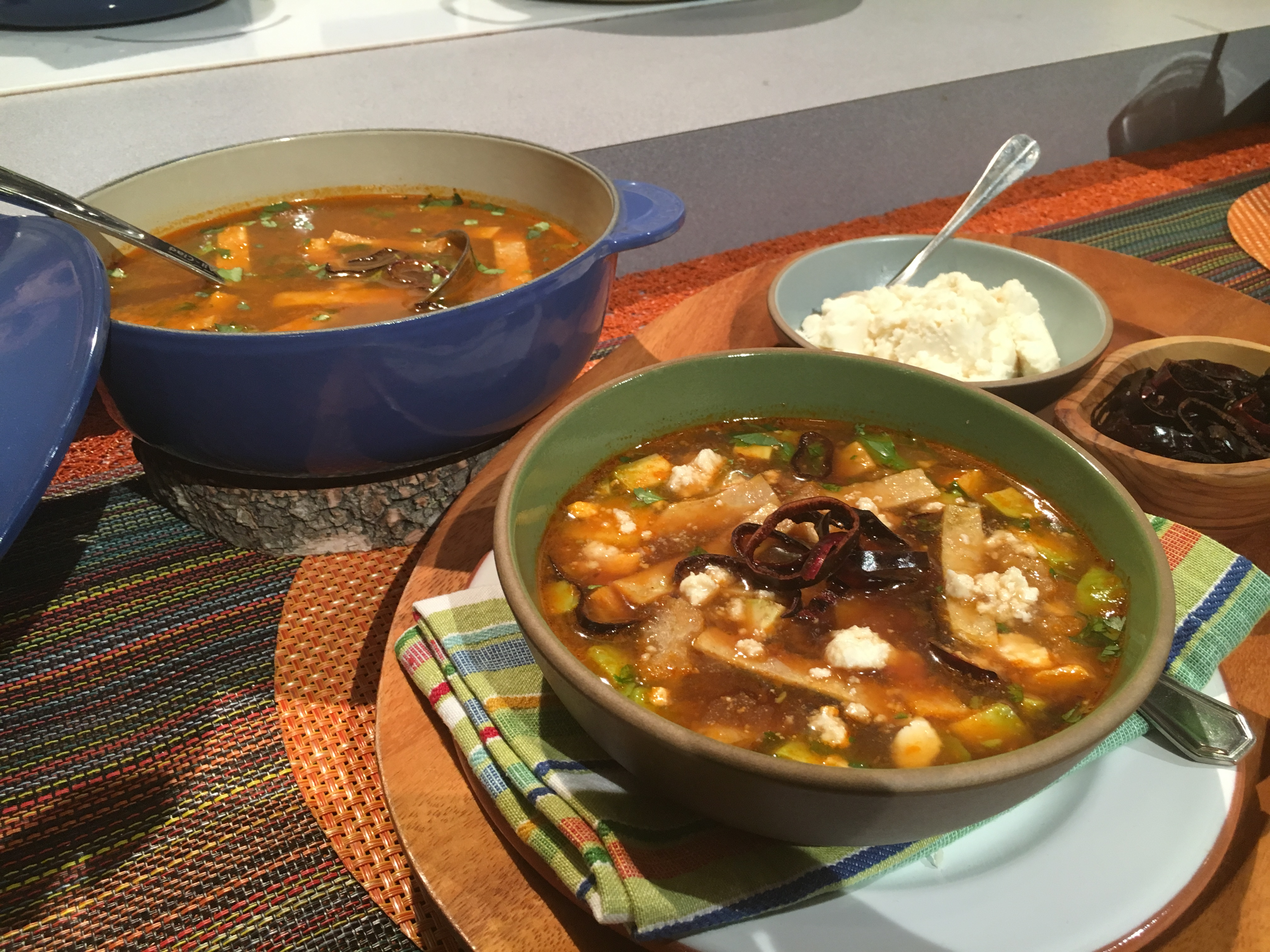 Beautiful tortilla soups of all kinds are made all over Mexico, so choosing my favorite is almost as difficult as choosing a favorite kid. When I was growing up, my favorite was from Las Mañanitas, a mystical hotel in Cuernavaca, complete with a luxurious swimming pool and flamingoes roaming freely on the grounds. The hotel is an hour's drive from Mexico City, and it was one of the places we always visited as a family to celebrate big birthdays. There the soup was served tableside: The server would bring you a soup bowl, ladle in hot tomato broth, and then return with a tray filled with small pottery bowls that held the garnishes – crispy tortilla strips, chunks of avocado, crumbled cheese, thick crema, and chile crisps. I would add every single option to my soup.
Since I'm a restless cook, I have played around with adding depth of flavor to the broth by roasting some of the ingredients and adding chipotle chiles in adobo sauce. I have kept the magic of serving all of the garnishes separately, so that people can customize their bowls at the table. If you happen to have chicharrones (fried pork rinds) around, break some into small pieces and add as one of the garnishes.
Ingredients
1 pound ripe tomatoes
2 garlic cloves, unpeeled
¼ medium white onion
½ canned chipotle chile in adobo sauce, seeded or to taste
1 tablespoon sauce from the canned chipotles in adobo or to taste
½ teaspoon kosher or sea salt or to taste
2 tablespoons canola or safflower oil 6 cups chicken broth, homemade (recipe below) or store bought
2 fresh cilantro sprigs
Garnish
8 ounces queso fresco, farmer's cheese, or feta, diced or crumbled (1¾ cups loosely packed)
½ cup Mexican crema, crème fraîche, or sour cream
2 ripe Hass avocados, halved, pitted, flesh scooped out and diced
1 cup crumbled chicharrones (optional)
Corn Tortilla Strips (recipe below)
1. Preheat the broiler and line a baking sheet with foil, or heat a comal or skillet over medium heat. Put the tomatoes, garlic cloves, and onion on the baking sheet and place under the broiler, 2 to 3 inches from the heat, or put them on the hot comal. Roast or char for 7 to 10 minutes, flipping them halfway through, until the vegetables are completely charred; the tomato skins should have burst and their juices begun to run, and the tomatoes should be very soft. Remove from the heat.
2. Once they are cool enough to handle, peel the garlic cloves and core and quarter the tomatoes.
3. Place the tomatoes, along with their juices, the garlic cloves, onion, chipotle chile, adobo sauce, and salt in a blender or food processor and puree until smooth.
4. In a large heavy pot, heat the oil over medium-high heat. When the oil is hot but not smoking, add the tomato puree; it should sizzle loudly and smoke. Cook, stirring occasionally, until the puree thickens and goes from bright red to a darker red, about 8 minutes.
5. Stir in the broth, add the cilantro sprigs, bring to a simmer, and simmer for 10 to 12 minutes. Taste for salt and heat and, if desired, add more adobo sauce. Remove the cilantro.
6. Ladle the soup into individual bowls. Set all the garnishes on the table and let people customize their bowls.
Chicken Broth and Shredded Cooked Chicken
Caldo de Pollo y Pollito Deshebrado
Makes about 8 cups broth and 6 cups shredded chicken.
I usually opt for chicken broth for my soups, because I have found vegetable broths to be a bit mild for my appetite and richer-tasting preferences.
Combine these ingredients in a large pot and simmer for 50 minutes, and you will have two invaluable resources for your cooking week. The broth can be used for soups, pastas, rice dishes, and stews, and the shredded chicken for multiple antojitos (small plates), salads, sandwiches, soups, stews, and casseroles. No commercial chicken broth will compare with homemade, and it is so easy to make!
Ingredients
:
1 whole chicken, cut into pieces, or about 3 pounds mixed chicken pieces (with skin and bones)
3 carrots, peeled and cut into large chunks
1 white onion, halved
3 celery stalks, cut into large chunks
1 garlic clove
6 black peppercorns
5 or 6 flat-leaf parsley sprigs
½ teaspoon dried marjoram
½ teaspoon dried thyme
2 bay leaves
1 tablespoon kosher or sea salt or to taste
3½ quarts water
1. Place all of the ingredients in a large pot and bring to a boil. Reduce the heat to medium-low, skim off any foam, and simmer, partially covered, for 50 minutes to an hour. Turn off the heat and let cool.
2. Remove the chicken pieces and place in a bowl. Strain the broth into a container and refrigerate, or freeze in smaller containers.
3. Remove the skin and bones from the chicken and shred or cut the meat into chunks for further use. Place in a bowl, cover, and refrigerate.
Corn Tortilla Tostadas, Chips, or Strips
Tostadas, Totopos, O Tiritas
Makes 10 tostadas or about 3 cups chips or strips
Yes, store-bought chips and tostadas are fine, but since making them in your kitchen is so easy, ridiculously economical, and miles more delicious, why buy them? You have the choice of frying, baking, or toasting; choose the method you prefer.
Ingredients
Canola or safflower oil (unless toasting)
10 corn tortillas (5 to 6 inches in diameter), left whole for tostadas, cut into wedges for chips, or cut into thin strips (about 1 x ½ inch)
½ teaspoon kosher or sea salt or to taste
1. To Fry: In a deep 12-inch skillet, heat ½ inch of oil over medium-high heat until hot but not smoking. The oil is ready when a piece of tortilla dipped in the oil bubbles happily around the edges. Add the tortillas or tortilla pieces in small batches to avoid crowding and fry, turning once, until they are a rich golden brown and nicely crisped. Strips and chips will take about 30 to 45 seconds per side; tostadas will take 1½ to 2 minutes per side. Remove with tongs, a slotted spoon, or a spider and transfer to paper towels to drain. Immediately sprinkle with salt so it will stick to the surface.
2. To Bake: Preheat the oven to 350 degrees. Lightly grease a baking sheet. Place the tortillas or tortilla pieces on the baking sheet. Gently brush or spray the tops with oil and sprinkle with salt. Bake for about 20 minutes, flipping them once halfway through, until golden brown and crispy; the smaller pieces will cook faster.
3. To Toast: This method works best for tostadas or chips. You don't need any oil; however, you won't be able to season them with salt as the salt will not stick (which may, in fact, be preferable for some dishes). Heat a comal or large skillet or griddle over low heat until very hot. Working in batches, place the tortillas or tortilla pieces in a single layer on the hot surface and toast for about 12 minutes, flipping and turning them every 2 to 3 minutes, until golden brown and crispy.
Carnitas Tacos
Tacos de Carnitas
Serves 6 to 8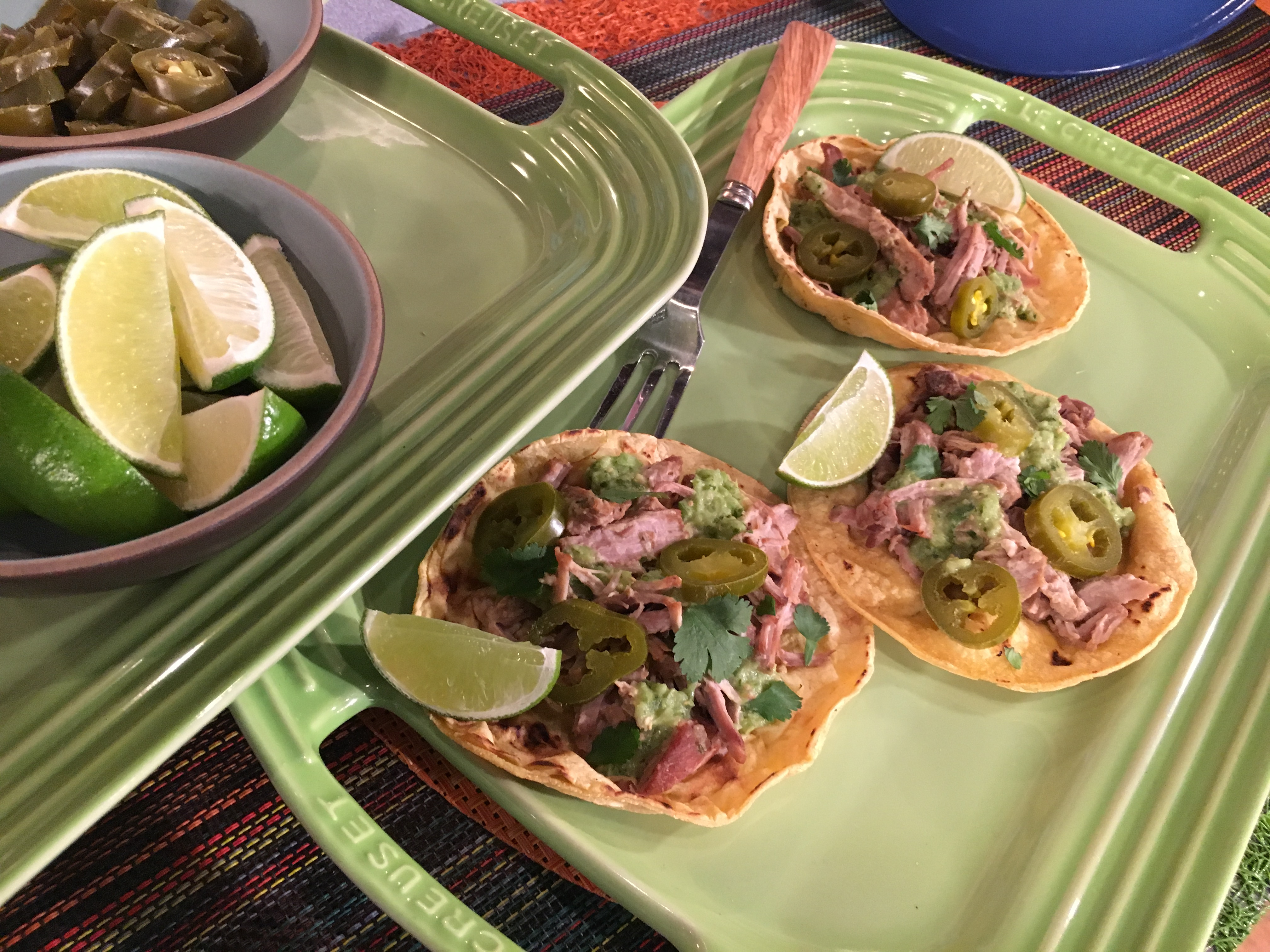 I've received countless requests for this iconic Mexican dish – so many that I decided to travel to the Mexican state of Michoacán to visit the town known as the carnitas capital of the world, Quiroga. I came up with this triumphant take, ideal for making at home, that combines some of the secrets from the Quiroga carnitas masters with the flavors of Mexico City's carnitas that I grew up eating, with their hint of citrus and a drizzle of sweetened condensed milk that gives the meat a lightly caramelized coating. When we have new friends over to share a meal, this is the dish my boys request.
Creamy and tangy, with an avocado pureed into the mix, salsa verde cruda makes a soothing, bright drizzle for these complex carnitas. As for the optional pickled jalapeños on the side, they are traditional, introducing a fresh, acidic note.
Ingredients
½ white onion, coarsely chopped
6 garlic cloves
1 teaspoon dried marjoram
1 teaspoon dried thyme
1 teaspoon freshly ground black pepper
Pinch of ground cumin
4 whole cloves, stems removed
Kosher or sea salt or to taste
1½ cups water
1 tablespoon lard or canola or safflower oil
4 to 5 pounds boneless pork shoulder or butt, cut into approximately 2-inch chunks, fat left on
2 bay leaves
1 cup freshly squeezed orange juice
2 tablespoon sweetened condensed milk
12 to 16 corn tortillas, warmed (see specific directions below)
Store-bought pickled jalapeños
Fresh Tomatillo-Avocado Salsa Verde (recipe below)
1. Place the onion, garlic, marjoram, thyme, pepper, cumin, cloves, and 1 tablespoon salt in a blender. Add the water and puree until smooth.
2. In a large Dutch oven or heavy casserole, heat the lard or oil over medium-high heat until melted. Add the pork chunks and sprinkle with ½ teaspoon salt. Brown the meat on all sides, stirring and flipping the pieces, for about 10 minutes.
3. Pour the onion mixture over the meat, bring to a simmer, and cook for 5 to 6 minutes. Add the bay leaves, orange juice, and condensed milk and give it all a good stir. Bring back to a simmer, reduce the heat to low, cover, and simmer, stirring and scraping the bottom of the pot every 15 minutes, until the meat is completely tender and can be pulled apart easily with a fork, 1½ to 2 hours. Remove the lid and simmer for another 4 to 5 minutes.
4. Scoop out the carnitas with a slotted spoon and transfer to a bowl or platter. Before scraping up any remaining sauce to spoon over the carnitas, remove the bay leaves and skim off any fat from the surface and discard. Shred the meat with a fork.
5. Serve the carnitas with the tortillas, pickled jalapeños, if using, and salsa on the side.
Heating Tortillas for Tacos
I heat as many tortillas at a time as will fit in my skillet or comal. I don't heat them in a stack, either in the oven, microwave, or above steaming water, because this method can cause the tortillas to moisten and stick together. Also, you don't get that wonderful toasty flavor that you get by heating them in a comal or skillet, and the tortillas aren't as malleable.
Heat a wide skillet or comal over medium-low heat for at least 3 minutes. The surface of the pan or comal must be hot before you add the tortillas or they will stick and crack when you attempt to turn them. Once the pan is hot, place as many tortillas as will fit in a single layer in the skillet or comal and heat for about 1 to 2 minutes per side, until completely malleable and lightly browned in spots. If they puff a little when they are heating it's a great sign – it means that they are heating both inside and out. But they will still taste delicious if they don't puff. As you take the tortillas off the heat, place them in a tortilla warmer or wrap them in a clean kitchen towel or cloth napkin to keep them warm.
Fresh Tomatillo-Avocado Salsa Verde
1 pound tomatillos, husks removed, thoroughly rinsed, and halved
1 ripe Hass avocado, halved, pitted, and flesh scooped out
2 tablespoons coarsely chopped white onion
¼ cup coarsely chopped fresh cilantro leaves and upper part of stems
1 jalapeño or serrano chile or to taste ¾ teaspoon kosher or sea salt or to taste
Combine the tomatillos, avocado, onion, cilantro, chile, and salt in a blender or food processor and puree until smooth. Taste and adjust the salt. Serve.
Grilled Pineapple Margarita
Margarita de Piña Asada
Serves 6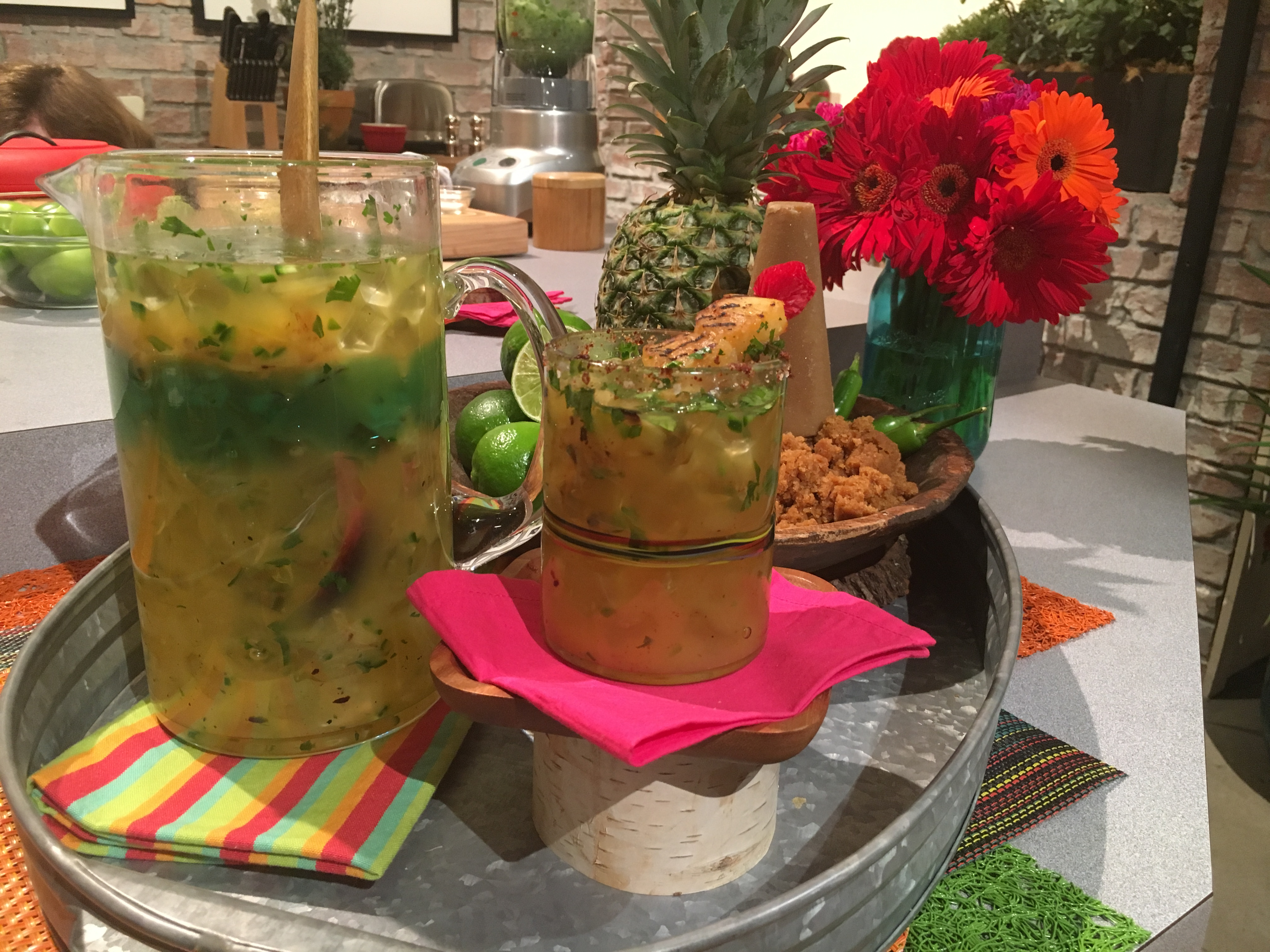 My pineapple margarita hits a range of flavor notes – with gusto. The grilled pineapple chunks, juice, and piloncillo (or dark brown sugar) make it the fruity drink every good fiesta requires, while the jalapeños and a salty rim with ground dried chile throw a sweet and spicy punch it is happy to accept. I toss in some chopped cilantro to cool everything off and some lime juice to brighten up all of the flavors as they mingle together.
I like to have my pitcher of pineapple margaritas ready to go in the refrigerator ahead of time, but you can impress your guests by tossing the pineapple on the grill during the party. Serve the mix chunky, making sure everyone gets some pineapple, jalapeño, and cilantro in their glass for the full experience.
Ingredients
Safflower or canola oil, for greasing the grill
1 pineapple, peeled, cored, and cut into ½-inch-thick rings
1 jalapeño, chopped (seeded if desired) or to taste
¼ cup chopped fresh cilantro leaves and upper part of stems
1/3 cup grated piloncillo (explanation below) or packed dark brown sugar
3 cups pineapple juice
1 cup white or silver tequila
¾ cup freshly squeezed lime juice
½ cup agave syrup or Simple Syrup (recipe below)
2 tablespoons kosher or sea salt
2 tablespoons piquin chile powder or other Mexican chile powder (explanation below)
1 lime, quartered for the glasses (optional)
1. Prepare a medium-hot fire in a grill.
2. Brush the grill with oil, place the pineapple rings on it, and cook, flipping once, until charred on both sides, 3 to 4 minutes total. Set aside to cool.
3. In a large pitcher, combine the jalapeño, cilantro, and 2 tablespoons of the piloncillo or brown sugar. Using a muddler or the handle of a wooden spoon, muddle or grind the ingredients together. Chop all but 2 of the pineapple slices (set these aside for garnish) into 1-inch pieces and muddle with the jalapeño mixture. Add the pineapple juice, tequila, lime juice, and agave or simple syrup and stir well to combine. Let sit for at least 10 minutes, or refrigerate until ready to serve.
4. Cut the reserved pineapple slices into small wedges for garnishing the glasses. Combine the remaining 31/3 tablespoons sugar, the salt, and chile powder on a small plate. Fill a saucer with water. Dip the rims of the margarita glasses into the water to moisten – alternatively, rub the rims with the quartered lime – then dip into the chile mixture. Fill each glass with margarita mix, making sure to include some muddled pineapple, chile, and cilantro, and garnish each one with a wedge of pineapple.
Piloncillo
Piloncillo is a cane sugar in its most unrefined form. The freshly pressed cane juice is poured into molds and left to dry and solidify. Piloncillo typically comes in blocks, either cone-shaped, square, or round. Brown sugar can be substituted; however, piloncillo is more rustic, with a slightly acidic tang, similar to agave syrup, and a dark amber color. When I taste it, I think of foods I've eaten in small villages or pueblos, far away from big cities. It adds an extra
no se qué
– that "I don't know what" that makes a dish stand out.
The easiest way to use piloncillo is to grate it on the large holes of a grater; the small holes are too troublesome, as it is rather hard. You can also dissolve it by placing it in a small saucepan with a couple of tablespoons of water, covering, and heating over low heat. It also dissolves when added to hot liquids.
Piquin Chiles
Tiny and pebble-shaped, dry to a deep burnt red and make a spicy, feisty, chile powder that is a favorite for sprinkling on fresh fruits and vegetables, street-cart style, with freshly squeezed lime juice and salt.
Simple Syrup
Simple syrup is a mix of water and sugar simmered together until the sugar dissolves. You can use sugar and water in equal proportions, but if you use slightly more sugar, as here, the syrup will keep better if you're not using it all right away.
Ingredients
1/3 cup sugar
¼ cup water
Combine the sugar and water in a small saucepan and stir together with a rubber spatula. Bring to a boil over medium heat, then reduce the heat and simmer briskly until all of the sugar has dissolved. Remove from the heat and allow to cool. Store in a jar in the refrigerator if not using it right away. It keeps for months.