Cooking with Chef Kai Kani
15-year-old prodigy chef Kai Kani made her debut on "The Talk" with a delicious bang! Demonstrating elegant, seasonal dishes, our hosts were left raving over the wunderkind chef. To see (and taste!) for yourself, Kai has shared her unique takes on lobster roll, gazpacho, and a wheatberry salad below. Don't forget to wash it all down with her lemongrass lime soda too!
Check out Kai's
bonus recipe for Mint Chocolate
dessert below & find out about her upcoming pop-up restaurant at
http://www.kaikani-la.com
!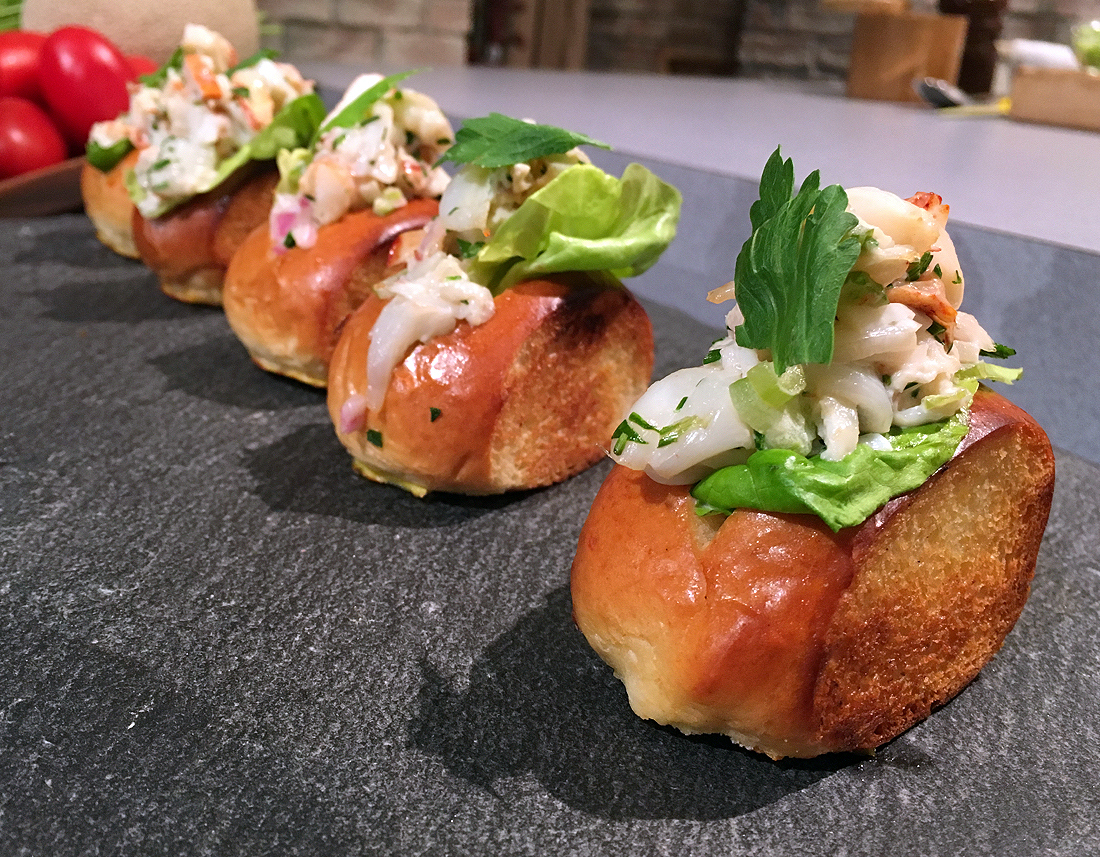 Baby Maine Lobster Roll
Ingredients
2 live Maine lobsters
4 tb mayonnaise
2 tb red onion finely diced
2 tb celery peeled, finely diced
2 tsp tarragon finely chopped
2 tsp parsley finely chopped
2 tsp chives finely chopped
1 tb fresh lime juice
kosher salt
freshly ground black pepper
16 mini brioche buns
4 tb unsalted butter, melted
16 leaves butter lettuce
16 celery leaves
Procedure
Cook lobsters in a large pot of salted water for 7 minutes. Break down the lobsters and dice the tails, knuckles and claws into bite size pieces.
Combine the mayonnaise, onion, celery, tarragon, parsley, chives, and lime juice in a bowl. Fold in the lobster and season to taste.
Toast the brioche buns with the melted butter. Add 1 piece of the butter lettuce. Then, 3 tablespoons of the dressed lobster and 1 celery leaf.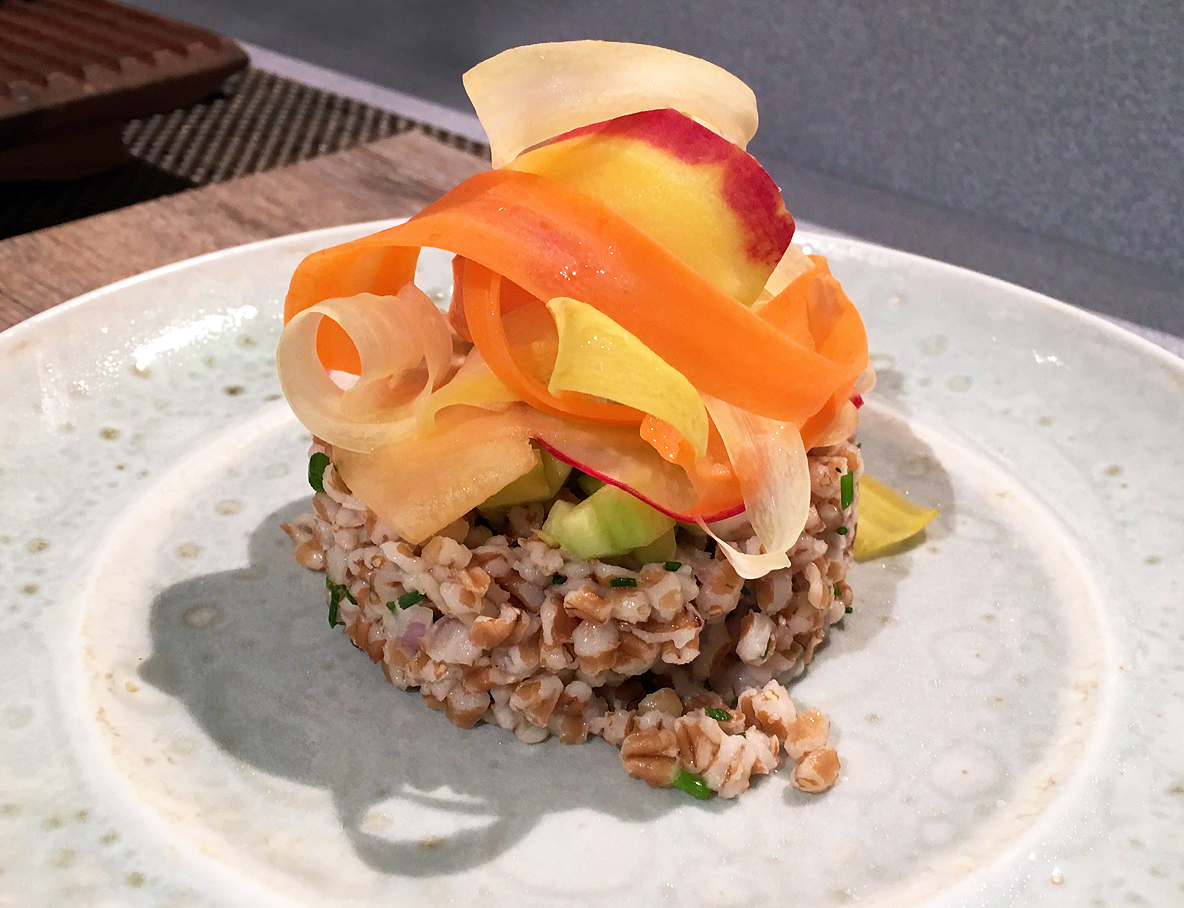 Wheat Berry Salad with Shaved Carrots, Yogurt and Melon
Serves 6
Wheat Berry Salad
1 cup wheat berries, rinsed
3 tablespoons sliced chives
1 tablespoon minced shallot
1 tablespoon olive oil
2 tablespoons lemon juice
1 teaspoon maldon sea salt
Combine the wheat berries with 4 cups of water and bring to a simmer over low heat. Cook
until tender, about 2 hours. Drain the wheat berries. Let cool to room temperature. Toss the
wheat berries with the chives, shallot, olive oil, lemon juice and maldon salt. Let sit at room
temperature.
Shaved Carrot Salad
3 cups shaved multi color carrots
1 tablespoon olive oil
1 ½ tablespoons lemon juice
Maldon salt
In a medium bowl, combine the carrots with olive oil, lemon juice and maldon salt to taste. Set
aside.
Cucumber Relish
½ english cucumber, peeled and finely diced
1 teaspoon rice wine vinegar
¼ teaspoon sugar
¼ teaspoon salt
Combine the cucumber with the vinegar, sugar, and salt. Keep in the refrigerator until ready to
use.
Yogurt
1 cup Greek yogurt
1 teaspoon lemon juice
1 teaspoon olive oil
¼ teaspoon kosher salt
Whisk the yogurt, lemon juice, olive oil, and kosher salt well. Place in a squeeze bottle.
Refrigerate until ready to use.
Melon
½ small cantaloupe, peeled and seeded
¼ honeydew melon, peeled and seeded
¼ teaspoon rice vinegar
¼ teaspoon sugar
Thinly slice the cantaloupe and melon on a mandolin, into ribbons. Toss the melon slices with
the rice vinegar and sugar. Reserve in the refrigerator until ready to use.
Radishes
5 red radishes
½ teaspoon lemon juice
½ teaspoon maldon salt
Thinly slice the radishes on a mandolin and combine with the lemon juice and maldon salt.
To Plate
Place 3 dots of the yogurt sauce. Cover with about 1/3 cup of the wheat berry salad. Top with 3
more dots of the yogurt sauce. A few ribbons of the melon salad and a few slices of radishes.
Add 2 small spoonfuls of the cucumber relish. Top with a about 3/4 cup of the shaved carrot
salad.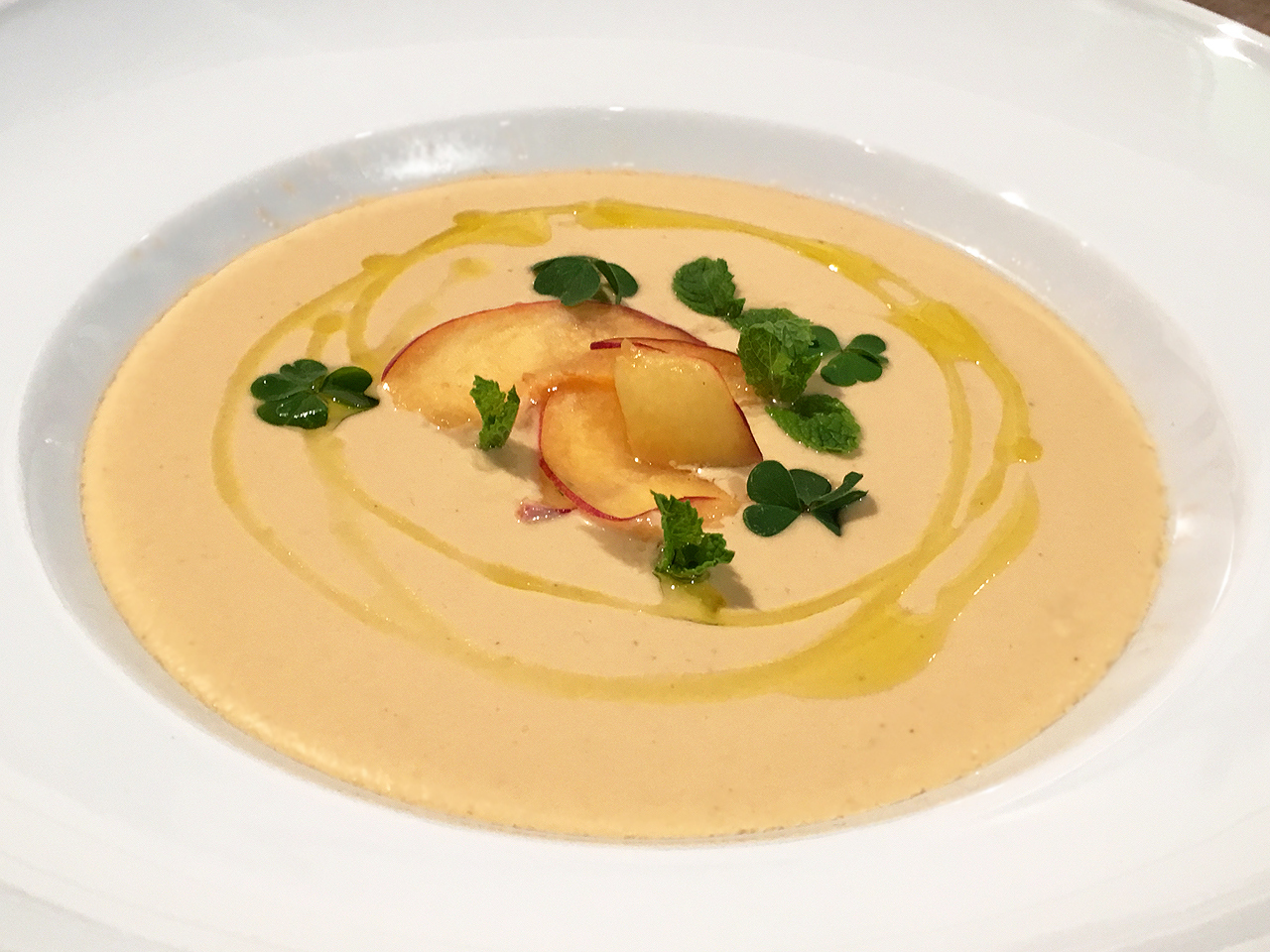 Peach Gazpacho
Serves 8
Ingredients
¾ cup extra-virgin olive oil
1 garlic clove, smashed
1 cup torn country bread, crusts removed
½ cup blanched almonds
3 ripe peaches, pitted and sliced
1 cup diced english cucumber
2 roma tomatoes, juiced
¼ cup red wine vinegar
Kosher Salt
¼ cup cold water
In a small saucepan combine 3 tablespoons of the olive oil with the garlic clove over medium
heat. Cook until fragrant, add the country bread, and toast until golden brown, about 8
minutes. Add the bread to a large bowl, along with the remaining olive oil, almonds, peaches,
cucumber, tomato juice, vinegar. Season with salt to taste. Mix the ingredients well and let set
at room temperature for 2 hours.
Blend the gazpacho base in a blender on high for 1 minute. Pass through a chinois. Whisk in
the cold water and adjust seasoning as needed. Chill in the refrigerator until very cold.
To Finish
1 peach pitted, thinly sliced
16 small mint leaves
24 oxails
olive oil
To assemble the gazpacho, place a few pieces of the peach slices in each bowl. Add 2 minute
leaves to each. Pour the gazpacho around the garnishes. Add 3 oxails on top. Drizzle with
olive oil.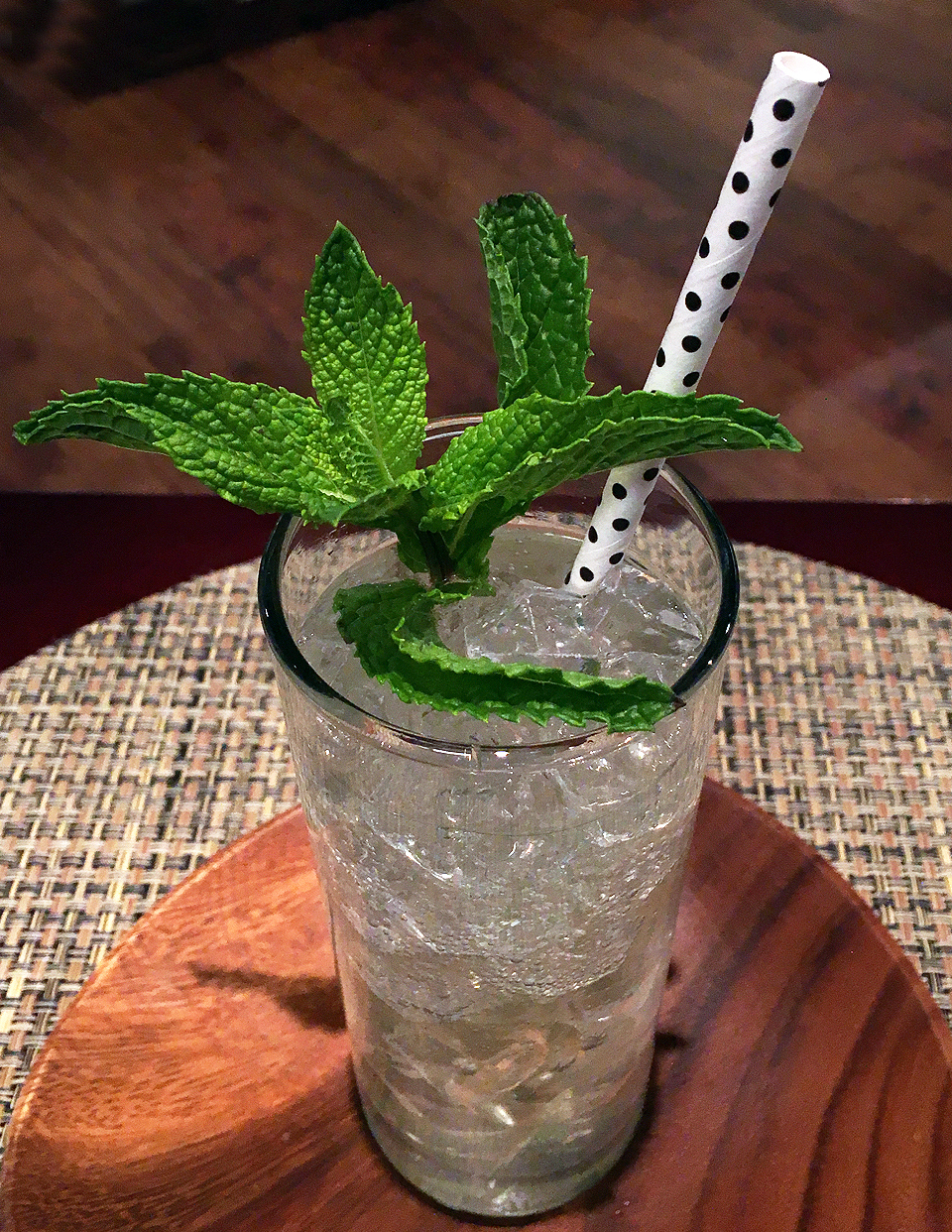 Lemongrass Lime Soda
Makes 6
Soda
2 tablespoons lemon zest
2 tablespoons lime zest
10 kaffir lime leaves
2 stalks lemongrass, roughly chopped
¾ cup sugar
¾ cup cold water
3 cups soda water
Combine citrus zest, lime leaves, lemongrass, sugar, and cold water in a medium pot. Bring to
a boil, then cool to room temperature. Strain the infused mixture. Chill the mixture in the
refrigerator until very cold.
To Finish
Ice
Mint Leaves
Fill a tall glass with ice cubes. Add 3 tablespoons of the lemongrass syrup, (or more to taste).
Top with soda water to fill the glass and a small bunch of mint.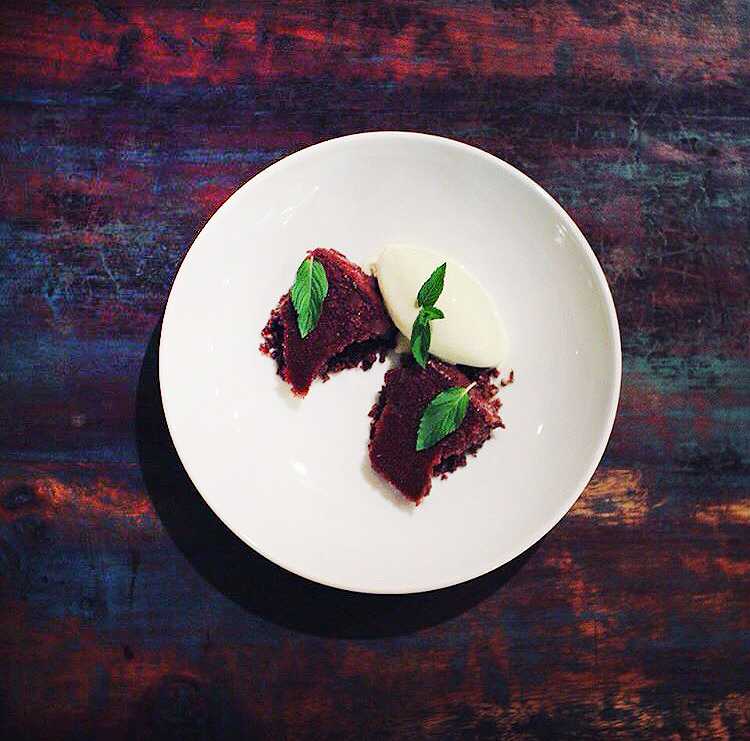 Bonus Web-Only Recipe: Kai's Mint & Chocolate Dessert
Serves 8
Mint Ice Cream
1 cup whole milk
3/4 cup sugar
2 cups heavy cream
pinch of kosher salt
2 cups packed fresh mint leaves
5 large egg yolks
Combine the milk, sugar, and heavy cream, salt and mint. Warm the mixture, then cover and steep the mint for 20 minutes. Squeeze the mint out and strain the infused cream. Rewarm the mixture again and temper the egg yolks. Bring the base up to temperature. Chill over an ice bath and churn.
Chocolate Cake
unsalted butter and flour for preparing the cake pan
1 stick unsalted butter, cut into 8 pieces
8 ounces semisweet chocolate
4 cold eggs, separated
1 teaspoon instant espresso, dissolved in 2 teaspoons water
1 1/2 teaspoons vanilla extract
1/4 teaspoon cream of tartar
1/4 cup granulated sugar
Position a rack in the middle of an oven and preheat to 375°F. Butter an 8-inch springform pan. Line the bottom with parchment paper cut to fit. Butter the paper, sprinkle it lightly with flour, then tap out the excess flour.
In a large heatproof bowl, combine the chocolate and butter and melt over a saucepan of barely simmering water. Set aside to cool slightly, about 5 minutes. In a small bowl, combine the egg yolks, dissolved coffee and vanilla extract and whisk just until blended. Pour the yolk mixture over the cooled chocolate and whisk until no streaks of egg are visible.
In the bowl of a stand mixer or a large, clean mixing bowl, combine the egg whites and cream of tartar. Fit a stand mixer or handheld mixer with the whip attachment. Beat on medium speed until foamy and the cream of tartar dissolves, about 1 minute. Increase the speed to medium-high and continue beating until the whites form soft peaks, 2 to 3 minutes. Add the granulated sugar in 2 batches, beating for 15 seconds after each addition. Then beat for 1 minute more; the whites should be shiny and stiff. Using a rubber spatula, gently fold about one-third of the beaten egg whites into the chocolate mixture. Spoon the remaining whites on top and fold in until no white streaks remain.
Pour the batter into the prepared pan and smooth the top. Bake until the cake puffs up, the top looks firm and the middle jiggles only very slightly when the pan is gently shaken, 19 to 23 minutes. Transfer to a wire rack and let cool in the pan for 30 minutes. The cake will sink slightly in the middle. Run a thin knife along the inside edge of the pan to loosen the cake, then release the sides and lift them off. Let the cake cool completely, about 1 hour more.
Chocolate Chip Cookie Crumble
6 tablespoons unsalted butter
1/3 cup granulated sugar
1/4 cup dark brown sugar
1/4 teaspoon kosher salt
2 tablespoons beaten egg
1/8 teaspoon vanilla extract
3/4 cup flour
1/4 teaspoon baking soda
4 oz (55%) chocolate, frozen and chopped
Preheat the oven to 350 degrees. Line a rimmed baking sheet with parchment paper. In a stand mixer fitted with the paddle attachment cream together the butter, sugar, brown sugar, and salt until incorporated and fluffy. Add the egg and vanilla extract and mix to combine. In a separate bowl, mix the flour and baking soda. Add the dry ingredients to the butter mixture and mix until combined. Spread the cookie dough onto the prepared baking sheet. Bake for 15 minutes until golden brown. Allow to rest and cool. Once the dough is cool, break it up into large pieces and pulse the cookie pieces with the chopped chocolate to a pea sized crumble in a food processor.
Candied Mint Leaves
34 mint leaves
1 large egg white, beaten until foamy
1/2 cup cane sugar
Brush the mint with the egg white foam, and dredge in sugar, let dry at room temperature for 3 hours.
To Finish
Place 2 spoonfuls of the cookie crumble in each bowl.
Add 2 pieces of cake to each side.
Add 1 quenelle of mint ice cream.
Garnish with a few candied mint leaves.