Cher Reveals Details Behind Iconic Her "Turn Back Time" Video On The Talk
The pop star talks about donning one of the most memorable outfits in music-video history.
In 1989, Cher shocked millions when she made one of her many career comebacks with the song "If I Could Turn Back Time," which also featured a rather randy music video in which the singer galavanted amidst sailors on a military ship while wearing only a sexy, sheer bodysuit.
Fast-forward nearly 30 years and, during her recent appearance on
The Talk
, Cher told the hosts of that her outfit would be considered relatively tame, by contemporary standards.
Watch the above video to learn more about what it was like for Cher to don one of the most memorable—and, at the time, controversial—ensembles in music-video history.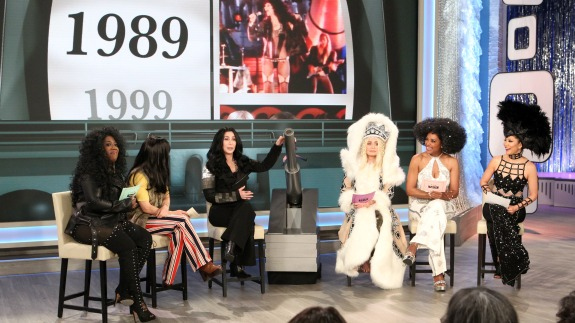 "Oh, it's almost nothing now," Cher said. "It looked really daring, and it was, kind of, but if you were wearing a bathing suit, a bikini bathing suit, it was like seeing the same thing. It was just the way [
costume designer Bob Mackie
] cut it; it just made it look like, 'Oh, this is way too much.'"
Watch all-new episodes of
The Talk
weekdays on CBS and
CBS All Access
.