Shemar Moore Loved His Homecoming On Criminal Minds
The Criminal Minds' fan-fave dished with the ladies of The Talk about Derek Morgan and more.

Shemar Moore, who starred in Criminal Minds for 11 seasons, returns to the hit primetime drama for an episode on Wednesday, May 10 at 9/8c on CBS and CBS All Access. His character, Derek Morgan, has to deliver new information that could potentially take down one of the team's archnemeses—Mr. Scratch—for good.

After delivering the biggest of hugs to the ladies of The Talk—including another star who's familiar to Criminal Minds fans, Aisha Tyler—he shared a tender moment with Sharon Osbourne.

Moore also teased a bit about his return guest appearance in the season finale of Criminal Minds, assuring Baby Girls everywhere that, "[In the finale episode] I can promise you that Morgan doesn't die."

Watch Shemar Moore's full appearance on The Talk on CBS All Access.

This season on Criminal Minds, the team scrambled to catch Mr. Scratch, an elusive serial killer. Meanwhile, fellow team member Dr. Spencer Reid was arrested for murder and has remained in danger while in custody. Morgan, who just learned about Reid's circumstance, returns to the BAU with the aim of not only bringing down Mr. Scratch, but also vindicating Dr. Reid.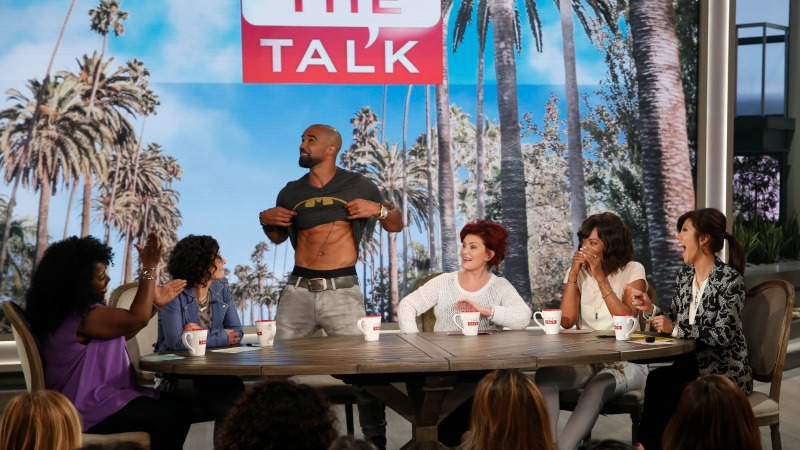 After treating the ladies of The Talk with a peek at his famous ripped abs, Moore dished more about returning for the Season 12 finale episode, his upcoming drama pilot, and what he's been up to in this past year.

Don't miss the return of SSA Agent Morgan in the Criminal Minds season finale, airing on Wednesday, May 10 at 9/8c on CBS and CBS All Access.

Watch Criminal Minds on Wednesdays at 9/8c on CBS and CBS All Access.

Watch The Talk Weekdays on CBS and CBS All Access.