Cook Up Paul And Dee Dee Sorvino's Authentic Italian Meal
The couple shared their new cookbook's recipes for lasagna, caesar salad, and a champagne cocktail.
Beloved actor Paul Sorvino and his wife, Dee Dee, appeared on The Talk to show the ladies how to prepare an authentic Italian meal just in time for Mother's Day!

They demonstrated dishes straight out of their wildly popular new cookbook and topped the delicious meal off with a unique cocktail that pays tribute to Paul's own mother.

These fantastic recipes can be found below; but, for much more from this culinary couple, check out their book, Pinot, Pasta, And Parties, which is available in stores now!

All recipes courtesy of Pinot, Pasta, And Parties by Dee Dee and Paul Sorvino.

Lasagna Alla Mamma
Makes 8 to 10 servings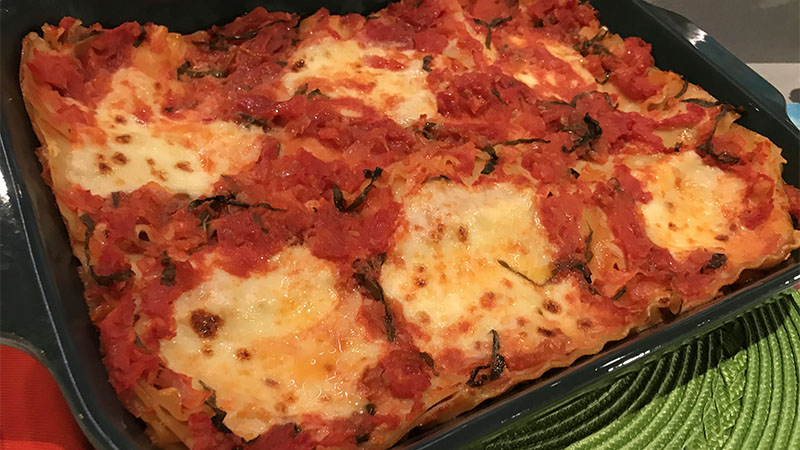 Ingredients
1/4 cup olive oil
1 medium onion, minced
1 can (28 ounces) whole, peeled San Marzano tomatoes
2 tablespoons shredded fresh basil or 4 whole basil leaves
1/2 teaspoon sea salt
1 1/2 pounds lasagna pasta
1 (32 ounces) container ricotta cheese
1 pound mozzarella cheese, cut into 1/4-inch slices

Method
1. Preheat oven to 375 degrees.
2. Heat the oil in a large saucepan over low heat. Add onion and tomatoes with their juices. Then, add the basil and salt. Simmer, stirring to break up the tomatoes, for 30 to 40 minutes.
3. Meanwhile, place a large pot of salted water on the stove to boil for the pasta. Cook the pasta until almost al dente, which should be around 8 to 10 minutes, then drain.
4. Lightly coat the bottom of an 8x12-inch baking dish with some of the tomato sauce. Arrange a layer of lasagna pasta, end to end, to cover the bottom completely.
5. Cover the pasta with a layer of ricotta. Add a ladle full of sauce on top. Then, place 6 slices mozzarella, evenly spaced, over the sauce.
6. Begin the process again: pasta, ricotta, sauce, mozzarella. Add a last layer of pasta and mozzarella, then one more ladle full of sauce.
7. Cover the baking dish with aluminum foil and bake for 35 minutes.
8. Remove the foil and bake for an additional 10 minutes.

Caesar Salad
Serves 6 to 8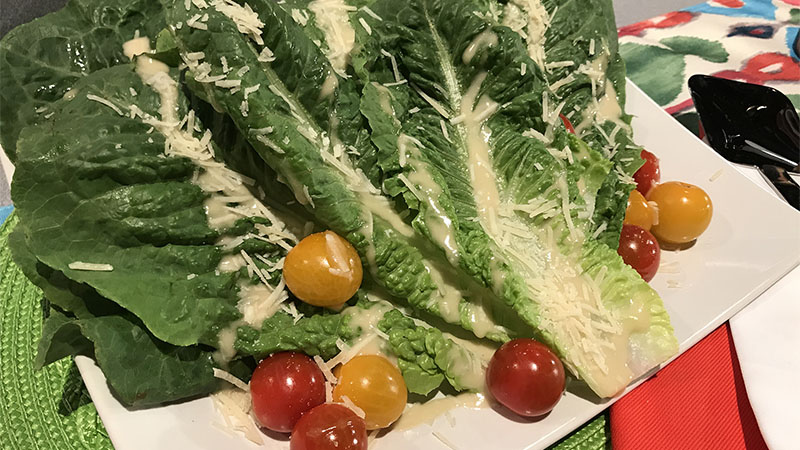 Ingredients
2 garlic cloves, minced
2 tablespoons fresh lemon juice
1/2 teaspoon anchovy paste
1 teaspoon Dijon mustard
Sea salt
1/4 cup extra-virgin olive oil
1 head romaine lettuce
Cherry tomatoes
Freshly ground black pepper
Grated Parmesan cheese

Method
1. Combine the garlic, lemon juice, anchovy paste, mustard, and a pinch of salt in a blender and mix. With the blender running, slowly drizzle in the olive oil and mix until smooth.
2. Arrange the lettuce leaves and tomatoes on a platter and toss together in a salad bowl. Drizzle with the dressing, add a few grinds of black pepper, and sprinkle the grated Parmesan cheese over the top.

Marietta's Song Cocktail
Serves 1

Ingredients
1 1/4 ounces pomegranate juice
3/4 ounce simple syrup
1/2 ounce rose water
5 ounces Champagne

Method
1. Fill a cocktail shaker one-quarter of the way with ice.
2. Add the pomegranate juice, simple syrup, and rose water.
3. Cover and shake for 5 seconds.
4. Strain into a Champagne glass.
5. Top with the Champagne.