Chef Duff Goldman Prepares Fun And Flavorful Tailgate Dishes
Prepare these fritter, stuffed clam, and donut recipes for Thursday Night Football snacks.

Chef Duff Goldman returned to The Talk in anticipation of the Thursday Night Football showdown between the New England Patriots and the Tampa Bay Buccaneers. To celebrate, he prepared some fun and flavorful dishes perfect for any tailgate. Get his signature recipes below.

Recipes courtesy of Duff Goldman.

Clam, Bacon, and Corn Fritters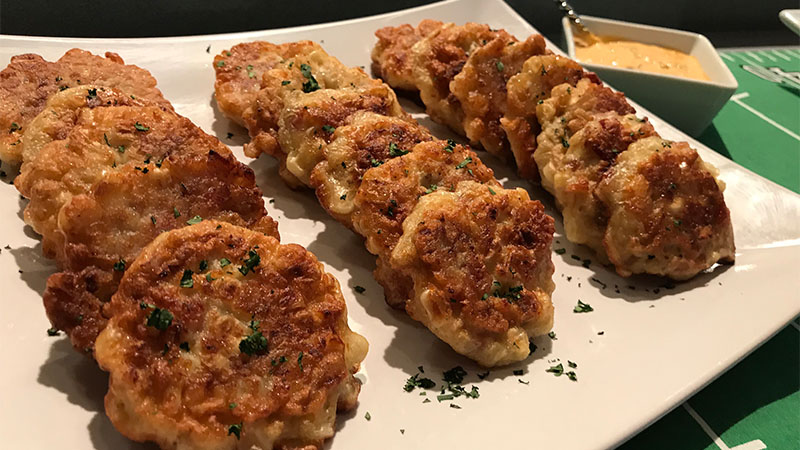 Ingredients
2 eggs
1 cup all-purpose flour
1 cup milk
1 cup minced clams
1 cup fresh white corn kernels
1/2 cup rendered crispy bacon, chopped
pinch salt
pinch ground black pepper
2 tablespoons minced onion
1/2 cup vegetable oil

Directions
1. Beat the egg and gradually beat in the flour.
2. Stir in the milk, clams, corn, bacon, salt, and onion.
3. With spoons, shape mixture into 2-inch diameter patties.
4. In a medium skillet, heat the oil over medium-high heat until hot.
5. Fry the patties in the hot oil until golden brown.
6. Place cooked fritters on paper towels to soak up any excess oil.


Stuffed Quahogs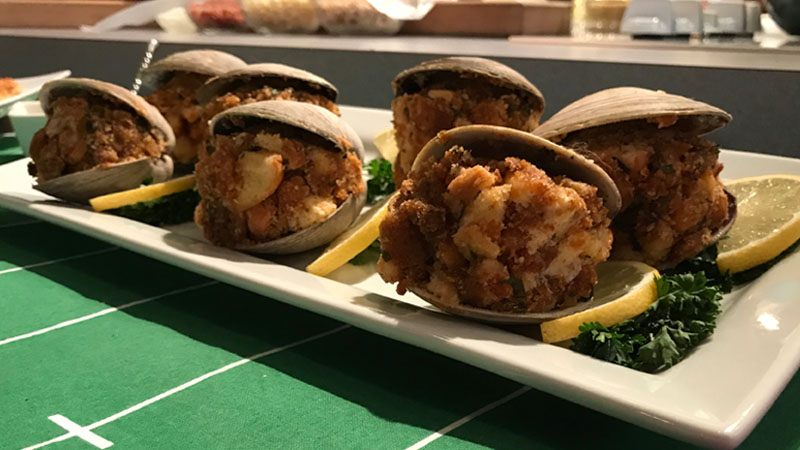 Ingredients
6 large quahog clams
1 tablespoon vegetable oil
2 tablespoons butter
1/4 cup chopped chorizo
1/3 cup diced onion
1/3 cup diced celery
1/4 cup lemon juice
1 tablespoon hot sauce (suggested: Tapatío)
1/2 loaf King's Hawaiian (sweet bread), cubed
2 tablespoons chopped fresh cilantro leaves
1 tablespoon chopped fresh parsley leaves
1 tablespoon massa de pimentão (red pepper paste)
1 1/2 cups white bread crumbs

Directions
1. Preheat the oven to 400 degrees F.
2. In a medium pot over high heat, bring 1 to 2 inches of water to a boil. Add the quahogs and cover the pan.
3. Steam quahogs until they open (at least 6 minutes). Discard any quahogs that do not open. Strain broth and reserve 1/4 cup.
4. Remove the quahogs from the shells (leaving the shells intact; do not snap apart) and chop the meat.
5. In a large skillet over medium-high heat, heat the oil and butter. Add the chorizo, onions, and celery and cook until the vegetables soften (about 5 to 7 minutes).
6. Add the chopped clam meat, lemon juice, and hot sauce and cook for 2 to 3 minutes more.
7. In a large mixing bowl, pour the chorizo mixture over the cubed bread and add the cilantro, parsley, red pepper paste, bread crumbs, and clam broth. Mix gently.
8. Stuff each clam shell with about 3/4 cup of clam stuffing.
9. Wrap the clam shells in aluminum foil and bake until heated through (about 15 minutes). Serve immediately.


Boston Cream Donuts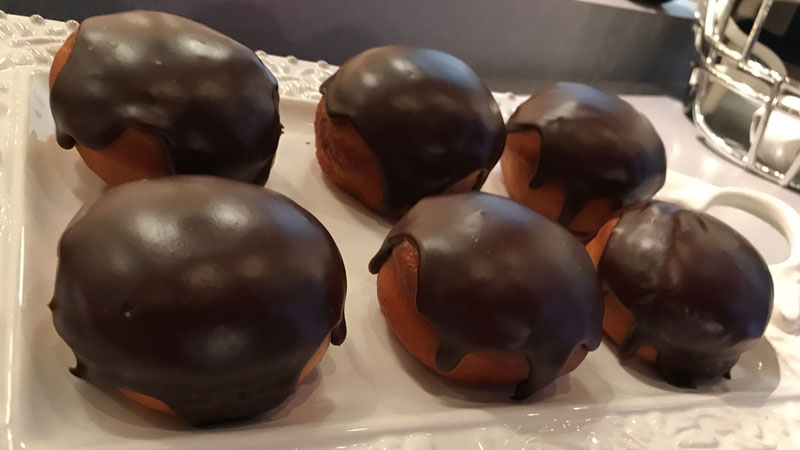 Donut Dough Ingredients
1 1/2 cups milk
2 1/2 ounces butter (approximately 1/3 cup)
2 packs instant yeast
1/3 cup warm water
2 eggs
1/3 cup sugar
1 teaspoon salt
1 teaspoon ground nutmeg
1 1/2 pounds all-purpose flour, plus more for dusting surface
Vegetable oil for frying (about two quarts)

Donut Dough Directions
1. Heat the milk over medium heat just until warm enough to melt the butter. Melt the butter, remove from heat, and set aside.
2. In a small bowl, sprinkle the yeast over the warm water and let dissolve for 5 minutes. After 5 minutes, pour the yeast mixture into the large bowl of a stand mixer and add the lukewarm milk and butter mixture. Add the eggs, sugar, salt, nutmeg, and half of the flour.
3. Using the paddle attachment, combine the ingredients on low speed until flour is incorporated and then turn the speed up to medium and beat until well combined. Add the remaining flour, combining on low speed at first, and then increase the speed to medium and beat well.
4. Change to the dough hook and beat on medium speed until the dough pulls away from the bowl and becomes smooth (about 6 minutes).
5. Transfer to an oiled bowl, cover, and let rise in a warm place for 1 hour or until doubled in size.
6. On a well-floured surface, roll out dough to 1/2-inch thick.
7. Cut out dough using a 2 1/2-inch doughnut cutter or pastry ring and a 7/8-inch ring for the center hole. For Boston cream donuts, don't cut out the center. Set on floured baking sheet, cover lightly with a towel, and let rise for 30 minutes.
8. Preheat the oil in a deep fryer to 365 degrees F. Gently place the doughnuts into the oil, 3 to 4 at a time. Cook for 1 minute per side. Transfer to a cooling rack. Allow to cool for 15 to 20 minutes prior to glazing.

Vanilla Pudding Ingredients
1/3 cup white sugar
3 tablespoons cornstarch
1/4 teaspoon salt
2 1/2 cups milk
1 1/2 teaspoons vanilla extract

Vanilla Pudding Directions
1. In a saucepan, combine the sugar, corn starch, and salt. Add milk and cook over medium heat, stirring constantly until mixture thickens. Add vanilla and continue to cook for 2 to 3 minutes.
2. Pour into a bowl, chill in the fridge overnight.
3. Pipe into cooled doughnuts.

Chocolate Frosting Ingredients
1/2 cup unsalted butter
1/4 cup whole milk, warmed
1 tablespoon light corn syrup
2 teaspoons vanilla extract
4 ounces bittersweet chocolate, chopped
2 cups confectioners' sugar, sifted

Chocolate Frosting Directions
1. Combine butter, milk, corn syrup, and vanilla in medium saucepan and heat over medium heat until butter is melted.
2. Decrease the heat to low, add the chocolate, and whisk until melted.
3. Turn off heat, add the powdered sugar, and whisk until smooth.
4. Place the mixture over a bowl of warm water and dip the doughnuts immediately. Allow glaze to set for 30 minutes before serving.