Prepare Sunny Anderson's Game Day Comfort Food
The celebrity chef taught the hosts how to create her signature cheesesteak nachos, loaded baked potatoes, and non-alcoholic spritzer.

In honor of tonight's CBS Thursday Night Football showdown between the Philadelphia Eagles and the Carolina Panthers, celebrity chef Sunny Anderson returned to The Talk to cook up some classic comfort food inspired by her many travels. See recipes below for her signature Philly Cheesesteak Nachos, Loaded North Carolina Barbecue Chicken Taters, and Blueberry-Mint Lime Fizz.

Recipes courtesy of Sunny Anderson.

Sunny's Philly Cheesesteak Nachos
Serves 2–4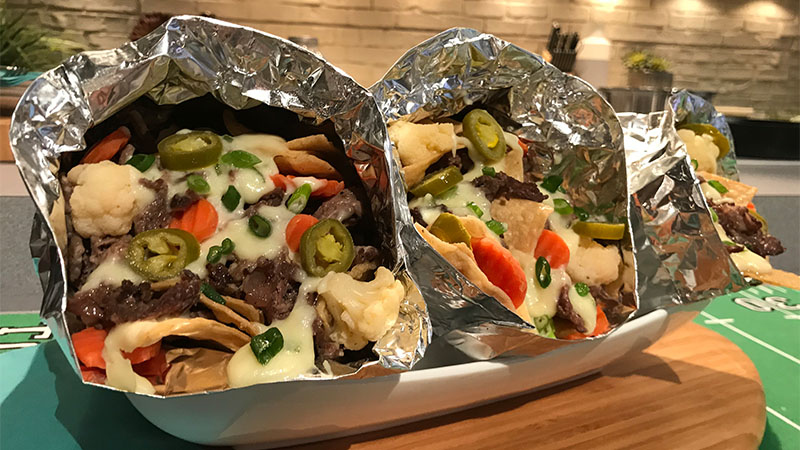 Ingredients
For white cheese sauce
1 tablespoon salted butter
1 tablespoon olive oil
1/4 cup Vidalia onion, chopped
1 jalapeno, seeded and chopped
Kosher salt
Black pepper, freshly ground
2 tablespoons all-purpose flour
2 cups heavy cream
4 ounces white cheddar cheese, shredded from block
4 ounces provolone cheese, shredded from block

For the beef
1 (12–16 ounce) boneless ribeye, slightly frozen, then very thinly sliced
2 teaspoons seasoning salt
Coarsely ground black pepper

For serving
8 cups corn tortilla chips (or great over crinkle fries!)
2 scallions, chopped, white and green parts
Sweet pickled salad peppers
Pickled jalapeño peppers

Directions
1. To prepare cheese sauce
In a small pot on medium heat, add the butter, oil, onions, jalapeño, a pinch of salt, and a grind or two of pepper. Cook while stirring until the onions are tender. Add the flour and cook until the foam dies down but doesn't brown (about 2 minutes). Add the heavy cream and stir until thickened (about 5 minutes). Add the cheese and stir until melted. Keep warm.
2. To grill the beef
On a griddle on high heat, add the beef and as it is cooking sprinkle with the seasoning salt and black pepper. Cook quickly for just a few minutes while flipping and allowing all sides to have contact with the griddle. Remove to a plate and cover lightly with aluminum foil.
3. To assemble
Make single serving pouches out of aluminum foil and in each add tortilla chips. Add these pouches to the griddle over medium heat to warm the tortilla chips (about 3-4 minutes). Remove and top each evenly with steak, a drizzle of cheese sauce, scallions, and desired peppers to taste.


Sunny's Loaded North Carolina Barbecue Chicken Taters
Serves 4-6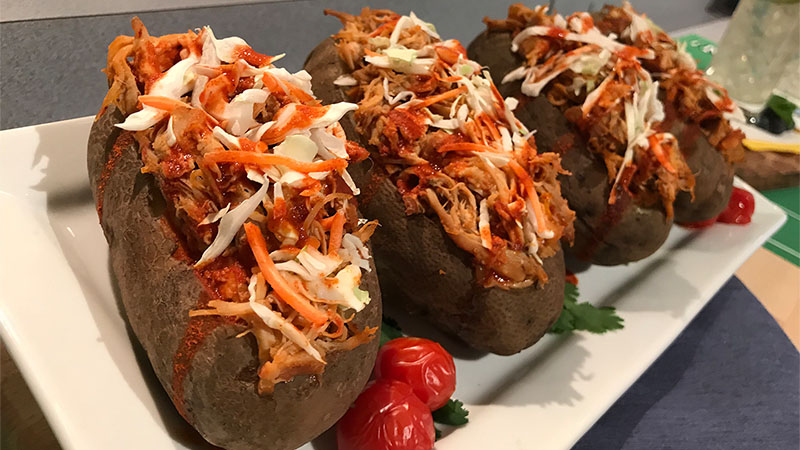 Ingredients
12 chicken thighs, no skin, patted dry with a paper towel

For the rub
1/2 cup your favorite barbecue seasoning
1 tablespoon crushed red chili flakes
1 teaspoon black pepper, freshly ground

For roasting pan
4 garlic cloves, smashed
3 scallions, chopped, white and green parts
1 pint cherry tomatoes
2 tablespoons honey
1 teaspoon liquid smoke (hickory, mesquite, or applewood)

For barbecue sauce
1/2 cup chopped Vidalia or sweet onion
1 cup ketchup
1/4 cup packed light brown sugar
1/4 cup honey
2 tablespoons grained Dijon mustard
2 tablespoons apple cider vinegar
Kosher salt
Black pepper

To serve:
4–6 baked potatoes (or great over tater tots!)
2 cups coleslaw
Hot sauce

Directions
1. Make Rub
In a small bowl add the barbecue seasoning, red chili flakes, and black pepper. Stir and rub each chicken thigh with the mixture all over to coat.
2. Prepare Pan
In a roasting pan, add the smashed garlic and tomatoes and sprinkle the scallions and liquid smoke. Add the chicken over the tomatoes covering them as much as possible. Some are going to peek out, and that's fine. Shake any excess rub from your mix over the top. Cover tightly with aluminum foil.
3. Grill or Bake
Preheat the oven to 325 degrees F or a grill to medium high heat. Place the dish in oven or over the indirect heat for 1 hour. Remove the foil then place back on the grill for 25–30 more minutes.
4. Pull the Chicken
Remove the chicken from the grill. Transfer chicken to a board, making sure to gently shake off juices in the pan before moving; that's flavor so don't leave it on the board! Remove meat from the bones using a fork, tongs, knives, your fingers, or whatever works. Chop the meat and set aside.
5. Make Barbecue Sauce
Place the roasting pan back on the grill over direct heat or on the stove over medium high heat. Add the onion, ketchup, brown sugar, honey, mustard, and vinegar. Using a potato masher, smash the tomatoes. Stir everything allowing it to simmer and reduce until slightly thickened (about 10 minutes). Add the shredded chicken back in and stir to coat.
6. Assemble & Serve
Split each baked potato to expose the flesh. Add chicken, slaw, and a shake of hot sauce.

Sunny's Blueberry-Mint Lime Fizz
Makes about 1/2 gallon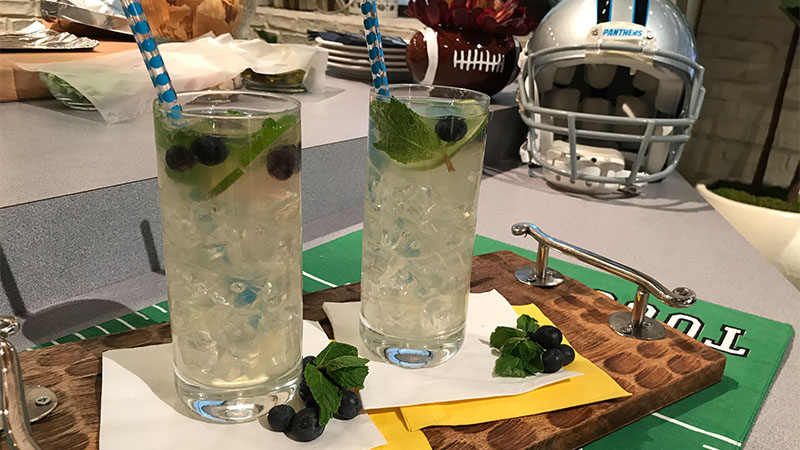 Ingredients
3/4 cup agave nectar
1 bunch mint
1 cup fresh lime juice (about 15–18 limes, microwave them for a few seconds!)
6 cups water
2 pints blueberries
Lime slices (for the garnish)
Sparkling water (for the garnish)

Directions
In a large pitcher add the agave nectar, mint, and lime juice. Muddle until the pitcher is fragrant with the scent of mint. Add the water and blueberries. Refrigerate for an hour. Serve over ice with a splash of sparking water and a slice of lime.