Valerie Bertinelli And Duff Goldman Serve Up Delicious Desserts
The Kids Baking Championship co-hosts shared recipes for cookies, ganache, and milkshakes.
Valerie Bertinelli and Duff Goldman, co-hosts of Kids Baking Championship, stopped by The Talk to demo some tasty treats that will satisfy anyone's sweet tooth.

Brownie Bites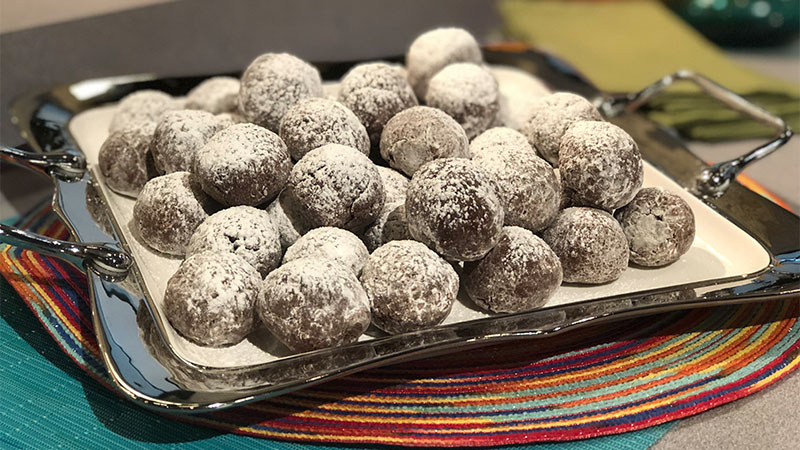 18 to 20 servings
Total time: 40 min
Active time: 10 min

INGREDIENTS:
Cooking spray, for coating the baking pan
1 2/3 cups graham cracker crumbs
2/3 cup shredded coconut
2/3 cup chopped walnuts
One 14-ounce can sweetened condensed milk
6 ounces semisweet chocolate chips
Big pinch kosher salt
Confectioners' sugar, for rolling

DIRECTIONS:
1. Preheat the oven to 375°F. Coat an 8x8" baking pan with cooking spray.
2. Combine the graham crackers, coconut, walnuts, condensed milk, chocolate chips, and salt in a medium bowl. Stir with a wooden spoon until thoroughly combined.
3. Transfer the mixture to the prepared pan and press to the edges.
4. Bake until the chocolate melts and the top is golden, 15 to 20 minutes.
5. Stir the hot mixture in the pan until the chocolate is incorporated throughout. Press back out to the edges and set aside until cool enough to handle.
6. Spread the confectioners' sugar on a dinner plate. Scoop out the brownie mixture by the tablespoon and shape into balls. While still warm, roll each ball in the sugar to coat.

The bonbons will keep, tightly covered, for two days.


Rainbow Sugar Cookies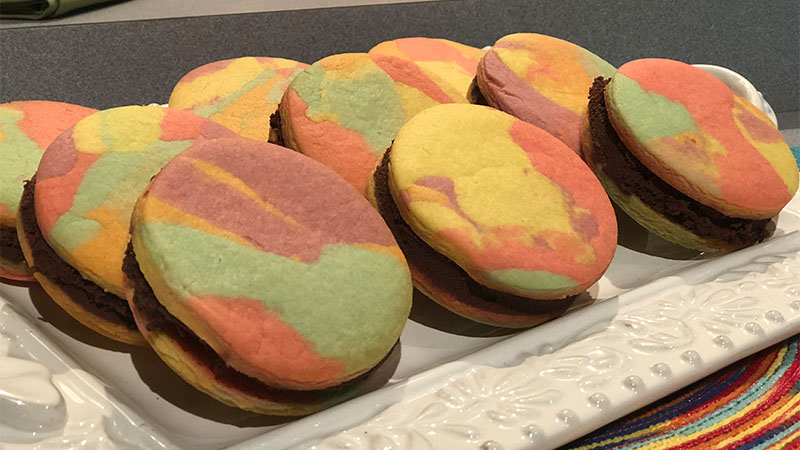 Ingredients
3 cups of all-purpose flour
4 teaspoons of baking powder
1 cup of butter
1 cup of sugar
1 egg
1 tablespoon of whole milk
1 teaspoon of vanilla
Pinch of salt
Food coloring (variety)
Powder sugar for rolling

Directions
1. Cream butter, sugar, and salt.
2. Add milk. Mix. Add egg. Mix. Add flour and baking powder. Mix.
3. Divide the dough into five equal parts. Make each one a different color using food coloring. Mix together to make tie-dye effect.
4. Place dough in fridge for 1/2 hour.
5. Toss powdered sugar on rolling surface.
6. Roll out dough to a quarter inch.
7. Cut them. Put on sheet pan. Place back in fridge for 1/2 hour.
8. Bake cookies for 375°F for five minutes. Then 325°F for ten minutes. Don't let them get any color. If they're starting to get color, open the oven door and turn the heat down.


Whipped Ganache Filling

Ingredients
10 ounces of dark chocolate chips
10 ounces of heavy cream
1 ounce of corn syrup
1 vanilla bean
Pinch of salt

Directions
1. Place chocolate chips and corn syrup into a bowl.
2. Put cream, vanilla bean, and salt into pot. Bring to a boil.
3. Pour over chocolate chips. Cover bowl with kitchen towel. Let it sit for five minutes.
4. Whisk until smooth and shiny.
5. Chill in fridge for 15 minutes, stirring occasionally.
6. Place in bowl of stand mixer. Whip until light and fluffy.


Junkyard Milkshake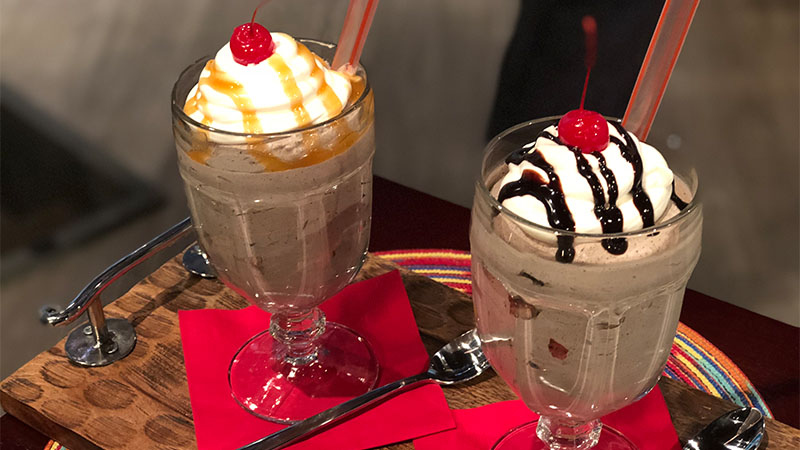 Ingredients
Vanilla ice cream
Non-dairy/vegan ice cream
whole milk
Almond milk
A variety of donuts (leave out overnight to get them a little stale.)
Oreo cookies
Kit Kats
M&Ms
Churros
Gummy bears
Whipped cream
Maraschino cherries
Chocolate sauce
Caramel sauce

Directions
1. Leave donuts out overnight to get them a little stale.
2. Place vanilla ice cream or non-dairy/vegan ice cream into blender and begin to blend.
3. Add ingredients of your choice to the blender.
4. Top with sauce and whipped cream.

Rainbow Sugar Cookies, Whipped Ganache Filling, and Junkyard Milkshake recipes courtesy of Duff Goldman. Brownie Bites recipe from One Dish at a Time: Delicious Recipes from My Italian-American Childhood and Beyond by Valerie Bertinelli.

Watch all-new episodes of The Talk Weekdays on CBS and CBS All Access.