Chef Lorena Garcia returned to The Talk to promote her restaurant Chica at The Venetian in Las Vegas and The Vegas Uncork'd event which takes place Thursday, May 10 to Sunday, May 13.

For more information on Vegas Uncork'd please visit: http://vegasuncorked.com.

Recipes courtesy of Chef Lorena Garcia.

ARGENTINIAN SHRIMP & QUINOA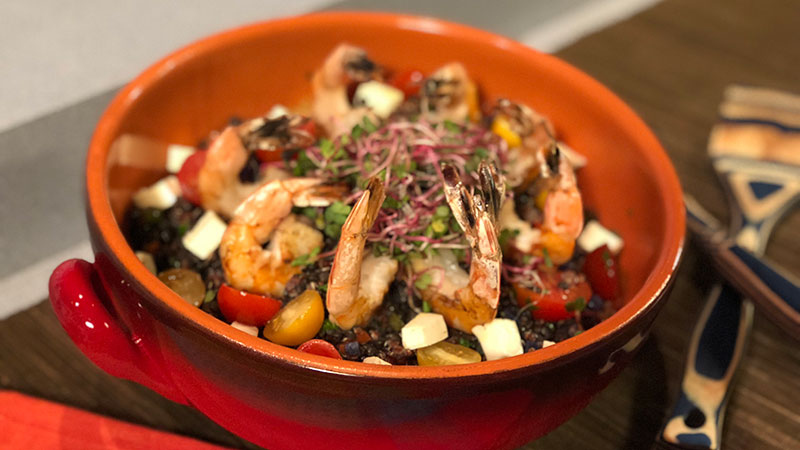 Ingredients (QUINOA)
(1 cup) black lentils cooked (see recipe below)
(1/3 cup) Purple potato sofrito (see recipe below)
(1/2 cup) red quinoa cooked (see recipe below)
(1/2 teaspoon) parsley, finely chopped
(1/2 teaspoon) cilantro, finely chopped
(pinch) mint, chiffonade

Method:
In a mini serving cazuela at low heat, add cooked lentils with its juice, purple potato sofrito, and red quinoa and herbs. Mix together and cover to keep warm. Serve.

Ingredients (ARGENTINIAN SHRIMP)
(2 1/2 tablespoons) queso guayanese cheese, in 4 pieces
(2 tablespoons) (2 yellow/red 2 cherry tomatoes), quartered
(2 teaspoons) white balsamic dressing
micro greens (to garnish)
Grilled Shrimp (see recipe below)

Method:
In the serving cazuela, add the quinoa, lentil and herb mixture. In a separate container combine cheese pieces, cherry tomato slices and white balsamic dressing. Top the cazuela with the dressed tomatoes and guanayese cheese (for presentation, tomatoes should face flesh cut side up). Top with grilled shrimp and finish with microgreens.

Ingredients (WHITE BALSAMIC DRESSING)
Yields: Almost 1/2 pint
(4 teaspoons) agave
(3 teaspoons) lemon juice
(1 teaspoon dijon mustard
(4.5 tablespoons white balsamic vinegar
(3/4 cup) olive oil
(1 teaspoon) kosher salt
(pinch) fresh black pepper

Method:
In a bowl whisk together ingredients, while slowly drizzling olive oil as you whisk.

Ingredients (RED QUINOA)
Yields: 2 Quarts / 800 grams
(1.5 cups) (1pt) red quinoa
(3 cups (1.5 pt) water
(1/2 cup) Spanish onion, brunoise
2 each bay leaves
(3 teaspoons) shaved garlic
(1/4 cup) extra virgin olive oil
(3 teaspoons) kosher salt

Method:
Rinse the quinoa, set aside. In a saute pan sweat the Spanish onion, bay leaves and shaved garlic. Season with salt. Add the red quinoa and cook for a few minutes, add the water and bring to a boil. Cook until liquid absorbs and then turn off. Let rest for 15 minutes and then uncover and fluff.

Ingredients (BLACK LENTILS)
Yields: 2 Quarts/ 1370 grams
(2 cups) black lentils, soak 1 hour
(6 cups) water
(1/4 cup) celery, whole
(1/2 cup) Spanish onion, whole
(1.5 tablespoons) garlic, whole
(3.5 tablespoons) carrot, whole
(1 tablespoon) kosher salt

Method:
Drain the soaked lentils, put in a large wide cooking vessel and cover with water. Add celery, Spanish onion, carrot, and garlic, salt and bring to a boil, then turn to a simmer. Cook and check at :30 minute assess, cook until creamy. Let rest and come to room temperature, before refrigerating before reserving.

Ingredients (PURPLE POTATO SOFRITO)
Yields: 500 grams (1 pt)
(1/4 cup) green bell pepper, brunoise
(1/4 cup) red bell pepper, brunoise
(1/4 cup) yellow bell pepper, brunoise
(3/4 cup) Spanish onion, brunoise
(3/4 cup) purple potato, brunoise (rinsed to not stain)
(1/4 cup) carrot, brunoise
(1/4 cup) extra virgin olive oil
(2 teaspoons) grams kosher salt

Method:
Saute the veggies for 5 minutes. Cool in a single flat layer, and reserve.

Ingredients (GRILLED SHRIMP)
Jumbo shrimp
Lemons
Salt and Pepper

Method:
Season and grill.

GUACAMOLE WITH PLANTAIN CHIPS AND AREPAS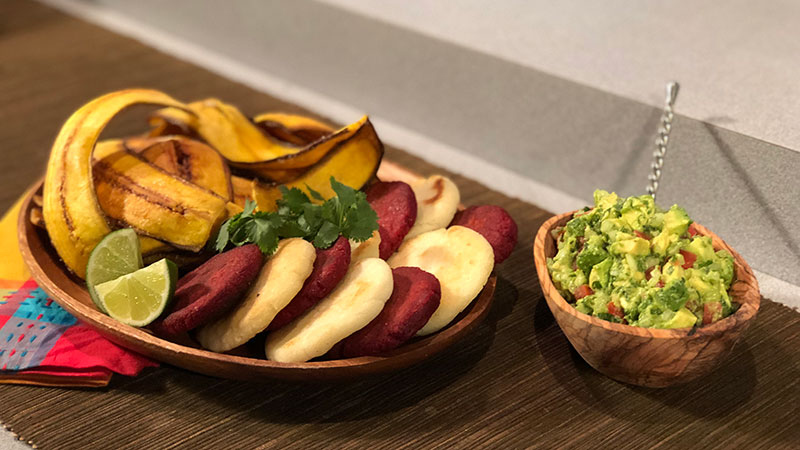 Ingredients (GUACAMOLE)
Serves: 6
1 teaspoon garlic, minced
1/2 cup plus 1 teaspoon onions, diced small
4 tablespoons fresh cilantro, finely chopped
1/2 teaspoon kosher salt
2 whole avocados, peeled and cubed
1/2 cup tomatoes, diced small
1 tablespoon jalapeño, diced small
1 tablespoon lime juice
1/2 tablespoon lemon juice
1 tablespoon extra-virgin olive oil

Method:
1. In a molcajete (mortar and pestle), combine garlic, 1 teaspoon onions, cilantro and salt. Muddle to combine well.

2. Add avocados, the remaining 1/2 cup of onions, tomatoes, jalapeño, lime juice, lemon juice, and extra virgin olive oil. Smash all ingredients to achieve a chunky guacamole consistency.

Ingredients ("MARIQUITAS" PLANTAIN CHIPS)
Serves: 4
4 whole green plantains, large, skin on
Vegetable oil for frying
Kosher salt

Method:
1. Slice the plantains length-wise, with the peel on, using a mandolin or vegetable slicer, 1/16 of an inch thick.

2. In a large skillet, heat oil to 350F degrees. (Oil should fill a third of the skillet.)

3. Add plantain slices to hot oil and fry for 5 minutes until crispy and golden brown.

4. Remove Mariquitas with slotted spoon and allow them to drain on paper towels for a few minutes. Season generously with salt and serve hot.

*Chef's Tip: In a bowl whisk vinegar, water and salt add the plantain cut on a bias to the brine. Let sit for a few minutes before frying

Ingredients (AREPAS)
Serves: 8 (4.5 ounces each)
2 cups precooked corn flour (harina pan flour)
1 tablespoon kosher salt
2 1/2 cups water
1 tablespoon vegetable oil (for greasing skillet)

Method:
1. In a mixing bowl combine the precooked corn flour and salt. Add the water and knead the mixture until all the ingredients are well combined and the dough no longer sticks to your hands. (If, while kneading, the dough seems too stiff and breaks apart, add a few tablespoons of hot water; if it is too sticky, add a little more corn flour).

2. Divide the dough into 16 equal balls (about 2.5 ounces each) and flatten each between your palms into a 2-inch patty, 1/2-inch thick.

3. Heat the vegetable oil in a large nonstick skillet over medium- low heat for 2 minutes. Add 3 or 4 arepas to the pan (depending on size of pan). The arepas should sizzle as they hit the skillet.

4. Cook the arepas until they're golden and have a nice crust, 6 to 8 minutes. Flip them and brown the other side for an additional 6 to 8 minutes. Then cover the arepas and continue to steam them for another 5 minutes.

*Chef's Tip: Add variety of flavor to your dough by replacing the water in the recipe with a ratio of 1:1 of (water: beet juice) or (water: cooked black beans)

PEPINO SANDIA COCKTAIL @ CHICA LAS VEGAS
Serves: 1 cocktail

Ingredients
1 1/2 oz. Sipsmith Gin
1 Cucumber Ribbon
1 Watermelon Ice Cube
Cracked Juniper Berry
1 Spring Fresh Mint
3 oz. Fever Tree Tonic

Method:
Fill a wine glass 3/4 full with ice to include 1 watermelon cube, add gin then garnish with cucumber ribbon, mint spring and cracked juniper berry. Tonic served on the side in a carafe (top with tonic) and serve in an oversized wine glass.

Watch all-new episodes of The Talk Weekdays on CBS and CBS All Access.