Chef Joe Isidori Cooks Up Texan Burgers, Korean BBQ Wings, And Bam Bam Shakes
Get the recipes below!
Posted on Apr 27, 2018 | 12:00pm
Chef
Joe Isidori
visited
The Talk
to promote his restaurant Black Tap Craft Burgers & Beer at The Venetian in Las Vegas and Vegas Uncork'd which takes part Thursday, May 10th to Sunday, May 13th. For more information on Vegas Uncork'd please visit:
http://vegasuncorked.com/
.
Chef Joe Isidori's recipes can be found below.
Recipes courtesy of Chef Joe Isidori.
TEXAN BURGER
Serves 4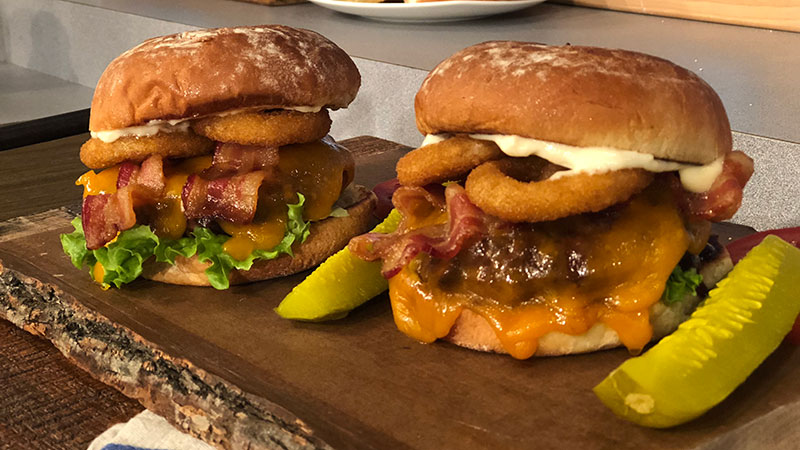 Ingredients
2 pounds 80% lean ground beef
1 tablespoon kosher salt
1/8 teaspoon freshly ground black pepper
Canola or vegetable oil for the pan
1/2 cup Carolina-style BBQ sauce or your favorite store-bought sauce
8 slices Cheddar Cheese
4 4-inch potato buns
8 slices Applewood-smoked bacon, cooked crisp
8 onion rings
1/4 cup mayonnaise
Lettuce, tomato slices, pickle spears, for serving
Method:
1. Place the ground beef in a large bowl and gently use your fingers to fluff the meat to loosen it (you don't want to over handle the meat). Use a 4 1/2- to 5-inch metal ring or your hands to make four 3/4-inch-thick patties. Mix the salt and pepper together in a small bowl and use half of it to generously season the tops of the burger patties.
2. Heat a cast-iron flat-top griddle or large cast-iron skillet over medium-high heat for 2 minutes. Dip a folded paper towel in oil and use it to grease the pan. Use a spatula to carefully transfer the patties to the pan and place them seasoned-side down. Sprinkle the tops of the patties with the remaining salt and pepper mixture.
Cook, without pressing down or moving the burgers, until the bottoms are browned, about 5 minutes. Flip the burgers and cook for 4 1/2 to 5 minutes longer for medium-rare or 7 minutes more for medium.
Spoon 2 tablespoons of the barbecue sauce onto each burger, top with 2 slices of the cheese, and add 1 teaspoon water to the pan. Immediately cover the pan and cook until the cheese has melted, about 10 seconds. Transfer the burgers to a plate.
3. Pour off most of the fat from the pan and use a paper towel to wipe out the browned bits. Open the buns and place the bottom halves cut-side down in the hot pan until browned and toasted, 1 to 2 minutes. Turn the buns over to toast the other side, 30 seconds to 1 minute longer. Repeat with the bun tops.
4. Transfer each patty to a bottom bun half. Top each with 2 slices of the bacon and 2 onion rings. Spread mayonnaise on the top bun half. Serve with lettuce, a tomato slice, and a pickle on the side.
KOREAN BBQ WINGS
Serves 4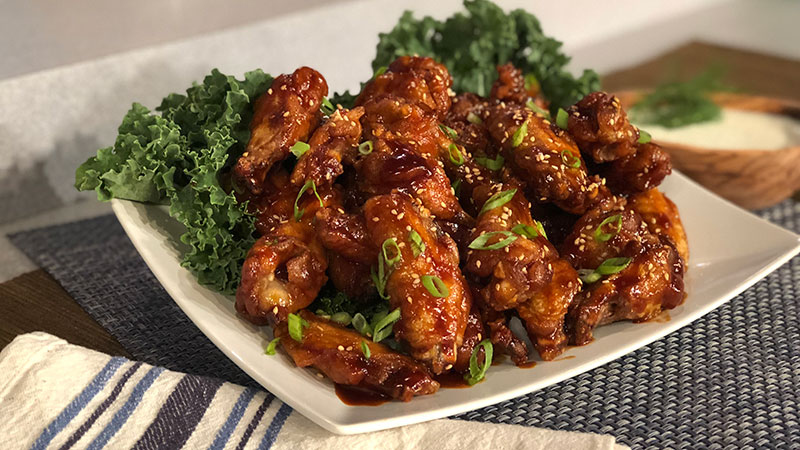 Ingredients
18 chicken wings (6 pieces to an order)
Korean BBQ sauce (recipe below)
Lime (on the side)
Buttermilk dill (recipe below)
Sesame seeds and scallions
Method:
1. Place the raw chicken wings in a 350 degree fryer, cook for about 10-12 min (all the way through).
2. Cool chicken wings.
3. Fry the wings again for 9 minutes until crispy.
4. Toss the wings in Korean BBQ sauce (recipe below).
5. Sprinkle sesame seeds and scallions on top.
6. Serve with lime and buttermilk dill dipping sauce on the side.
Ingredients ("Korean BBQ Sauce")
1 cup Carolina-style BBQ sauce or your favorite BBQ sauce
1/4 cup store-bought bottled kimchi base or liquid from prepared kimchi
2 tablespoons sriracha
2 tablespoons toasted sesame oil
2 tablespoons fresh lime juice (from 1 or 2 limes)
Method:
Whisk together the barbecue sauce, kimchi base, sriracha, sesame oil, and lime juice in a large bowl.
Ingredients ("Buttermilk Dill")
1 cup mayonnaise
1 cup buttermilk
1 tablespoon finely chopped fresh dill
1/4 teaspoon garlic powder
1/4 teaspoon onion powder
1/2 teaspoon kosher salt (optional)
Method:
1. Whisk the mayonnaise, buttermilk, dill, garlic powder, and onion powder together in a medium bowl.
2. Taste and add the salt, if needed.
3. Transfer to an airtight container and refrigerate for at least 2 hours before using.
BAM BAM SHAKE
Serves 1 Shake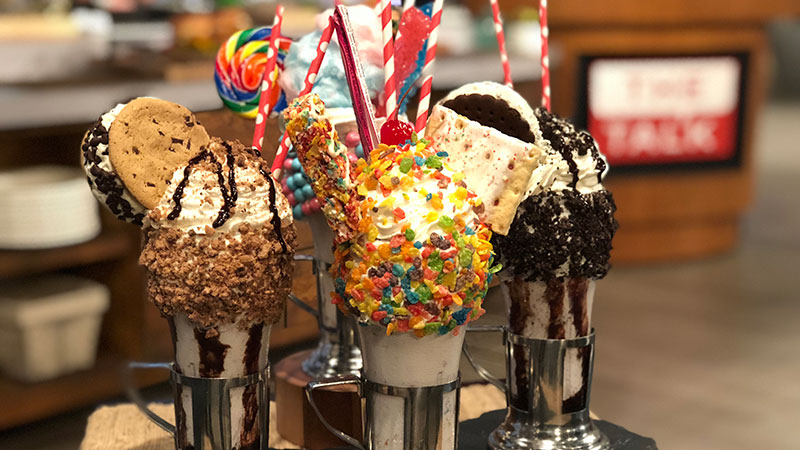 Ingredients
9 oz. vanilla ice cream
3 oz. milk
2.5 oz. vanilla frosting
1/7th can whipped cream
3.5o z Fruity Pebbles cereal
1 (each) Fruity Pebbles Bar
1 (each) cherry
1/4 strawberry Pop Tart
1 Laffy Taffy rope
Method:
1. Frost the rim and roll it in Fruity Pebbles.
2. Blend the ice cream, milk, and Fruity Pebbles.
3. Pour the blended shake into the garnished glass.
4. Place 1/2 of 1 strawberry Pop Tart into shake.
5. Place 1 Fruity Pebbles Rice Krispie treat into other side of shake.
6. Insert Laffy Taffy into back of shake glass.
7. Add whipped cream, sprinkle Fruity Pebbles, and place a cherry on top.
Watch all-new episode of
The Talk
Weekdays on CBS and
CBS All Access
.