​Chef Curtis Stone Cooks The Perfect Roasted Rack Of Lamb
Get the recipe below!

Chef Curtis Stone visited The Talk to promote his restaurant Maude in Beverly Hills and share his recipe for the perfect rack of lamb served with buttered tourney potatoes. His recipes can be found below.

Recipes courtesy of Curtis Stone.

ROASTED RACK OF LAMB WITH DIJON AND BREAD CRUMBS

Equipment:
Induction burner
Induction safe large frying pan for searing lamb
Bowl for mixing bread crumbs
3 each finger bowls for holding herbs
Quarter/half sheet tray for roasting lamb
Pastry brush, spoon, or small offset for spreading mustard
Digital read thermometer for temping lamb
Resting plate for roasted lamb
Serving plate or platter for lamb
Carving board for lamb
Carving knife and carving fork for lamb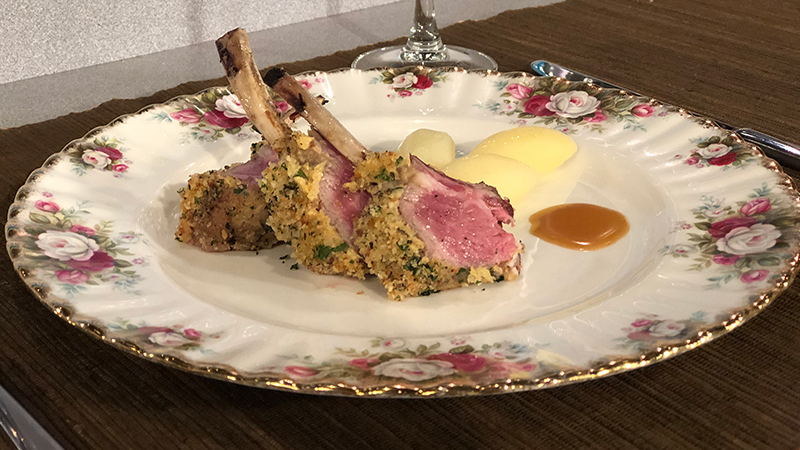 Ingredients:
1 cup fine fresh bread crumbs
2 tbs finely chopped fresh flat-leaf parsley
1 tbs finely chopped fresh mint
1 tsp minced fresh rosemary
Salt and freshly ground black pepper
3 tbs olive oil, separated
Two 1lb well-trimmed racks of lamb (each with 8 bones)
2 tbs Dijon mustard

Method:
1. Preheat the oven to 400°F.

2. Toss bread crumbs, parsley, mint, and rosemary in bowl; season with salt and pepper. Mix in 2 tbs oil to coat.

3. Heat large heavy frying pan over high heat. Sprinkle lamb with salt and pepper. Drizzle 1 tbs oil into hot pan and place 1 lamb rack, meat side down in pan. Sear about 1 minute per side, or until golden brown on both sides.

4. Transfer lamb rack to a heavy baking sheet, meat side up. Repeat with remaining lamb rack.

5. Spread 1 tbs mustard over each rack. Pat bread crumb mixture over mustard coating on each rack, dividing equally and gently pressing to adhere.

6. Roast lamb until thermometer inserted into center (do not touch bone) registers 125°F (for medium-rare), about 10 minutes, and transfer to a cutting board.

7. Let stand 10 minutes, then carve lamb between bones into individual chops.

8. Place chops on 4 serving plates and drizzle with any accumulated juices from lamb and pan, and serve.

BUTTER-BRAISED TOURNE POTATOES

Ingredients:
12 Yukon Gold potatoes, tourned
1 lb clarified butter
Sea salt

Method:
1. Melt butter in saucepan over medium-low heat. When melted and warm, add potatoes and cook slowly and gently until potatoes are tender enough to be pierced with a paring knife.

2. Using a slotted spoon, remove potatoes from butter and season with salt. Serve immediately.

MACARONS

Ingredients (Cookies):
2 3/4 cups powdered sugar
1 3/4 cups (lightly packed) sifted almond flour
6 large egg whites (6 oz)
1/2 cup sugar
2 to 3 drops food coloring

Ingredients (Filling):
2/3 cup fruit puree (such as apricot, blueberry, strawberry, raspberry)
1 1/2 tbs corn syrup
7 oz good-quality white chocolate, chopped (1 1/3 cups)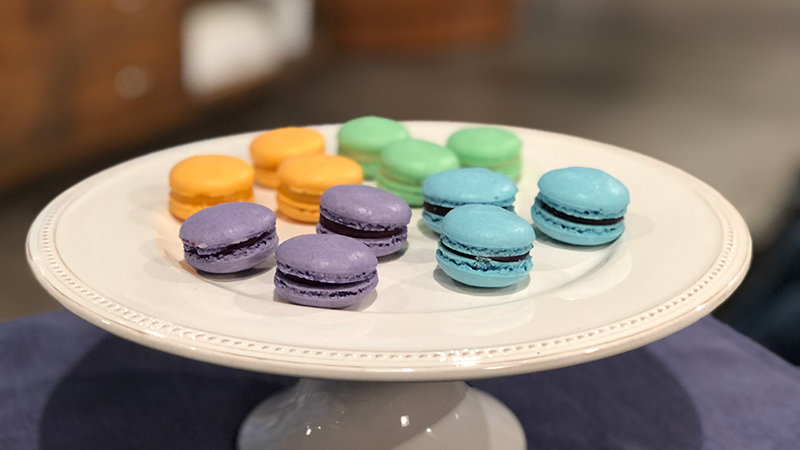 Method:
To make cookies:

1. Line 2 large baking sheets with parchment.

2. In food processor, blend powdered sugar and almond flour to blend. Sift almond mixture into large bowl.

3. Using electric mixer, beat egg whites and sugar in medium bowl until medium-soft peaks form. Mix in food coloring. Fold meringue into almond mixture.

4. Working in 2 batches, fill pastry bag fitted with 1/4-inch-diameter plain pastry tip with batter (batter will be thin and will drip from bag). Pipe batter in 11/4-inch rounds on baking sheets, spacing 1 inch apart (cookies will spread slightly). Let rest on sheets at room temperature 30-45 minutes to form a skin over batter.

5. Position 1 rack in top third and 1 rack in bottom third of oven; preheat to 285°F.

6. Bake cookies 18 minutes, or until puffed and golden on top. Cool cookies on sheets on rack. Carefully peel cookies from parchment.

To make ganache filling:
7. In small saucepan, bring fruit puree and corn syrup to a boil, stirring often. Place chocolate in medium bowl and pour hot fruit puree over chocolate. Cover and set aside for 2 minutes.

8. Using immersion blender or whisk, blend mixture until smooth and completely blended. Cover and refrigerate ganache until cold.

To assemble macarons:
9. Line rimmed baking sheet with parchment. Spoon ganache into pastry bag fitted with 1/4-inch plain tip. Starting at outer edge of flat sides of half of macaroons, pipe ganache over in spiral. Gently press another macaroon on top of each. Place on sheet. Cover and refrigerate overnight.

Watch all-new episode of The Talk Weekdays on CBS and CBS All Access.