Chef Susan Feniger joined the hosts of The Talk to cook up some Chile Relleno Burgers for Memorial Day Weekend and to promote her new restaurant BBQ Mexicana, opening at Mandalay Bay in Las Vegas. Her recipes can be found below.

Recipes courtesy of Mary Sue Milliken and Susan Feniger.

CHILE RELLENO BURGER
Serves 10 people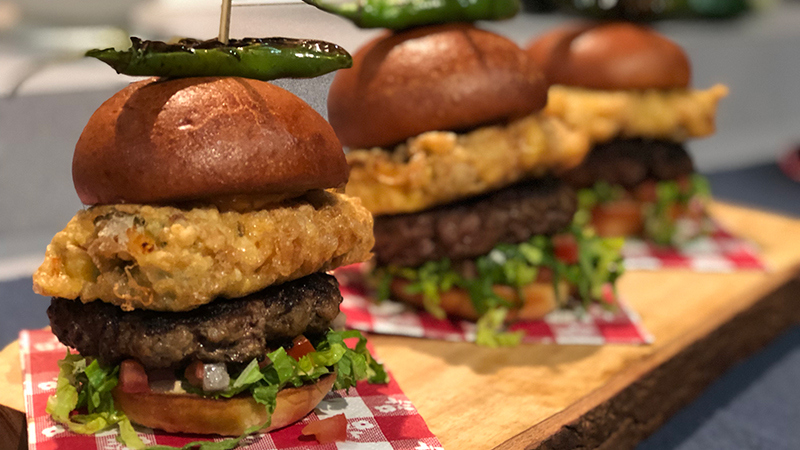 Ingredients:
2 1/2 lb ground short ribs
2 1/2 lb ground brisket
2 Tbs kosher salt
2 Tbs freshly ground black pepper
Chile Relleno (see recipe)
5 cups shredded romaine
10 serrano chiles, grilled
Chipotle Aioli (see recipe)
Salsa Fresca (see recipe)
10 Telera rolls
Method:
1. In a bowl, mix ground short ribs, ground brisket, salt, and pepper together. Take a small piece of the mixture and cook on grill to check seasoning.
2. Form mixture into flat patties. Use your thumb to make an indent in the center to ensure even cooking and prevent balling of burger. Lay patties in a single layer on parchment-lined sheet pan.
3. Grill burger to desired doneness and toast telera roll on grill until golden. Grill serrano chile and sprinkle with salt. Spread 1 1/2 ounces Chipotle Aioli on both sides of the bun, then 1 ounce shredded lettuce, and 1/4 ounce salsa fresca on the bottom. Put patty on top of that and then the relleno. Run a skewer through the top of the burger attaching the serrano chile.
4. Put the burger and 3 ounces of Potato Salad on a plate and serve.
CHILES RELLENOS
Makes 6
Ingredients:
1 cup plus 2 tablespoons grated Mexican manchego cheese
1 cup plus 2 tablespoons grated panela cheese
3/4 cup grated anejo cheese
6 large poblano chiles, roasted, peeled*, slit lengthwise down one side and seeded
Flour for coating 4 large eggs
1/2 teaspoon salt
1/4 teaspoon freshly ground black pepper
1 1/2 cups vegetable oil
Method:
1. Combine the grated manchego, panela, and anejo cheeses in a bowl and reserve.
2. Working on a towel-lined counter, spread open 1 chile at a time. Mold 1/2 cup of the cheese mixture in your hands to form a compact torpedo-shaped log and place inside the chile. Roll the flesh to entirely enclose the cheese, using the towel to help shape a tight roll. Place on a platter and stuff the remaining chiles. (They can now be reserved for up to 2 days, well covered, in the refrigerator.)
3. Preheat the oven to 350 F.
4. Spread the flour on a platter. Beat the eggs with the salt and pepper in a bowl wide enough for dipping.
5. Heat the oil in a 9-inch cast-iron skillet over medium-high heat until hot. Dip 3 chiles at a time in the flour, patting off the excess so just a fine even coating remains. Then place in the eggs.
6. Test the oil by dropping in a bit of egg. If it sizzles immediately and rises to the surface, the oil is ready. Drop the chiles, 1 at a time into the oil, putting an extra dollop of egg batter on each. Fry 3 at a time until golden brown all over, about 1 1/2 minutes per side. Drain on paper towels. Reheat oil and repeat with remaining chiles.
7. Transfer the chiles to a baking dish or tray and bake until the cheese thoroughly melts and heats through, 8 to 10 minutes.
*Fresh chiles and bell peppers can be roasted over a gas flame or on a tray under the broiler. Keep turning so the skin is evenly charred, without burning and drying out the flesh. Transfer charred peppers to a plastic bag, tie the top closed and let steam until cool to the touch, about 15 minutes. (If you are rushed, you can place the bag in a bowl of iced water to speed things up.) The best way to peel is just to pull off the charred skin by hand and then dip the peppers briefly in water to remove any blackened bits. Do not peel the peppers under running water since that will wash away flavorful juices. Once peeled, cut away stems, seeds, and veins.
CHIPOTLE AIOLI
Makes about 1 1/2 cups
Ingredients:
2 egg yolks
3 canned chipotles en adobo
Juice of 1 lime
1 tablespoon water
5 cloves garlic, peeled
1 teaspoon salt
1/2 teaspoon freshly ground black pepper
1 cup canola oil
Method:
In a blender, combine egg yolks, chipotles en adobo, lime juice, water, garlic, salt, and pepper. Blend until smooth.
With the motor still running, drizzle in oil very slowly until mixture is the consistency of mayonnaise (adding too much oil will cause the aioli to break). Taste and adjust seasonings as necessary. Chill until ready to use.
SALSA FRESCA
Makes 2 cups, or 6 appetizer servings with chips
Ingredients:
4 medium ripe tomatoes, cored, seeded, and finely diced
1/4 red onion, minced 2 jalapeno chiles, stemmed, seeded if desired, and minced
1 bunch cilantro, leaves only, chopped
2 tablespoons freshly squeezed lime juice
3/4 teaspoon salt
Pinch of freshly ground black pepper
Method:
Combine all of the ingredients in a mixing bowl. Stir and toss well, and serve. Store in a covered container in the refrigerator no more than 1 day.
POTATO SALAD VINAIGRETTE
Serves 6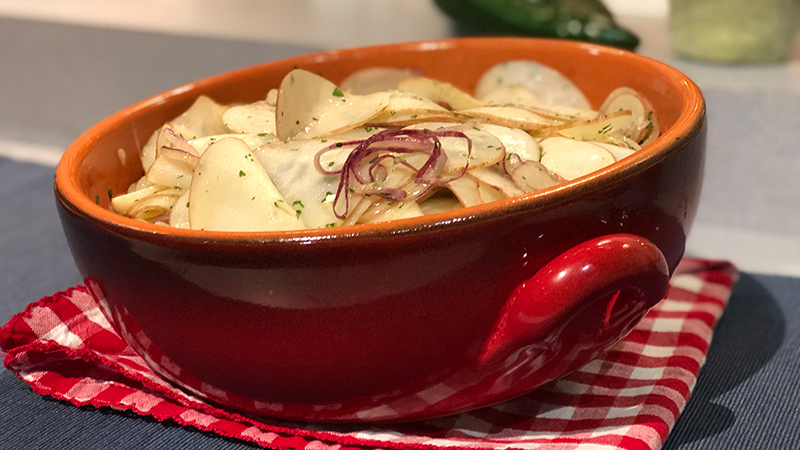 Ingredients:
6 medium red potatoes, with skins, washed
1/2 medium red onion, thinly sliced
2 tablespoons red wine vinegar
1 tablespoon plus 1 teaspoon dijon mustard
1/2 cup virgin olive oil
1 bunch parsley, leaves only, chopped
2 teaspoons pureed garlic*
1 1/2 teaspoons salt
Dash of white pepper
Method:
1. Using a mandolin or food processor, fitted with a 2-millimeter slicing blade, slice potatoes across width as thinly as possible. Place in a large bowl and wash in cold, running water until water runs clear.
2. Bring a large pot of salted water to a boil. Add potatoes, bring back to a boil, and remove from heat. Drain in a colander. In a medium bowl, toss potatoes with red onion and reserve.
3. Whisk remaining ingredients in a small bowl to form a vinaigrette. Pour over potatoes and onions, and toss to combine. Serve immediately or refrigerate as long as 2 days.
*To puree garlic in quantity, break the bulbs apart and peel, by first flattening the cloves with the flat side of a heavy knife or cleaver, then remove skin. Puree with a small amount of olive oil in a food processor fitted with a metal blade or blender. Store in the refrigerator for as long as 2 weeks.
ELDERFLOWER PALOMA
Ingredients:
1 1/2 ounces Tequila Blanco
2 1/2 ounces fresh grapefruit juice
1/4 ounce Monin Elderflower
Splash lemon lime soda
Method:
Mix all ingredients in a mixing glass with ice and shake vigorously. Strain into a rocks glass over ice. Top with a splash of lemon lime soda.
Watch all-new episode of
The Talk
Weekdays on CBS and
CBS All Access
.