Given her Producer and starring role on the recently rebooted (and subsequently canceled) sitcom Roseanne, it's hard not to wonder what The Talk Executive Producer and Host Sara Gilbert is thinking and feeling right now.

Today on The Talk, Sara had the chance to address the situation.

"In addition to my statement, I would like to say that this has been a very difficult week," she said. "A lot of people have been hurt by this. I will say that I'm proud of the show we made. The show has always been about diversity, love, and inclusion. And it's sad to see it end in this way. I'm sad for the people who lost their jobs in the process. However, I do stand behind the decision that ABC made."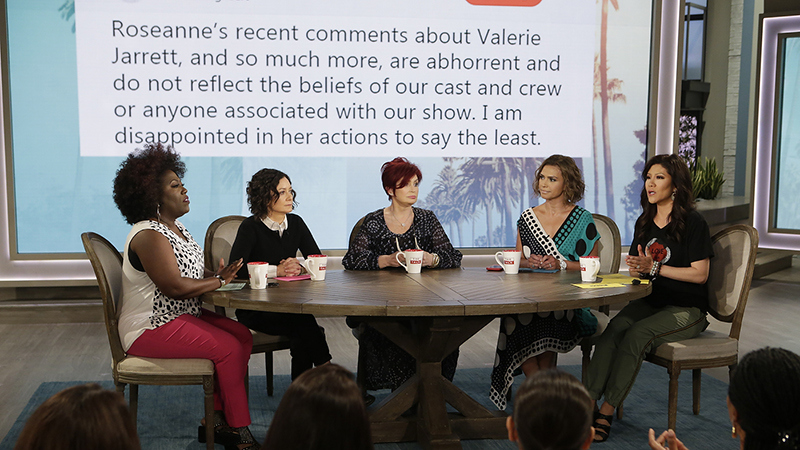 Sheryl nodded in agreement. "I'm really glad to hear you say that. Because as a black woman who is a comedian, I'm very proud of Channing Dungey, who's the President of ABC Entertainment," she said. "And as Spike Lee says, 'A lot of people came together to do the right thing,' and I'm happy to see that it was done swiftly."

Julie chimed in, "Canceling the show so quickly sent a strong message, and the right message. That's for sure."

After Roseanne Barr sent out a racist tweet last week, resulting in ABC swiftly canceling the Roseanne reboot, Sara sent out a couple tweets of her own, denouncing her co-star's actions.
Roseanne's recent comments about Valerie Jarrett, and so much more, are abhorrent and do not reflect the beliefs of our cast and crew or anyone associated with our show. I am disappointed in her actions to say the least.

— sara gilbert (@THEsaragilbert) May 29, 2018
This is incredibly sad and difficult for all of us, as we've created a show that we believe in, are proud of, and that audiences love— one that is separate and apart from the opinions and words of one cast member.

— sara gilbert (@THEsaragilbert) May 29, 2018
STREAM: All-New Episodes Of The Talk On CBS All Access
Watch all-new episodes of
The Talk
Weekdays on CBS and
CBS All Access
.