Chef Adam Perry Lang stopped by The Talk to grill up some of his favorite Fourth of July dishes and promote his new cookbook, Serious Barbecue. His recipes can be found below.

Recipes courtesy of Serious Barbecue.

HANGER STEAK WITH THYME, CRUSHED RED PEPPER, AND GARLIC
Serves 8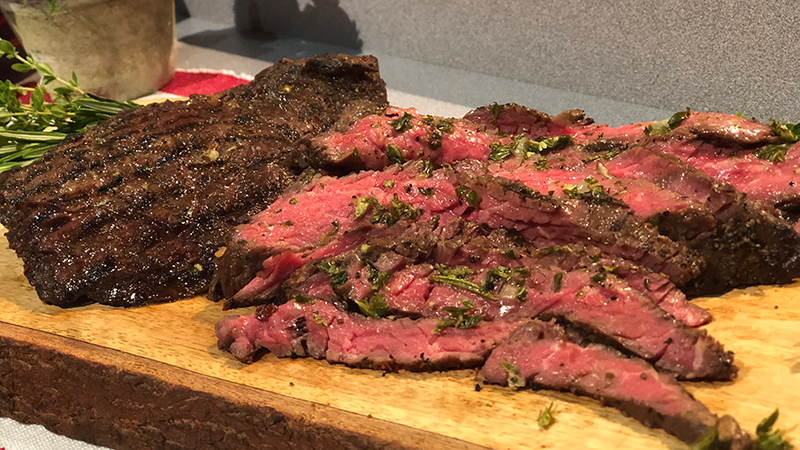 Ingredients (Marinade)
2 teaspoons crushed hot red pepper flakes
2 teaspoons boiling water
3/4 cup extra virgin olive oil
8 garlic cloves, peeled, halved, germ removed, and thinly sliced
1 1/2 tablespoons firmly packed dark brown sugar
1 1/2 tablespoons Japanese soy sauce
1 1/2 tablespoons red wine vinegar
2 thyme sprigs
4 hanger steaks (about 14 ounces each)

Ingredients (Seasoning Blend)
1 tablespoon garlic salt
1 tablespoon coarsely ground fresh black pepper
1 1/2 teaspoons mild chile powder, preferably Chimayo, Ancho, or Hatch.
1/4 cup canola or vegetable oil
1/2 recipe, compound butter, softened at room temperature
1/2 bunch rosemary and 1/2 bunch thyme, tied in an herb bundle
Fleur de sel
Finely ground fresh black pepper

Directions
1. Place pepper flakes in small bowl and pour boiling water over them. Let sit 1 to 2 minutes to rehydrate the flakes. Combine all of the marinade ingredients including the flakes and soaking water.

Place steaks in extra-large resealable plastic bag (or divide between two large bags). Pour over the marinade, squeeze out any excess air from bag and close. Roll bag to evenly coat all of the meat in the marinade.

Refrigerate for at least 2 hours, but preferably up to 24.

2. Preheat all grates of a well-oiled charcoal or gas grill to high.

3. Combine the seasoning blend ingredients.

4. Remove the steaks from the bag, letting any excess marinade run off into the bag. Season steaks on both sides with seasoning blend. Using hands or a brush, evenly but lightly coat the steaks with canola oil.

5. Place the steaks on grate, decrease the heat to medium, keep the lid open and do not remove the steaks until they are well marked and lightly charred (about 2 minutes).

Flip, keep the lid open and repeat on the remaining side (grilling for 2 minutes). Flip steaks again and continue to cook with lid down, opening to brush with the compound butter, using the herb bundle, flipping, jockeying and stacking as needed until you reach the desired doneness.

Cook about 2 minutes per side for rare, 3 minutes per side for medium-rare, about 4 minutes per side for medium, 5 minutes per side for medium-well, and 6 minutes per side for well-done.

6. Spread some of the remaining butter on a cutting board using the herb brush. Cut the end of the herb brush off and finely chop. Combine with the butter on the board. Place the steaks on the board and let rest for at least 5 minutes.

7. Cut the steaks against the grain on the diagonal into 1/4 inch slices. Season with fleur de sel and black pepper.

COMPOUND BUTTER
Makes about 1 pound

Ingredients
1 pound (4 sticks) unsalted butter, softened at room temperature
1/4 cup finely chopped flat-leaf parsley
2 tablespoons finely chopped shallots
1 garlic clove, peeled, halved, germ removed, and grated on a Microplane grater
Zest of 1 lemon, grated on a Microplane grater
2 teaspoons finely ground fresh black pepper
2 teaspoons kosher salt

Directions
1. Combine all of the ingredients in a medium bowl, pressing down on the butter slightly to smooth and evenly incorporate the other ingredients.

2. Lay out a piece of plastic wrap (about 18 inches long). Place butter in center of plastic and spread into a rough log shape that is about 1 1/2 inches in diameter. Fold up the plastic from the edge closest to you and use it as a guide to roll the plastic into a smooth log.

3. Wrap the log tightly in the plastic wrap, twisting the ends to compact the log slightly. Wrap up in a second sheet of plastic wrap, if necessary. Tightly wrapped, the butter can be refrigerated for 1 week, or frozen up to a month.

HERB BUNDLE
1 herb bundle

Ingredients
1 bunch fresh herb(s), such as thyme, sage or rosemary, or any combination.

Directions
1. Using kitchen twine, tie the bunch to the end of a wooden kitchen spoon or a dowel. This will make it easier to use as a brush for basting.

GRILLED CORN ON THE COB
Serves 8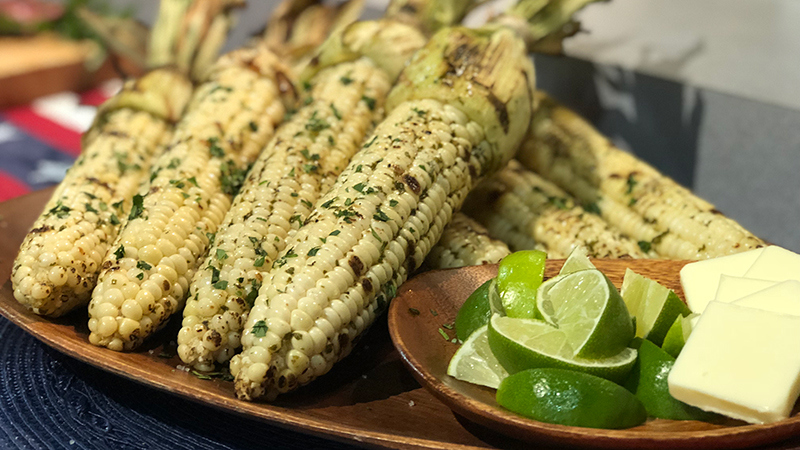 Ingredients
8 ears of unhusked corn
1/2 cup cilantro leaves, large stems removed
2 tablespoons freshly squeezed lime juice
1 garlic clove, peeled and grated on a Microplane grater
1 teaspoon kosher salt
1 teaspoon finely ground fresh black pepper
1/4 cup canola or vegetable oil
1/4 cup extra virgin olive oil
4 limes, each cut into 4 to 6 wedges
Fleur de sel
16 tablespoons (8 ounces) unsalted butter, cut into pats

Directions
1. Keeping the husks attached, peel them back in sections on each ear of corn and remove the silk. Cover the exposed corn with the husk. Soak the corn in cold water for 5 to 10 minutes.

2. Preheat one grate of well-oiled charcoal or gas grill to medium-high and another to high.

3. Place the cilantro, lime juice, garlic, salt, and pepper in a small food processor or in a blender and pulse to combine. With the machine running, slowly drizzle in the oils. Alternately the pesto can be combined by hand. Set aside.

4. Place corn, still covered by the husk, on the medium-high grate. Cook for 3 minutes, turn to the other side and cook for 3 minutes. Remove from the grill, peel back the husk, return to the high grate to mark and lightly char the corn on all sides, turning and jockeying between medium and high as needed for 5 to 7 minutes total.

5. Remove the corn from the grill and brush generously with the pesto. Squeeze lime over the ears and sprinkle with fleur de sel. Serve with any remaining limes and pats of butter on the side.

MASHED SWEET POTATOES WITH BANANA AND BROWN SUGAR
Serves 8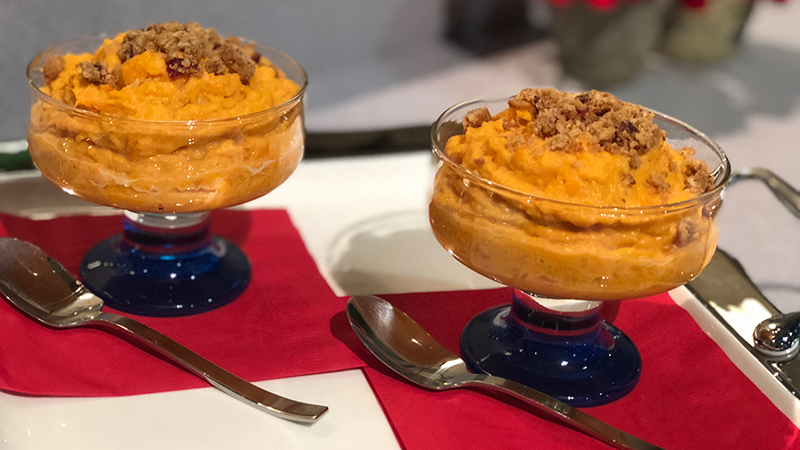 Ingredients
8 sweet potatoes or large yams, each about 10 ounces
About 3 tablespoons kosher salt, plus additional as needed
1 banana, with a 2-inch slit cut into the peel
8 tablespoons (4 ounces) unsalted butter
2 cups heavy cream
1 cinnamon stick
1/4 cup firmly packed light brown sugar
1 teaspoon finely ground fresh black pepper, plus additional as needed

Directions
1. Wash each of the potatoes well, poke holes into them with a fork, rub each with about 1 teaspoon of salt and wrap with heavy-duty aluminum foil.

2. Place directly on hot coals and cook for about 20 minutes or cook in a 350°F barbecue for about 50 minutes or until tender when pierced with a paring knife. At the same time, cook the banana in the peel until blackened about 15 minutes.

3. Carefully take potatoes out of the foil and scoop the flesh out form the skin into a large bowl. Cover with foil. Scoop the flesh out of the banana into a separate bowl. Increase the temperature to high.

4. Place a small roasting pan or deep baking dish with high sides that can take the direct flame (a 13 X 9 inch baking dish with a 15 cup capacity is ideal) over the heat and let heat up for 5 minutes. Add butter and let melt. Add the cream, cinnamon stick, brown sugar, potatoes, banana, 1 teaspoon of salt and 1 teaspoon of pepper. Using a potato masher, mash the potatoes and banana and stir to combine. Season to taste with additional salt and pepper as needed.

Watch all-new episodes of The Talk Weekdays on CBS and CBS All Access.