Internationally-recognized Chef Lasse Sorensen is the owner of the five-star restaurant Tom's Place in De Soto, Illinois. He stopped by The Talk to show us how to make bacon-wrapped salmon, tuna ahi-tini, and a summery strawberry parfait.

See the recipes below.

BACON-WRAPPED SALMON
Serves 4 people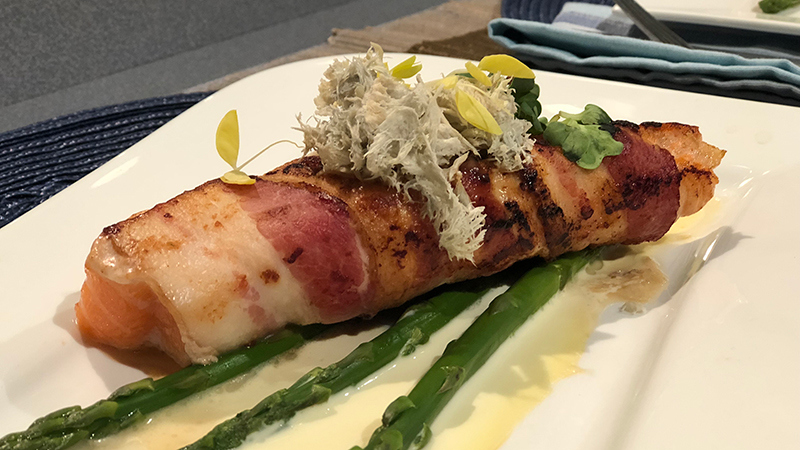 Ingredients
(4) 5 or 6 oz. portions of fresh Atlantic salmon
Salt and pepper
8 slices of bacon
1 lb. of butter
1 cup of chardonnay
1/4 teaspoon anise seed
1/4 yellow onion, diced
1/2 cup heavy cream
Juice of one lemon
1 horseradish root
16 spears of asparagus, poached
Garnish—beet micro greens and pea shoots

Directions
1. Season salmon with salt and pepper.

2. Wrap salmon with 2 pieces of bacon.

3. Heat up a non-stick skillet. Heat oven to 425 degrees.

4. In the meantime in a sauce pot, add onion, anise seed, and chardonnay. Reduce until chardonnay is cup. Add cream and reduce until sauce is creamy. Add butter and stir until melted. Add lemon juice, salt, and pepper to taste.

5. Add bacon wrapped salmon to warm skillet. Cook until golden brown on all sides.

6. Move salmon to oven and bake for 4 minutes.

7. Plate salmon on 4 asparagus spears and drizzle with sauce.

8. Scrape horseradish from root and place on top of salmon. Garnish with greens.

9. Serve with a risotto, if desired.

TUNA AHI-TINI
Serves 4 people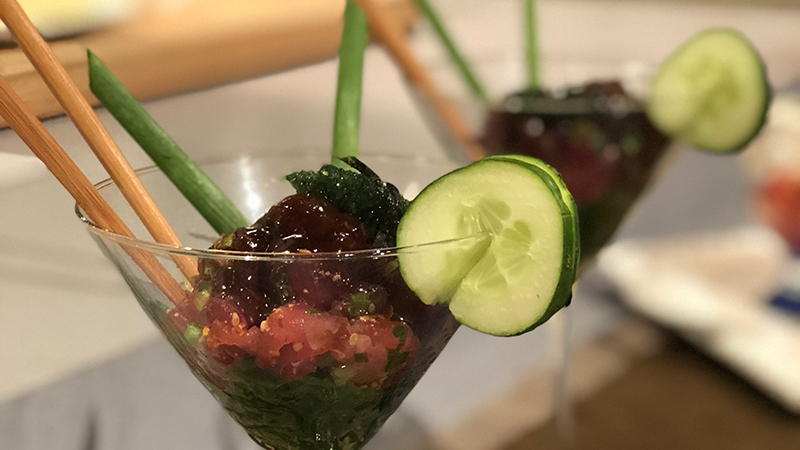 Ingredients
8 to 9 ounces of very fresh, sushi grade ahi tuna
2 teaspoons shichimi togarashi
Salt to taste
Juice of 1/2 lime
1 tablespoon of sesame oil
2 tablespoons finely sliced green onion
1 avocado
4 ounces seaweed salad (hiyashi wakame)
Wasabi shoyu, wasabi-cornstarch thickened soy sauce (recipe below)
Garnish - green onions, sesame seeds, julienne roasted seaweed, tobikko umami, seedless cucumber, and fried wontons

Directions
1. Dice raw tuna. In a bowl mix tuna, togarashi, salt, sesame oil, lime juice and green onion. Let stand for a few minutes.

2. Arrange 4 martini glasses. Put 1 oz. of seaweed salad in the bottom of a glass, then 1/4 sliced avocado fanned out on side of glass.

3. Divide tuna among martini glasses.

4. Drizzle lightly with wasabi shoyu.

5. Garnish with green onion, sesame seeds, julienne seaweed, cucumber, serve with chopsticks.

Wasabi shoyu
1. Mix 1 tablespoon cornstarch and 2 tablespoons of water to make a slurry.

2. Heat 1 cup of low-sodium soy sauce in a saucepan over low heat. Add cornstarch slurry and stir until thick. Add wasabi paste to taste.

STRAWBERRY PARFAIT
Serves 4 people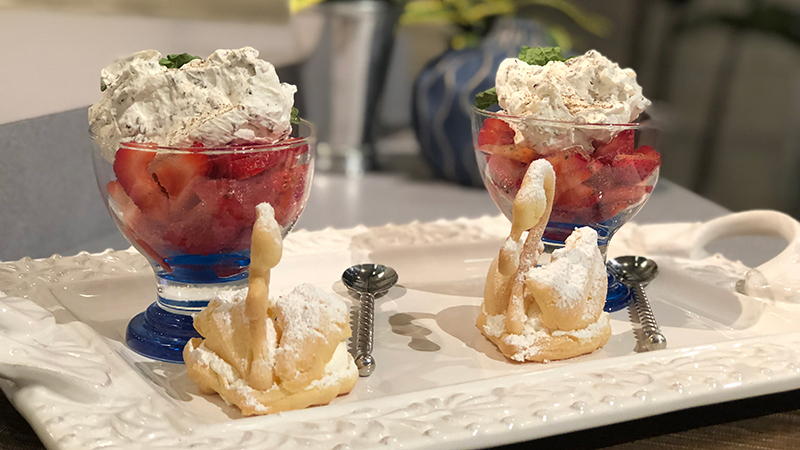 Ingredients
25 medium sized sweet strawberries, sliced
1 orange, zested and juiced
1 cup of orange liqueur
1/2 cup of sugar
1/2 cup of almond paste, grated
1/2 cup of fine Belgian chocolate, shaved
1 pint of whipped cream
Cracked black pepper
Fresh mint

Directions
1. Mix strawberries with orange juice, orange zest, sugar, and liqueur. Let stand 30 minutes.

2. Mix whipped cream with grated almond paste and shaved chocolate.

3. Divide the marinated strawberries into 4 dishes. Top with whipped cream mixture.

4. Garnish with fresh mint and black cracked pepper.

Watch all-new episodes of The Talk Weekdays on CBS and CBS All Access.