Wolfgang Puck Prepares The Perfect Thanksgiving Meal
Get the recipes below!
Celebrity chef Wolfgang Puck returns for a Thanksgiving cooking demo.
Wolfgang has built an empire that encompasses three separate Wolfgang Puck entities: Wolfgang Puck Fine Dining Group, Wolfgang Puck Catering, and Wolfgang Puck Worldwide, Inc.
He's best known for his restaurants Spago and Cut.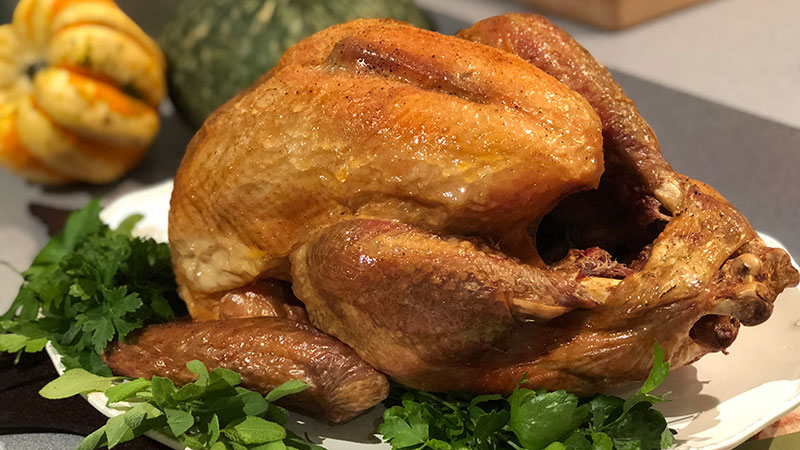 WHOLE ROASTED TURKEY
(Recipe courtesy Wolfgang Puck)
Serves 12
Ingredients
:
20-pound fresh free-range organic turkey
2 yellow onions, cut into 1-inch sections
3 organic carrots, cut into 1-inch sections
4 stalks of organic celery, cut into 1-inch sections
4 cloves of garlic
3 tablespoons chopped fresh rosemary
1 cup of pomegranate seeds
1 cup pomegranate juice
1/2 pound sweet butter
1 cup olive oil
Salt and black pepper
1. Preheat oven to 350 degrees F.
2. Remove neck, giblets and liver from turkey. Wash inside and out with cold water and pat dry.
3. Mix 1/2 pound of butter with the chopped rosemary, salt and pepper. With your hands, carefully separate breast meat and skin and spread rosemary butter in between. Rub turkey inside and outside with salt and black pepper. (If desired, stuff with mushroom stuffing - see recipe).
4. Place onion, carrots, celery, garlic, giblets, neck, and liver on the bottom of your roasting pan. Place turkey on top of mixture. Rub turkey with 1 cup of olive oil and transfer to preheated oven.
5. Roast for 45 minutes, then baste every 20 minutes. Add chicken stock as needed so that vegetables don't burn. Roast between 15 and 20 minutes per pound until internal temperature is 165 degrees F.
6. Remove turkey from the oven and let it rest in a warm place before serving.
7. Add the pomegranate juice to the roasting pan and simmer for 10 minutes. Strain into small saucepan and with a ladle, remove excess fat and reduce until sauce slightly thickens.
8. Place turkey on serving platter. Sprinkle with pomegranate seeds. Spoon 3 tablespoons of sauce over turkey. Place thyme-roasted Bartlett pears filled with cranberry relish around the turkey and place as centerpiece on your Thanksgiving table.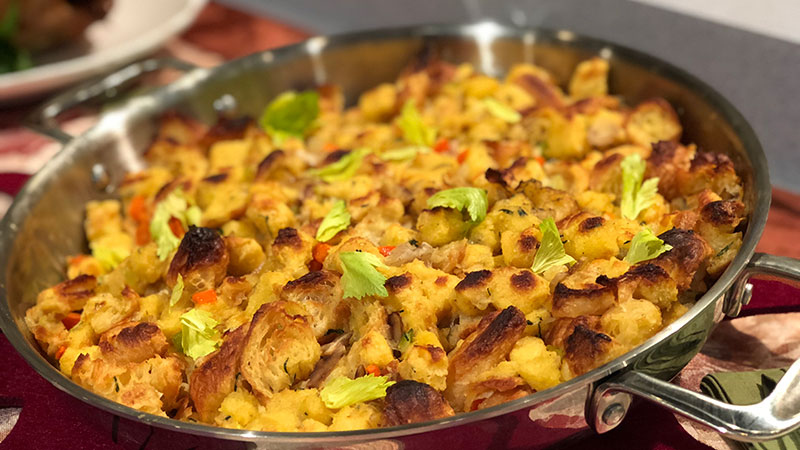 CHESTNUT STUFFING
Ingredients:
1 brioche loaf
4 croissants
8 tablespoons unsalted butter
2 carrots
2 celery stalks
1 yellow onion
1/2 fennel bulb
2 teaspoons salt
1 tablespoon thyme
1 tablespoon sage
1 cup chestnuts roasted and chopped
2 cups vegetable stock
3 eggs
1 cup parsley chopped
1. Cut bread and croissants into 1-inch pieces and dry them out in the oven at 200 degrees F until they are dry to the touch.
2. Sweat diced carrots, celery, onion and fennel in butter until lightly caramelized.
3. Add chopped herbs and chestnuts to vegetables.
4. Add mixture to toasted bread and toss until fully incorporated and place in baking dish.
5. Beat the eggs and mix with the vegetable stock, salt, and pepper.
6. Pour egg mixture over the bread until all of the bread has moistened.
7. Bake uncovered at 375 degrees F until brown on top and the egg stock mixture has set (about 45 minutes - 1 hour).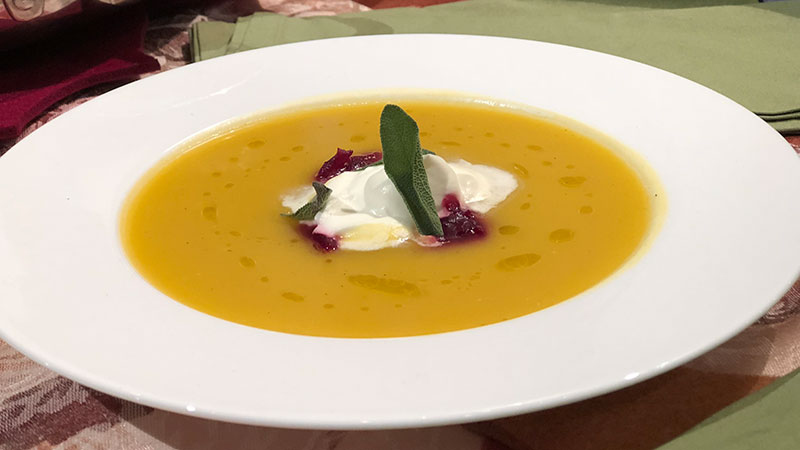 SAVORY SQUASH SOUP
(Recipe courtesy Wolfgang Puck,
Pizza, Pasta & More!
, Random House, 2000)
Makes 2 quarts
Ingredients:
3-3/4 pounds pumpkin or butternut squash
1 acorn squash (about 1-3/4 pounds)
6 tablespoons (3/4 stick) unsalted butter, or olive oil
1 white onion (about 4 ounces), peeled, trimmed, and finely diced
1/2 teaspoon kosher salt
1/8 teaspoon freshly ground white pepper
1/4 teaspoon ground nutmeg
1/4 teaspoon ground ginger
1/8 teaspoon ground cardamom
4 cups chicken stock or vegetable stock
1 cup heavy cream
1 sprig of fresh rosemary
Garnish:
1 recipe Cranberry Relish (recipe follows)
1 recipe Cardamom Cream (recipe follows)
1/2 recipe Spiced Caramelized Pecans (recipe follows)
4 tablespoons pumpkin seed oil
1. Preheat the oven to 350 degrees F.
2. Cut each squash in half and discard the seeds. Brush cut sides with 2 tablespoons of melted butter. Season with salt, pepper, and nutmeg. Arrange the squash cut side down on a rack placed in a baking tray and bake until tender, about 1 1/2 hours. Cool, scoop out the insides of the squash, and puree the flesh in a food processor. Reserve. You should have about 4 cups of pureed squash.
3. In a medium stockpot, melt the remaining 4 tablespoons of butter. Over low heat, sweat the onion. Do not allow it to brown. Add the pureed squash and cook over very low heat until heated through, stirring occasionally. Do not allow it to bubble up. Season with the salt, pepper, ginger, and cardamom.
4. Pour in the stock and bring to a boil, still over low heat, stirring often. Cook about 20 minutes.
5. In a small saucepan, heat the cream with the rosemary sprig. Remove the rosemary and pour the cream into the soup. Transfer to a blender or food processor and process, in batches, for 2 or 3 minutes. Adjust the seasoning to taste.
6. To serve, ladle the soup into heated bowls. Place a tablespoon of Cranberry Relish in the center, top with a dollop of Cardamom Cream, then sprinkle with chopped pecans. Drizzle pumpkin oil over soup.
Note: If desired, bake small squash until tender, scoop out, and use as individual serving bowls.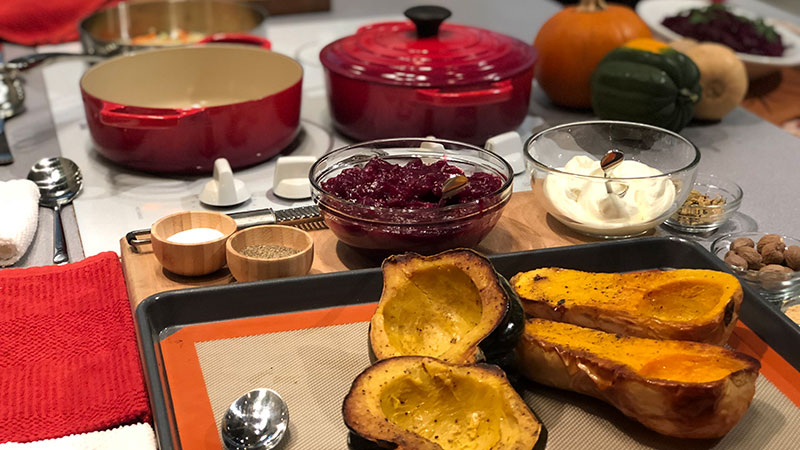 CRANBERRY RELISH
(Recipe courtesy Wolfgang Puck,
Pizza, Pasta & More!
, Random House, 2000)
Makes 1-1/3 cups
Ingredients:
2 cups fresh cranberries
1/2 cup sugar
1/2 cup verjus or 3 tablespoons lemon juice
1. In a small saucepan, combine all the ingredients. Bring to a boil, then lower to a simmer. Continue to cook until the mixture is thick and the berries are glazed. Allow to cool. Transfer to a covered container and refrigerate until needed.
CARDAMOM CREAM
(Recipe courtesy Wolfgang Puck,
Pizza, Pasta & More!
, Random House, 2000)
Ingredients:
2 cups heavy cream
1 tablespoon black cardamom seeds
1. In a small saucepan, bring 1 cup of heavy cream and the cardamom to a boil. Reduce until only 1/4 cup remains. Allow to cool. Reserve.
2. Whip the remaining 1 cup of heavy cream until stiff peaks form. Stir in the reserved mixture. Chill until ready to serve.
SPICED CARAMELIZED PECANS
(Recipe courtesy Wolfgang Puck,
Pizza, Pasta & More!
, Random House, 2000)
Makes 2 cups
Ingredients:
3 cups peanut oil
2 cups pecan halves
1 teaspoon kosher salt
1/2 teaspoon cayenne pepper
1 cup sifted confectioner's sugar
1. In a deep-fryer or a deep pot, heat the oil to 350 degrees F (a deep-frying thermometer can be clipped to the side of the pan so that you can tell when the proper temperature has been reached).
2. Meanwhile, in a large saucepan bring 2 quarts of water to a boil. Add the pecans and boil for 2 minutes. Drain in a large strainer, shaking off all excess water. Sprinkle the salt and cayenne pepper over the nuts and then coat with the confectioner's sugar, a little at a time, allowing the sugar to melt into the pecans. Toss the nuts by shaking the strainer, adding a little more sugar each time, until all the sugar is used and all the nuts are coated. Do not use hands or a spoon to toss. The nuts should have a glaze of sugar.
3. Carefully add the nuts to the heated oil, keeping the oil at 350 degrees F. Cook until golden brown, about 3 minutes, stirring occasionally. Remove with a slotted spoon to a baking tray to cool.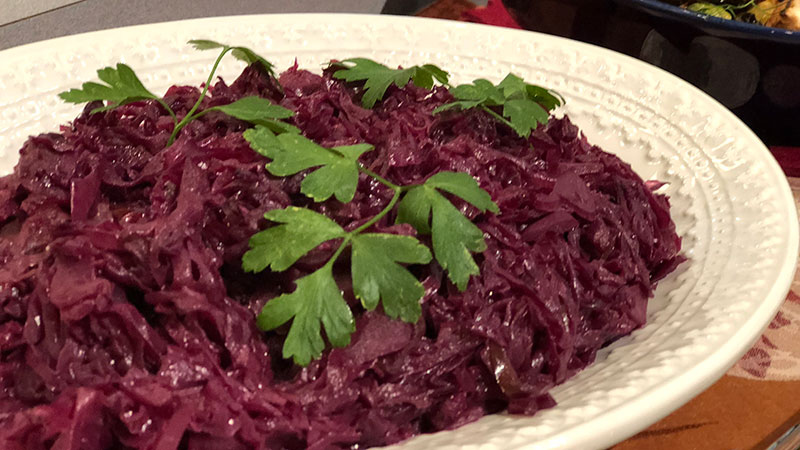 BRAISED RED CABBAGE
(Recipe courtesy Wolfgang Puck, 2000)
Serves 12
Ingredients:
4 pounds organic red cabbage, cut into julienne
1 medium red onion, sliced
2 organic Granny Smith apples, sliced
1/4 cup peanut oil
1 cinnamon stick
3 teaspoons ginger powder
1 cup brown sugar
1/2 cup red wine vinegar
2 cups orange juice
2 cups red wine
Salt and pepper to taste
A few gold leaves for decoration (optional—available at specialty stores)
1. Preheat oven to 350 degrees F.
2. Heat a heavy casserole. Add peanut oil. Sauté red onion until translucent. Sprinkle in brown sugar and cook for a few minutes until it starts to caramelize.
3. Add sliced apples and deglaze with the red wine vinegar. Bring to a boil. Add red wine and orange juice, cinnamon stick, ginger powder, and salt and pepper. Simmer for 5 minutes.
4. Add red cabbage and continue to cook for about 10 minutes on top of the stove.
5. Cover cabbage with foil and cook in 350 degrees F. oven for about 45 minutes. Remove. Taste, and adjust seasoning, if necessary.
DEEP-DISH PUMPKIN PIE WITH CRANBERRY MARMALADE
(Recipe courtesy Wolfgang Puck)
Serves 12
Ingredients:
1/2 recipe Sugar Dough (recipe follows)
Cranberry Marmalade (recipe follows)
Pumpkin Filling:
2 cups (500 ml) canned organic pumpkin
1 cup (250 ml) packed dark brown sugar
1 teaspoon ground ginger
1/2 teaspoon ground cinnamon
1/2 teaspoon ground cloves
1/4 teaspoon ground nutmeg
Pinch salt
Pinch white pepper
4 cage-free eggs
1 cup (250 ml) heavy cream
1/2 cup (125 ml) half-and-half
3 tablespoons bourbon
1. Up to two days ahead, prepare the Sugar Dough and Cranberry Marmalade (recipes follow).
2. On a lightly floured work surface, use a rolling pin to roll out the dough into a 13-inch (32.5-cm) circle. Transfer to a 10-inch (25-cm) deep-dish pie plate. Gently press the dough into the plate and trim the edges with a small, sharp knife. Refrigerate for 30 minutes.
3. Meanwhile, preheat the oven to 375 degrees F.
4. Line the chilled pie shell with parchment paper or aluminum foil. Fill it with pie weights or dried beans. Bake for 15 minutes. Carefully remove the paper or foil and weights; bake for 10 minutes more. Set aside on a wire rack to cool.
5. Spread the Cranberry Marmalade evenly on the bottom of the pie shell.
6. For the Pumpkin Filling, in a large mixing bowl combine the canned pumpkin, brown sugar, spices, salt, and pepper. With a wire whisk, thoroughly stir in the eggs, cream, half-and-half, and bourbon. Pour into the pie shell and smooth its surface with a rubber spatula.
7. Bake the pie until a wooden toothpick inserted into the center comes out clean, 50 to 60 minutes. Remove to a wire rack and leave to cool to room temperature. Chill in the refrigerator before cutting into wedges and serving.
Sugar Dough:
Makes enough for 2 pies
Ingredients:
1 2/3 cups (415 ml) all-purpose flour
1 2/3 cups (415 ml) cake flour
1/2 cup (125 ml) sugar
1/2 teaspoon salt
1/2 pound (125 g) unsalted butter, cut into small pieces
2 cage-free egg yolks
1 tablespoon whipping cream
6 to 8 tablespoons ice water
1. Put the flours, sugar, and salt in a food processor fitted with the stainless-steel blade. Pulse to combine.
2. Add the butter and pulse 10 to 15 times, until the mixture resembles coarse cornmeal. Add the egg yolks and cream and pulse twice. Pulse in enough of the ice water to form a smooth but not wet dough.
3. Gather the dough into a ball and divide it into 2 equal pieces. Flatten each piece into a disk, wrap it individually in plastic wrap, and seal in an airtight freezer bag. Refrigerate 1 piece until ready to make the pie; freeze the other piece for another use.
Cranberry Marmalade:
Makes about 1 cup (250 ml)
4 tablespoons sugar
1/2 cup water
1 tablespoon grated orange zest
2 tablespoons Grand Marnier
1 vanilla bean, cut lengthwise in half, seeds scraped out and reserved
1 cinnamon stick
Pinch ground nutmeg
1/2 pound (250 g) fresh or frozen cranberries
Put the sugar, water, orange zest, Grand Marnier, vanilla bean and seeds, cinnamon, and nutmeg in a saucepan. Bring to a boil over medium-high heat. Stir in the cranberries, reduce the heat, and simmer until the berries have softened, 3 to 5 minutes. Set aside to cool for at least 30 minutes. Remove the vanilla bean and cinnamon stick. If making in advance, transfer to a covered container and refrigerate until ready to use.