Make Wolfgang Puck's Miyazaki Wagyu Beef And More
See the recipes below!
Celebrity chef Wolfgang Puck is celebrating his 25th year for cooking at the Oscars Governors Ball. He returns to
The Talk
in honor of the 91st Academy Awards to give the hosts a taste of some foods he'll be making for the stars!
See below for recipes.
MIYAZAKI WAGYU BEEF, CARROT VICHY, SPIGARELLO, YUZU
KOTCHO
PONZU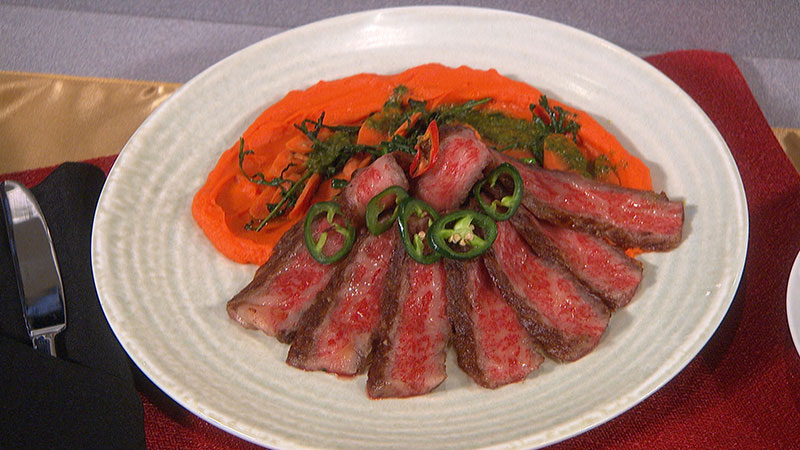 Ingredients:
6 large carrots
2 liters of mineral water
2 tablespoons of sugar
Salt and pepper to taste
16 oz wagyu New York steak
8 oz butter, softened
8 baby carrots with tops
6 oz extra virgin olive oil
4 oz of spigarello or baby kale
4 oz soy sauce
5 oz yuzu juice
2.5 oz rice vinegar (unseasoned)
5.5 oz mirin
1/2 lemon, squeezed
1 stalk of lemongrass
1 small piece of fresh ginger, peeled, sliced and smashed
1/4 jalapeno, sliced
1 tablespoon of chopped garlic
1 tablespoon of chopped shallots
7 oz of wasabi powder
1/2 cup chopped parsley
1 tablespoon of fresh green peppercorn in brine
1/2 tablespoon of green peppercorn brine
1/2 teaspoon of sea salt
Take large carrots, cut into small pieces. Place in pot and cover with mineral water, sugar, and 1T of salt. Cook on stove until soft. Strain and reserve some water. While carrots are hot, blend in blender and add reserved water as needed to make silky puree. Season with salt to taste. Place puree in pot and reserve on stove.
For the yuzu butter: combine chopped garlic, chopped shallots, 4 oz yuzu juice, wasabi powder, green peppercorn and brine, 1/2 teaspoon of salt, and parsley in a food processor until finely chopped. Add softened butter to the food processor and mix until incorporated. Set aside.
For ponzu sauce, combine 4 oz soy sauce, 1/2 oz yuzu juice, 2.5 oz rice vinegar, 5.5 oz mirin, the juice from half a lemon, half a piece of lemongrass smashed, ginger, and the jalapeño. Reserve in refrigerator for one week for best flavor.
For the dish, start by cutting baby carrots on a thin bias. In a hot pan with olive oil, sauté baby carrots and spigarello, then add 1/2 oz of yuzu juice and 1T butter to glaze. Set aside.
Next, get a cast iron pan hot. While the pan heats up, season the wagyu with salt and pepper. When the pan is hot, sear the meat on both sides for approximately 3 minutes per side. Add yuzu butter to the pan and baste the steak on medium heat until the internal temperature of the steak is 125 degrees Fahrenheit. Then place on wire rack covered with foil to rest.
To plate, place carrot puree on plate, followed by sautéed carrots and spigerello. Slice the steak and place on top of the pure and sautéed carrots and spigerello. Dress the steak with room temperature ponzu and garnish with baby carrot tops.
TORCHIO PASTA WITH ARUGULA AND OVEN-DRIED CHERRY TOMATOES
Serves 6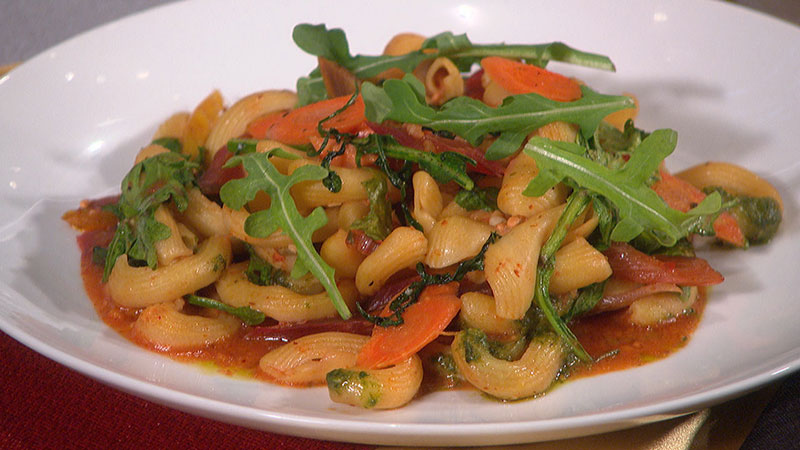 Colorful, fresh tasting, and flavorful, this vegan pasta dish will satisfy even meat eaters. If you can't find torch-shaped torchio pasta, substitute another bite-sized shape such as fusilli or penne.
Ingredients
11/4 pounds large cherry tomatoes
3/4 cup extra-virgin olive oil
Kosher salt
Freshly ground black pepper
Granulated sugar
3 cloves garlic, peeled
1/2 cup of caper berries, sliced
12 ounces torchio pasta
2 pinches Aleppo pepper
2 cups packed baby arugula leaves
1/4 cup finely julienned fresh basil leaves, plus whole sprigs and basil flower, if available, for garnish
2 tablespoon chopped fresh Italian parsley
First, prepare the cherry tomatoes: rinse the tomatoes, pat them dry, cut them in halves, and put them in a mixing bowl. Add 1/4 cup of the olive oil and sprinkle lightly with salt, pepper, and sugar. Stir well. Spread the tomatoes on a baking sheet and leave at room temperature for 20 minutes.
Meanwhile, preheat the oven to 150°F. Put the baking sheet with the tomatoes in the oven and cook until they look slightly dried but are still juicy, about 2 hours. Remove from the oven and set aside.
While the tomatoes are cooking, double-blanch the garlic: bring a small saucepan of lightly salted water to a boil and place a bowl of ice cubes and water nearby.
Drop the peeled cloves into the boiling water and leave them for 30 seconds. Remove with a slotted spoon and immediately plunge the cloves into the ice water. Repeat the process with fresh boiling water. Drain the garlic cloves, pat dry, and slice them thinly.
Bring a large pot of salted water to a boil. Meanwhile, in a large sauté pan, heat 3 tablespoons of the oil over medium-low heat. Add the sliced garlic and cook, stirring frequently until it is fragrant but not yet browned.
Add the cherry tomatoes and raise the heat to medium-high; cook for several minutes, stirring occasionally, until the tomatoes start to collapse, then reduce the heat to low and continue cooking until they are completely softened but haven't disintegrated, about 5 minutes. Stir in the sliced caper berries.
As soon as the water reaches a full boil, salt it generously and add the pasta; cook, stirring occasionally, until al dente, tender but still slightly chewy, following the manufacturer's suggested cooking time.
When the pasta is done, drain it, reserving 1/2 cup of the cooking water. Add the drained pasta, still dripping, to the tomatoes in the pan and, with a large spoon, gently combine them with a stirring motion, adding a little of the cooking water if the mixture seems to need some moisture.
Add the arugula and remaining olive oil and fold them in until the arugula has barely wilted. Season with Aleppo pepper, salt and pepper to taste and garnish with basil, parsley, and, if available, a basil flower. Serve immediately.
TROPICAL PAVLOVA WITH MACERATED BERRIES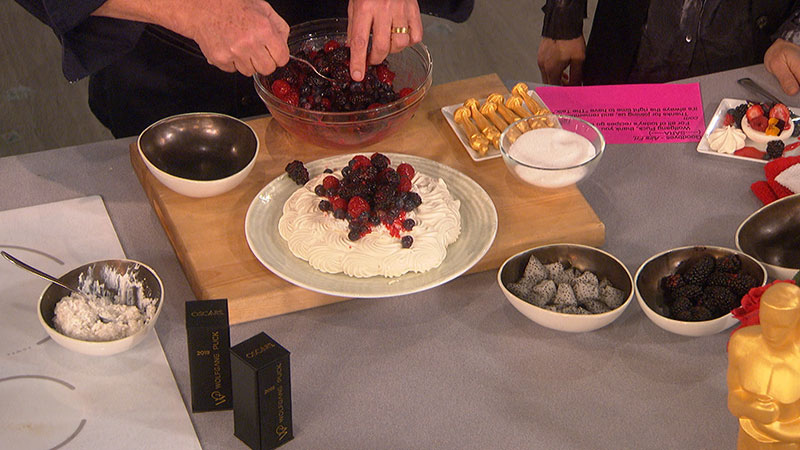 For the Vegan pavlova:
200g aguafaba (the juice content from canned chickpeas - approximately 2 cans)
400g evaporated cane sugar
120g water
Preheat oven to 220°.
In a small pot mix together sugar and water. Bring to boil.
In a standing mixer with whip attachment, whip the aguafaba to soft peak.
Pour boiling sugar over foamy aguafaba.
Mix until cool.
Line a baking sheet with parchment paper.
Fill a pastry bag fitted with 1/2 or 3/4 inch tip (or cut 1/2" opening in the corner of a Ziploc bag).
Pipe desired shape (1 large, about 9" - or 8 individual) to form a center "well" onto baking sheet.
Bake at 220°F for about 5 hours.
For the macerated berries:
50g of each berry (blue, raspberry, strawberry and black)
30g granulated sugar
Mix all ingredients together.
Refrigerate for about one hour.
Strain the fruit and reserve the juices.
Cover the pavlova with berries and use the juice to decorate/drizzle the final product.