Star Trek: Discovery's Ethan Peck Met With Leonard Nimoy's Family To Prepare For Spock
Peck joins the hosts of The Talk to discuss preparing for the role of a lifetime.
Playing a role as beloved as
Star Trek
's logical-but-lovable Vulcan, Spock, involves filling some pretty big shoes. Or at least some very pointy ears.
The latest actor to take on the role in
CBS All Access
original series
Star Trek: Discovery
is
Ethan Peck
and he visited
The Talk
to discuss his commitment to doing right by the man who established the character, Leonard Nimoy.
STREAM: All-New Episodes Of The Talk On CBS All Access
Peck reminisced with the hosts of
The Talk
over his early years as an actor working with a very young Mary-Kate and Ashley Olsen on the film
Passport to Paris
.
And with a grandfather as legendary as classic Hollywood actor Gregory Peck, Ethan was seemingly destined for a career in the industry. Still, years of experience and a family legacy couldn't have prepared Peck for the role of a lifetime.
Upon learning of his casting as Spock in
Star Trek: Discovery
, Peck told the hosts that he was "...so overwhelmed and thrilled, and terrified."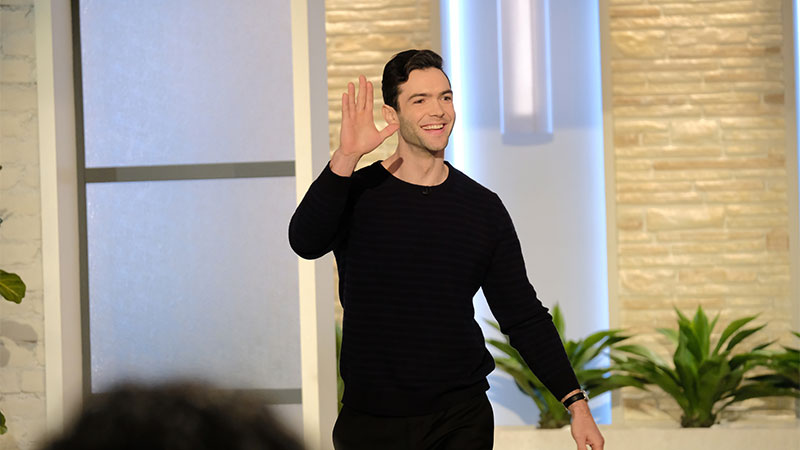 Peck understood the gravity of playing a character already portrayed by not one, but two other great actors. Leonard Nimoy originated the role in 1966 and played first officer Spock for three seasons of
Star Trek
, eight feature films, and numerous guest spots.
Zachary Quinto portrays Spock in the series of films that follow the Kelvin timeline, an alternate timeline to the one Nimoy and Peck's Spock belongs to.
On the significance of playing the character, Peck said, "It means a lot to me, that we carry on the legacy proudly and well."
READ: What Are The Critics Saying About Star Trek: Discovery Season 2?
Part of ensuring that he did the part justice involved meeting with Leonard Nimoy's family.
"I met them about a week after I got the role," Peck said. "It was incredible. I feel so lucky to have met them before I began. It was so special because they were so warm and curious and welcoming. They were curious about what my process would be and shared how their father prepared for it. It was very surreal."
Meeting with the Nimoy family was an integral part of Peck's transformation into Spock, as well as a much-needed boost to his confidence in taking on the daunting character. He told hosts
Sheryl Underwood
,
Carrie Ann Inaba
,
Sharon Osbourne
,
Eve
, and
Sara Gilbert
that "it was the first step in accepting I'm capable of this and worthy of this."
STREAM: Full Episodes Of Star Trek: Discovery On CBS All Access
Don't miss Ethan Peck as Spock in
Episode 7
("Light and Shadow') of
Star Trek: Discovery
and stream all-new episodes on Thursdays at 8:30 PM ET / 5:30 PM PT, exclusively on
CBS All Access
.
And, watch all-new episodes of
The Talk
Weekdays on CBS and
CBS All Access
.