Sanaa Lathan Visits The Talk To Spill On Her Chilling New Episode Of The Twilight Zone
The Twilight Zone star discusses the episode "Replay," and dishes on her childhood crushes growing up in showbiz.
The hosts of
The Talk
took a trip to
The Twilight Zone
when guest Sanaa Lathan shared a sneak peek at her upcoming episode of the anthology series titled "Replay."
READ: How And When To Watch The Twilight Zone On CBS All Access
Visiting Jordan Peele's reimagined
Twilight Zone
was certainly an eerie experience for Lathan, but then again she grew up in the television industry with her father, esteemed director and producer Stan Lathan.
Lathan shared with hosts
Sheryl Underwood
,
Carrie Ann Inaba
,
Sharon Osbourne
,
Eve
, and
Sara Gilbert
that even her first childhood crush was a surreal experience.
STREAM: The Twilight Zone's Sanaa Lathan Visits The Talk
Says Lathan, "My first [crush], I think, was Billy Dee Williams. I was like five years old... [My father] took me over to his house to play with his daughter, we were around the same age, I was just like, even at that young age, I was like 'Oh, my God.'"
But it wasn't because she was starstruck that Lathan felt endeared toward Williams. She goes on to explain, "He had this, I don't know if it was a Cadillac, but he had this beautiful big car with a furry steering wheel. You know, I was five, and I was like I want a car with a furry steering wheel when I grow up... It stayed in my mind for years!"
Whether she grew up to find her own furry steering wheel, Lathan doesn't say, but the hosts of
The Talk
were treated to a sneak peek of Lathan's latest role in
CBS All Access
original series
The Twilight Zone
.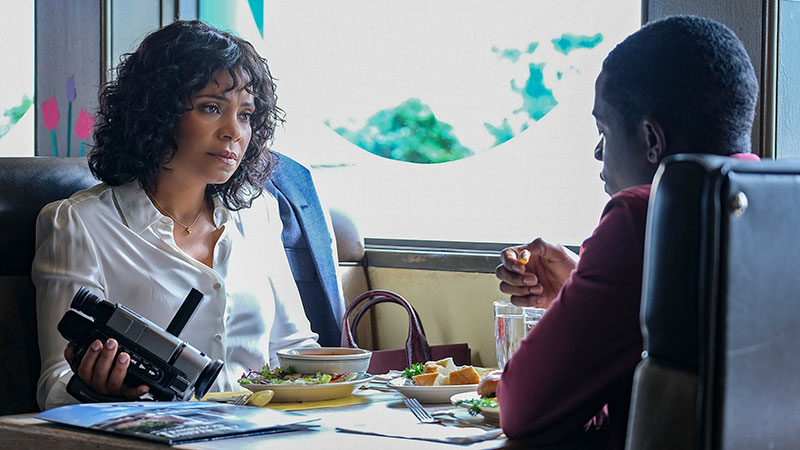 Lathan stars in Episode 3, titled "Replay," where she plays a woman on a road trip to move her son into college. She captures this momentous life milestone with an old family camcorder but soon discovers the device is capable of rewinding through time.
On why she was compelled to join the series, Lathan said, "Jordan Peele is producing and I'm a huge fan of his." But it wasn't just the clout of the respected horror director; Lathan was thoroughly impressed with the story. "As soon as I read the script, I was like, I gotta do this because it was just so beautifully written," she gushed to the hosts.
Lathan was careful not to give away too much about her episode—after all
The Twilight Zone
is best experienced for oneself—but she did express how powerful the episode is, describing it as "chilling."
STREAM: Full Episodes Of The Twilight Zone Exclusively On CBS All Access
Catch the first two episodes of
The Twilight Zone
streaming now on
CBS All Access
, and look out for Sanaa Lathan in Episode 3 ("Replay") on Thursday, Apr. 11.
And, watch all-new episodes of
The Talk
Weekdays on CBS and
CBS All Access
.