Chef Lorena Garcia Shares Her Cuban Sandwich Recipe And More
Get the recipes below!
Lorena Garcia returned to
The Talk
for a Latin cooking segment with recipes from her restaurant
Chica
at The Venetian in Las Vegas.
Chica marks the first time that a major eatery on the Las Vegas strip has featured a Latina head chef.

Its menu draws inspiration from Venezuela, Peru, Brazil, Mexico, and Argentina, among others.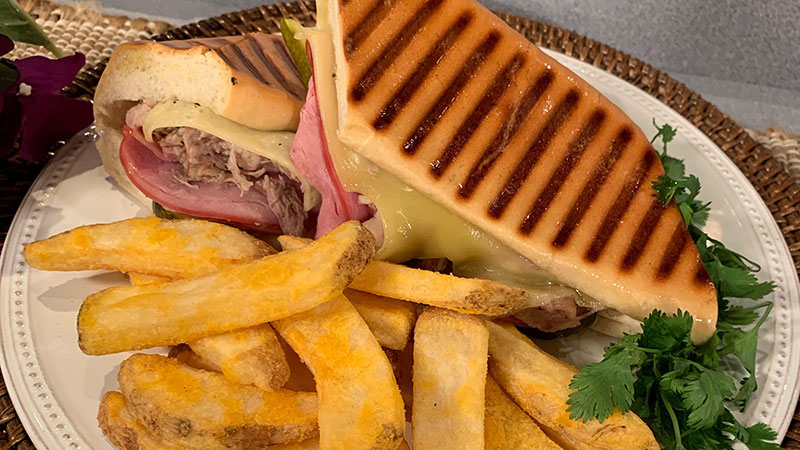 CUBAN SANDWICH

Ingredients
Sweet Cuban bread roll, slightly toasted with butter on each inside of the bread until golden
1/4 cup mojo marinated pork
2 slices ham, thinly sliced
2 slices Swiss cheese, thinly sliced
2 teaspoons Dijon mustard (spread on both sides of the bread)
1/8th cup pickle, sliced

To build the Sandwich:
Spread Dijon mustard on the bottom bun
Add the Swiss cheese
Add the pickles
Add the ham slices
Add the pork
Add another layer of swiss cheese
Spread Dijon mustard on the top bun
Press sandwich about a minute on each side
Serve with a side of French fries

CUBAN-STYLE PORK
Serves 8

Ingredients
1 pound pork loin, sliced
8 whole garlic cloves, minced
1 teaspoon kosher salt
1/2 teaspoon black pepper
2 teaspoons fresh oregano, finely chopped
1 teaspoon fresh thyme, finely chopped
1/4 cup olive oil
1/4 cup orange juice
1/4 cup lemon juice
zest of 1 whole lemon
zest of 1 orange
2 tablespoons vegetable oil

Directions
1. In a 1-gallon resealable plastic bag, place pork loin slices, garlic, salt, pepper, oregano, thyme, olive oil, orange juice, lemon juice, lemon zest, and orange zest. Set aside and let pork marinate in the refrigerator for at least 21/2 hours or overnight.

2. Preheat oven to 350F. Remove pork from refrigerator and remove excess marinade from pork slices.

3. Heat sauté pan over high heat. Add vegetable oil and pork to the pan. Sauté pork slices until they are seared, about 2 minutes.

4. Spread browned pork slices on a rimmed baking sheet and set sauté pan aside for the moment. Place the baking sheet in the hot oven and roast the pork at 350F for 10 minutes.

5. Turn the oven to broil and cook the pork at the higher heat for 5 minutes, until golden brown.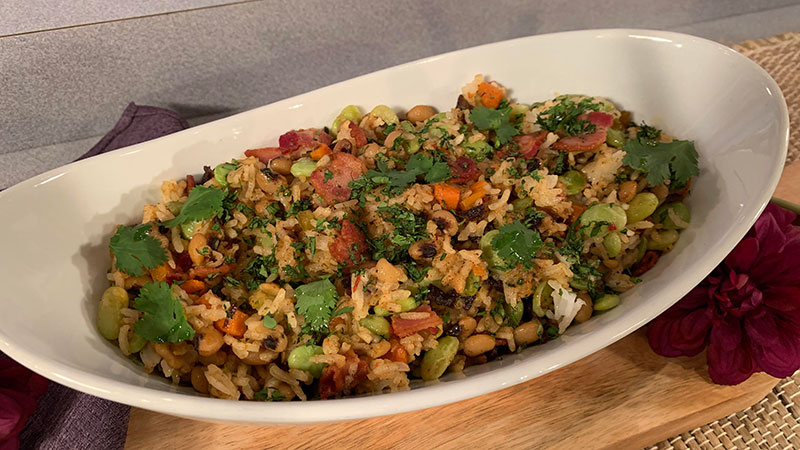 HOPPIN' JOSÉ RICE
Serves 4

Ingredients
2 tablespoons vegetable oil
3/4 cup lima beans, thawed
3/4 cup Black Eyed Peas Guiso (see recipe below)
2 cups cooked Thai jasmine rice
Olive oil, to drizzle
2 tablespoons fresh cilantro, finely chopped

Directions
1. In a large, deep skillet, heat vegetable oil over medium-high heat. Add bacon and cook for 3 minutes to render fat.

2. Add lima beans and Black Eyed Peas Guiso. Cook for 2 minutes, then add cooked rice. Let rice and beans cook on medium heat to toast rice about 10 minutes.

3. Remove pan from heat and spoon Hoppin' José onto a serving plate. Drizzle with olive oil and garnish with cilantro.
BLACK-EYED PEAS GUISO
Serves 4

Ingredients
1/2 cup vegetable oil
2 cups dry cured meat (carne seca), diced and soaked overnight (optional)
1 cup white onion, diced small
1/2 cup carrots, diced small
1/2 cup celery, diced small
2 tablespoons garlic, minced
1 tablespoon red jalapeño, diced small
1 tablespoon cumin
1/2 tablespoon paprika
1/2 tablespoon dried oregano
1/2 tablespoon ground ginger
1 teaspoon dried rosemary
1 pound black-eyed peas, frozen
5 cups water
1 smoked ham hock
1/4 cup fresh cilantro, finely chopped

Directions
1. In a large, deep skillet, heat vegetable oil over medium-high heat.

2. Add dried meat and cook for 1 minute. Stir in onions, carrots, celery, garlic, and red jalapeño. Cook for 2 minutes.

3. Add cumin, paprika, dried oregano, ground ginger, and rosemary, and continue to cook for an additional 2 minutes.

4. Add the black-eyed peas, water, and ham hock and bring to a boil. Reduce heat to medium-low, cover and simmer for 45 minutes to 1 hour.

5. Remove ham hock from pan, then remove pan from heat. Garnish black-eyed peas with cilantro.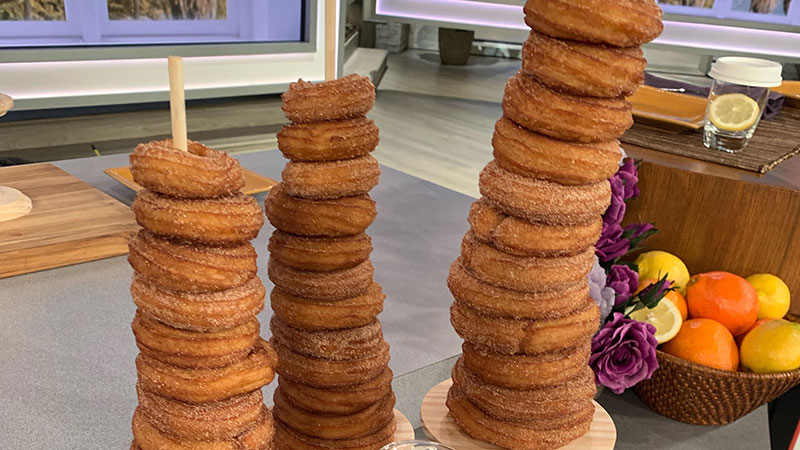 CHURROS

Ingredients
1 cup water
1/4 cup granulated sugar
1/2 teaspoon salt
1 ounce (1/8th cup) vegetable oil
1 cup all-purpose flour
3 whole eggs

For dusting churros:
1/2 cup sugar
1 tablespoon cinnamon

Directions
1. Add at least 2 inches of oil to a large saucepan, heat to 350F.

2. Mix the 1/2 cup sugar and 1 tablespoon cinnamon together in a small bowl and set aside.

3. Combine water, 1/4 cup sugar, oil, and salt in a saucepan over high heat, and bring to a boil. Turn heat to low, and add flour all at once. Stir constantly until mixture comes together and forms a ball.

4. Remove from heat, and beat eggs one at a time into mixture, stirring until smooth after each addition. This works best using a wooden spoon or a sturdy rubber spatula.

5. Place dough into a pastry bag with a large star tip. Pipe strips of dough about 4 inches long into hot oil. You can use a pair of wet scissors to cut the desired length. Or pipe and freeze on wax paper until needed. For Churro Tower, pipe dough in circles ranging from 2-4 inches, freeze and cook using same method as churro sticks.

6. Cook as many as will fit comfortably at once, turning as they brown, 5 to 10 minutes each.

7. Remove churros from oil, and drain on paper towels, then immediately roll them in cinnamon-sugar mixture. Serve hot or warm.

MEXICAN CHOCOLATE GANACHE

Ingredients
1 round disc Mexican chocolate
1 cup dark chocolate chips
1/2 cup heavy cream
1 teaspoon salt
1 tablespoon ground cinnamon

Directions
1. Chop up Mexican chocolate and place in a stainless steel bowl with the chocolate chips, salt, and cinnamon and set aside.

2. Heat heavy cream just to a boil, remove from heat. Pour on top of the ingredients inside the stainless steel bowl and let sit for 2 min.

3. Whisk all ingredients until fully incorporated.

4. Serve warm.