The Talk's Friendsgiving Potluck Recipes
The hosts share their special holiday recipes below!
Looking for something new to bring to the table for the holidays?
The hosts of
The Talk
share their favorite recipes to impress your friends and family this season.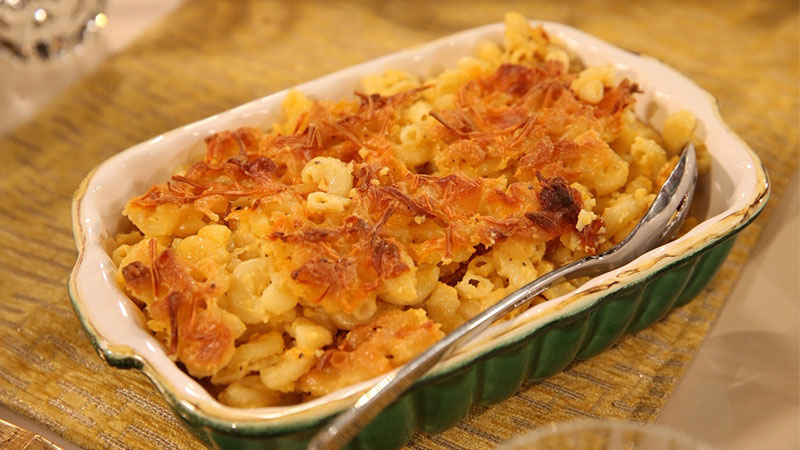 Sheryl Shares Patti LaBelle's Mac & Cheese
(From Patti LaBelle's cookbook, Sheryl has been using the recipe for a long time and loves it!)
Servings:
Serves 4 to 6
Ingredients
1 tablespoon vegetable oil
1 lb elbow macaroni
8 tablespoons (1 stick) plus 1 tablespoon butter
1/2 cup shredded Muenster cheese
1/2 cup shredded mild Cheddar cheese
1/2 cup shredded sharp Cheddar cheese
1/2 cup shredded Monterey Jack
2 cups half-and-half
1 cup Velveeta, cut into small cubes
2 large eggs, lightly beaten
1/4 teaspoon seasoned salt
1/8 teaspoon freshly ground black pepper
Directions
1. Preheat the oven to 350 degrees F. Lightly butter a deep 2 1/2-quart casserole.
2. Bring the large pot of salted water to a boil over high heat. Add the oil, then the elbow macaroni, and cook until the macaroni is just tender, about 7 minutes. Do not overcook. Drain well. Return to the cooking pot.
3. In a small saucepan, melt eight tablespoons of the butter. Stir into the macaroni. In a large bowl, mix the Muenster, mild and sharp Cheddar, and Monterey Jack cheeses. To the macaroni, add the half-and-half, 1 1/2 cups of the shredded cheese, the cubed Velveeta, and the eggs. Season with salt and pepper. Transfer to the buttered casserole. Sprinkle with the remaining 1/2 cup of shredded cheese and dot with the remaining one tablespoon of butter.
4. Bake until it's bubbling around the edges, about 35 minutes. Serve hot.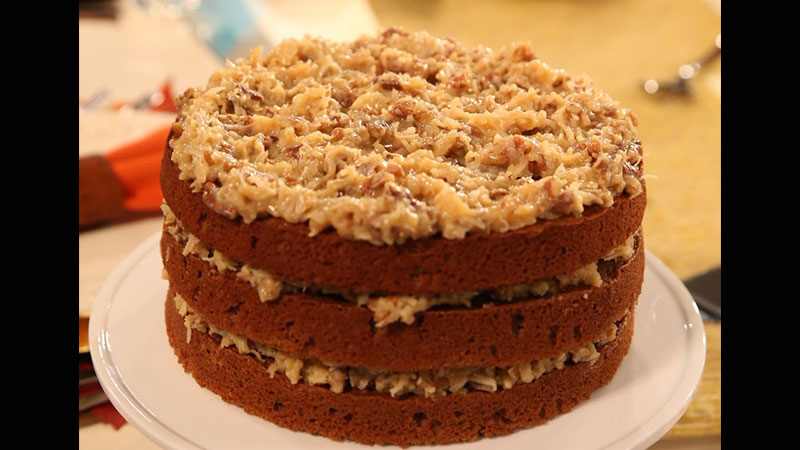 Sheryl Shares Baker's German Chocolate Cake
(Sheryl's grandmother used to make this recipe which was pulled from online.)
Servings:
16
Ingredients For Cake
4 oz. Baker's Sweet Chocolate
3/4 cup butter
1-1/2 cups sugar
3 whole eggs
2 cups flour
1 tsp. baking soda
1 cup buttermilk
3 egg yolks
1 cup evaporated milk
1 tsp. vanilla
1 cup sugar
1/2 cup butter
Ingredients For Coconut-Pecan Frosting
3 egg yolks
1 cup evaporated milk
1 tsp. vanilla
1 cup sugar
1/2 cup butter
1-1/2 cups flaked coconut
1 cup chopped pecans
Heat oven to 350ºF.
Cake Directions
1. Cover bottoms of 3 (9-inch) round pans with waxed paper. Microwave chocolate and butter in large microwaveable bowl on Medium for 2 minutes or until butter is melted; stir until chocolate is completely melted and the mixture is well blended.
2. Add sugar; beat with mixer until well blended. Add eggs, 1 at a time, beating on low speed after each until well blended. Mix flour and baking soda. Add to chocolate mixture alternately with buttermilk, beating well after each addition. Pour into prepared pans.
3. Bake 25 minutes or until a toothpick inserted in the center comes out clean. Immediately run a spatula around cakes. Cool in pans 15 minutes; remove from pans to wire racks. Remove waxed paper. Cool cakes completely. Meanwhile, prepare Coconut-Pecan Frosting.
Coconut-Pecan Frosting Directions
1. Beat egg yolks, evaporated milk, and vanilla in a large saucepan with whisk until well blended. Stir in sugar. Add butter; cook on medium heat until mixture comes to boil, stirring frequently. Cook and stir 8 to 10 minutes or until golden brown.
2. Remove from heat. Stir in coconut and nuts. Cool completely. Stack cakes on plate, filling layers and frosting top with Coconut-Pecan Frosting.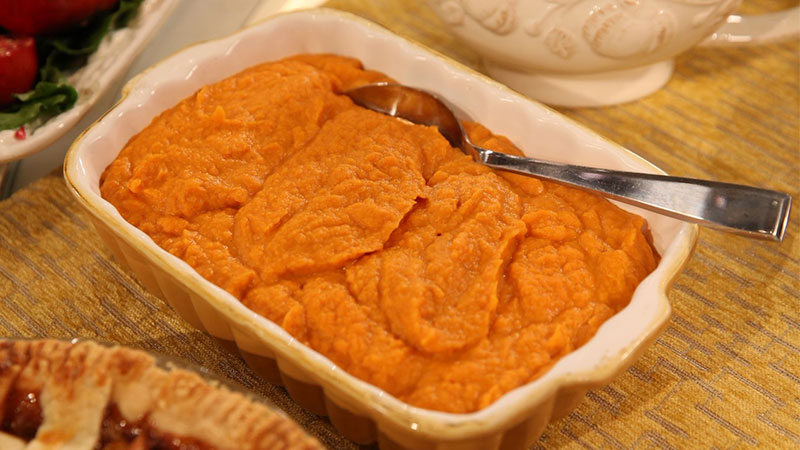 Eve's Mashed Sweet Potatoes
(Eve learned this recipe from her mom.)
Ingredients
6 peeled and cubed sweet potatoes
3/4 cup of milk (or almond milk)
1/2 cup softened butter
3/4 cup maple syrup or honey
Directions
1. Bring large pot of water to a boil. Add 6 peeled and cubed sweet potatoes.
3. Reduce heat and simmer for 20-30 minutes.
4. Drain and add potatoes to bowl. Mash with a masher or electric mixer.
5. Slowly add 3/4 cup of milk (can use almond milk). Add milk as needed for consistency. Warm the milk so that the potatoes stay warm.
6. Add 1/2 cup softened butter or 3 medium-sized pat of butter.
7. Add 3/4 cup of maple syrup or substitute with honey.
8. Place in a serving dish.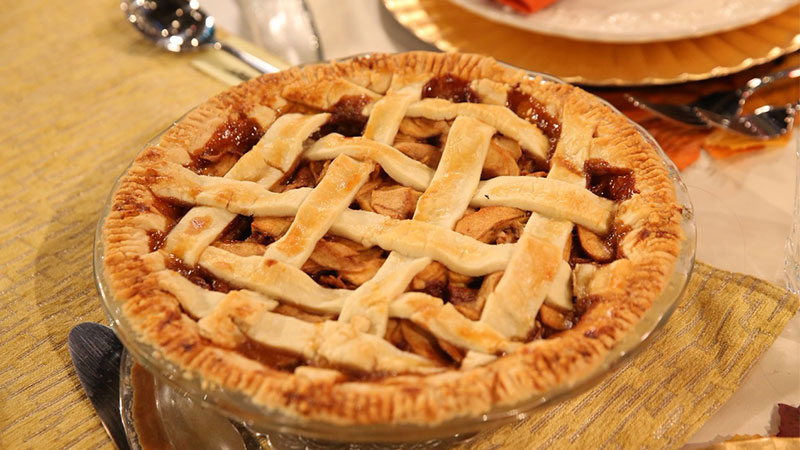 Marie Shares Caramel Apple Pie
(A recipe from Marie's daughter-in-law, Claire, that has become the "New Family Fave!")
Caramel Ingredients
4 cups raw unfiltered apple cider (you can buy this at the store but I think it tastes better when you juice your own apples. I prefer honey crisp.)
1/2 cup dark brown sugar
1/4 butter (I always use salted, even when it calls for unsalted)
Caramel Directions
1. Boil cider and reduce to 2 cups. Add sugar and butter and whisk together.
2. Return to boil until reduced to 1 1/4 cups. Set aside in a bowl or refrigerate if made ahead.
Filling Ingredients
5-6 sliced apples
1/2 cup brown sugar
1/4 cup AP flour
1 tsp cinnamon
1/4 tsp ground ginger
1/4 tsp salt
1 tsp vanilla
1 cup caramel cider warmed (it will be runny)
Filling Directions
1. Add all ingredients in a large bowl and mix together.
Crust Ingredients
2 1/2 cups AP flour
1 tsp salt
1 cup cold butter sliced into small cubes
4-6 tbsp ice-cold water
Crust Directions
1. Mix flour and salt. Cut butter into flour mixture with a pastry blender or food processor until it makes small pea-sized crumbles.
2. Slowly mix in ice-water until dough forms but not too sticky. Just until it holds together.
3. Roll out dough. I usually make a lattice top for an apple pie.
4. Lay bottom crust in then add the filling. Lay lattice on top pinch sides together. Brush a beaten egg on top of the crust to make it bake golden.
5. Cook at 350 degrees for about 1 hour. Until the juices are bubbling.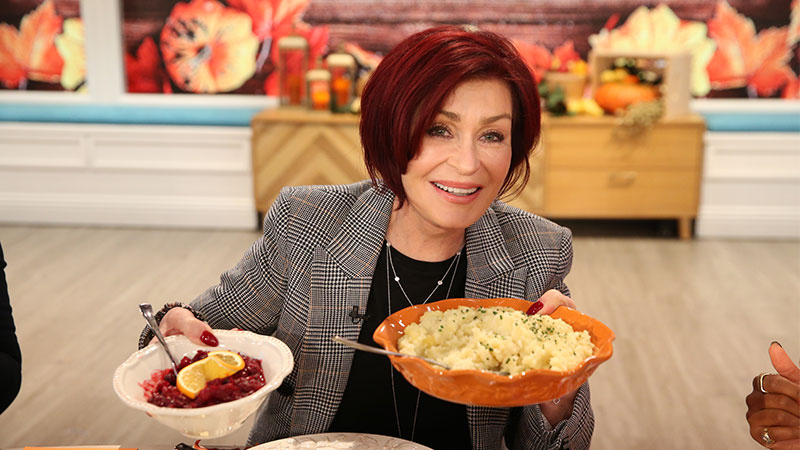 Mrs. O's Mashed Potatoes
Ingredients
2 pounds russet potatoes, peeled, and cut into 1/2-inch cubes
2 pounds Yukon Gold potatoes, peeled, and cut into 1/2-inch cubes
1 teaspoon kosher salt
1 bay leaf
1/2 cup heavy cream
1 stick unsalted butter
Kosher salt and freshly ground black pepper, to taste
2 tablespoons chopped chives
Directions
1. Place potatoes in a large saucepan and add just enough water to cover. Add 1 teaspoon of salt and bay leaf to the pot, cover, and bring to a boil over high heat. Once boiling, reduce heat to medium-high heat and cook until tender, about 15 - 20 minutes. Drain well and remove the bay leaf.
2. Meanwhile, heat the cream and butter in a small saucepan. With the stove off, return the potatoes to the pot and mash (for silkier texture, put through a ricer or food mill). Add the hot butter/cream and season with salt and pepper. Mix together and add the chives. Serve warm.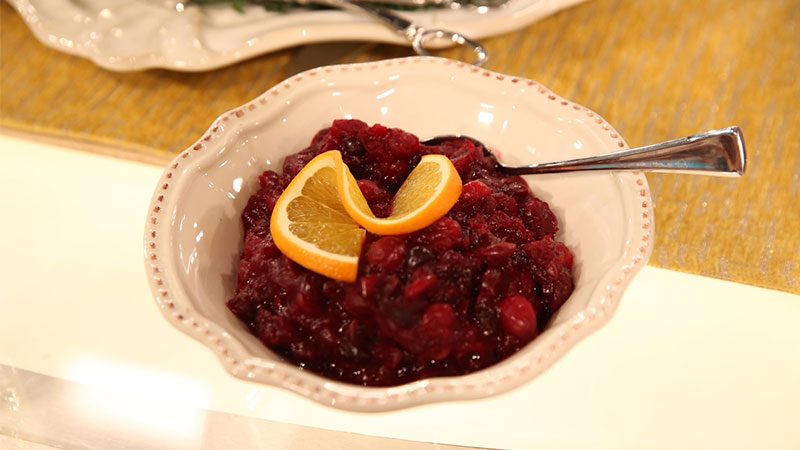 Sharon's Cranberry Sauce
Ingredients
12 ounces fresh cranberries
1/2 cup fresh orange juice
Zest of 1 orange
1/4 cup agave
1 cinnamon stick
Directions
1. In a small saucepan, bring cranberries, orange zest, orange juice, agave, and cinnamon stick to a simmer over medium heat. Cook, stirring often, until the cranberries break down and the sauce thickens.
2. Taste and add agave as needed (careful as the mixture will be hot). If too thick, you can thin with some water to reach the desired consistency. Let cool, then serve.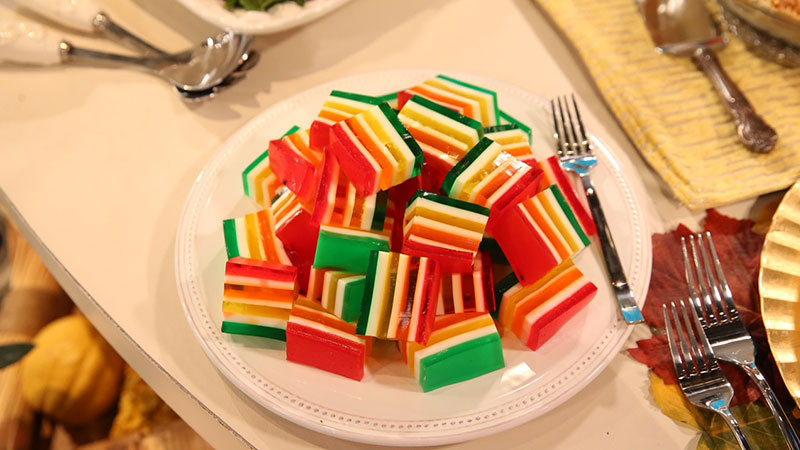 Carrie Ann's 7-Layered Jello Squares
(Note - Read the entire recipe before starting!)
Ingredients
4-6 oz boxes of Jello (1 large box or 2 small boxes each flavor – red, green, orange, and yellow)
1 can condensed milk
6 packages of Knox gelatin
Directions
1. Grease 9x13 pan lightly with mayonnaise
2. Dissolve separately 1 box Jello and 1 package gelatin in 1 cup of boiling water (four colors). I usually do two at a time so that they don't get hard waiting for the layers. I start with red and put it in the refrigerator while I make the white layer. Then I mix the next color of Jello and leave out until after the white layer gets hard.
White Layer Directions
1. Dissolve 2 packages of Knox gelatin in 1/4 cup of cold water.
2. Add dissolved gelatin to 1 3/4 cup of boiling water.
3. Add the can of condensed milk, mix and cool. I usually place in the freezer while the first layer of Jello is getting hard. Don't forget to take it out of the freezer. It just needs to be room temperature.
Layering Directions
1. Pour one flavor Jello into 9x13 pan and set level in the refrigerator until hard.
2. Add 1 cup cooled condensed milk mixture and set in refrigerator until hard (does not get really hard – just set to the touch).
3. Layer alternately ending with Jello on top. Be sure the Jello is room temperature before gently pouring onto the milk layer. I usually use a spoon as a guide to add Jello layer to milk layer. Put spoon against side of pan and pour Jello onto the spoon so that you don't make a hole in the milk layer.
4. After everything is set, cut into squares and serve.
Notes
I usually use a little more than 1 cup of water for each color. I also add a little more water to the condensed milk mixture…just to make sure there is enough to make a nice layer. If the Jello starts to get too thick while waiting for the next layer, just a very quick zap in the microwave will make it thin again, and then wait for it to get to room temperature before using it.
Be patient…it takes practice but everyone loves the Jello!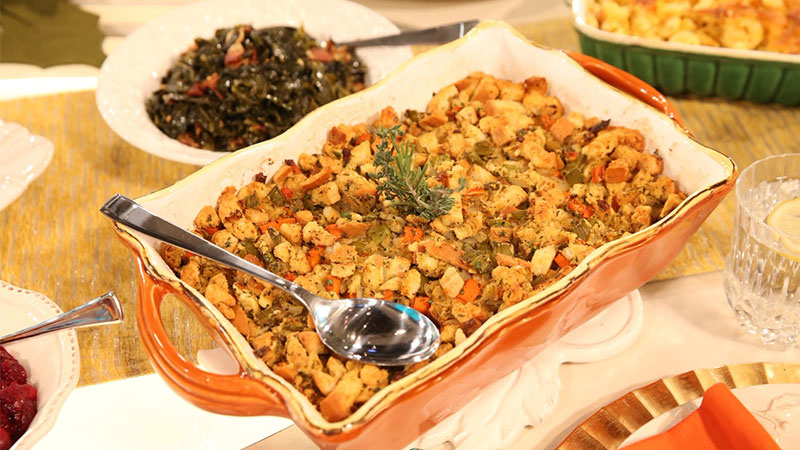 Brigitte's Thanksgiving Dressing
Ingredients
2 small onions diced
4 stalks celery diced
2 carrots, diced
1/4 cup + 1 tablespoon butter
2 teaspoons poultry seasoning
12 cups bread cubes
3-4 cups vegetable stock
2 tablespoons fresh parsley, minced
1 tablespoon fresh sage, minced
1 tablespoon fresh thyme, minced
1 tablespoon fresh rosemary, minced
Directions
1. Preheat oven to 350F.
2. Melt 1/4 cup butter in a large skillet over medium heat. Add onion, celery, carrot, and poultry seasoning. Cook over medium until soft, about 10-12 minutes.
3. Place bread cubes in a large bowl. Toss in onion mixture and fresh herbs.
4. Add broth a cup at a time until cubes are moist. You may not need all of the broth. Season with salt and pepper to taste.
5. Place mixture in a buttered serving dish and cover with foil. Bake 35 minutes, remove foil and bake an additional 10 minutes.