Cooking With Duff Goldman
Learn how to make a few family-friendly holiday treats.
Duff Goldman stopped by
The Talk
to demonstrate how to make family-friendly holiday treats.
To try some of his delicious recipes at home, see the full recipes below and catch Duff on the
Holiday Baking Championship
. Check your local listings.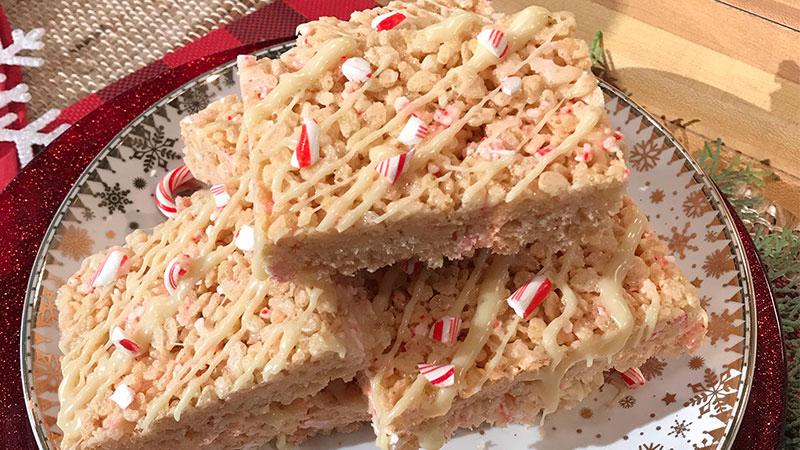 Candy Cane Krispie Treats
Makes 12 candy cane Krispie treats with a white chocolate drizzle topped with crushed candy canes.
Ingredients
- 1 stick (½ cup/ 113 grams) butter
- ½ teaspoon kosher salt
- 4 cups (190 grams) mini marshmallows
- 6 cups (160 grams) crispy rice cereal
- 1 cup (240 grams) crushed candy canes - about 18 standard candy canes
- 1 cup (195 grams) white chocolate chips
- 3 tablespoons heavy cream
Decoration
- Melted white chocolate with spoons
- Leftover crushed candy canes (about 1/4 cup)
- Festive sprinkles
Method
1. Butter a 9 x 13-inch pan with your hands or line it with wax paper. Crush up your candy canes by putting them in a gallon Ziploc bag and use a rolling pin to smash them up into little pieces. You want them pretty finely smashed as you don't want to bite into a huge piece of candy cane and crack a tooth! Set aside.
2. Melt the butter in a large saucepan over medium heat. When completely melted, add the salt, and the marshmallows. Stir until everything is all melty and smells awesome.
3. Remove the pan from the heat and add the cereal and 3/4 cup (180 grams) of crushed candy canes. Start to stir very gently to coat the cereal.
4. Press the mixture into the prepared pan. Let it cool for 20 minutes. Cut into 12 bars.
5. Meanwhile, in a double boiler (a heatproof bowl set over a small saucepan of simmering water), melt the remaining 1 cup of white chocolate chips with the cream. Stir until smooth, then use a spoon to drizzle the white chocolate over the bars in a zig-zag pattern. If the white chocolate starts to firm up, add a few drops of cream and stir, or put it back on top of the double boiler to heat up again. Top the bars with your leftover crushed candy canes and any other sprinkles you want!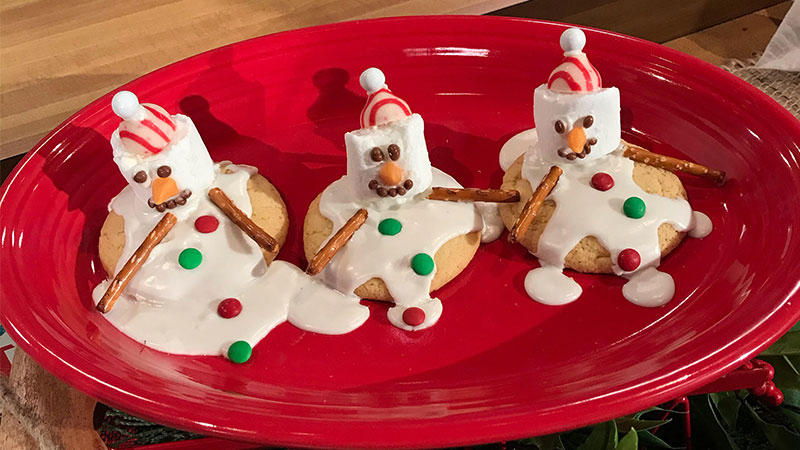 Melting Snowman Cookies
Makes 24 sugar cookies decorated with melting marshmallow snowman and candies.
Ingredients
- ¾ cup (150 grams) sugar
- ½ cup (113 grams) butter
- 1 each Egg
- 1 teaspoon (5 grams) vanilla extract
- 1 ⅓ cups (200 grams) all-purpose flour
- 1 teaspoon (4 grams) cream of tartar
- ½ teaspoon (3 grams) baking soda
- Pinch of kosher salt
Decoration
- Eyes: tootsie rolls
- Carrot nose: orange tootsie rolls
- Buttons: mini m&ms
- Snowman head: large marshmallows
- Arms: pretzel sticks
- Hat: peppermint Hershey's kiss with Pom Pom (melting the end of kiss and put a sixlet on it)
- Melty part: royal icing
Tools
- Blowtorch
- Kitchen tweezers
Method
1. In a stand mixer with the paddle attachment, cream the butter and the sugar on medium-high until it's light and fluffy.
2. Add the egg and mix to combine.
3. In a separate bowl, whisk together flour, cream of tartar, baking soda, and salt.
4. Add to the butter in the stand mixer bowl and mix on low speed until a nice dough forms.
5. Refrigerate for 15 minutes.
6. Wash your hands! You're going to be rolling cookies with your bare hands. Anything that's stuck to your hands will stick to the cookies. I don't wanna eat anything that was stuck to your hands. So wash them.
7. Cover two sheet pans with parchment.
8. Preheat the oven to 350 degrees.
9. Roll the dough into 1- to 2-inch balls and arrange them on the sheet pans with enough space
so the cookies can spread without running into each other.
10. Bake for 15-18 minutes, until the cookies start to brown. Cool the cookies on a wire rack.
11. To assemble your melty snowman, take a small piece of regular brown tootsie roll and roll it in your hands to warm it up. Make two little eyes and smaller balls for the mouth. Do the same thing with the orange tootsie roll to make a little orange nose. Melt the top pointy part of a peppermint Hershey's kiss and put a sixlet on top.
12. Spoon some royal icing onto a cookie so it looks like a puddle. Using a blowtorch (with your parents' help), slightly melt the marshmallow and put it on top. Attach the eyes, nose, and mouth. Put the hat on top of the head. Stick some pretzel arms on top of the royal icing, then the mini m&ms for the buttons.