Cooking With Chef Curtis Stone And Lindsay Price Stone
Here are Curtis Stone and Lindsay Price Stone's recipes for a perfect Valentine's Day meal.
Chef Curtis Stone and his wife Lindsay Price Stone stopped by
The Talk
to demonstrate how to make a meal perfect for Valentine's Day.
Try these delicious dishes at home with the recipes below.
Visit Curtis' first Los Angeles restaurant,
Maude
, which features a return-to-his roots menu that showcases cuisine from South Australia. Learn more about
Drought Angels
, a non-profit which provides direct and timely assistance, resources, and relief for farmers across Australia impacted by drought and other natural disasters.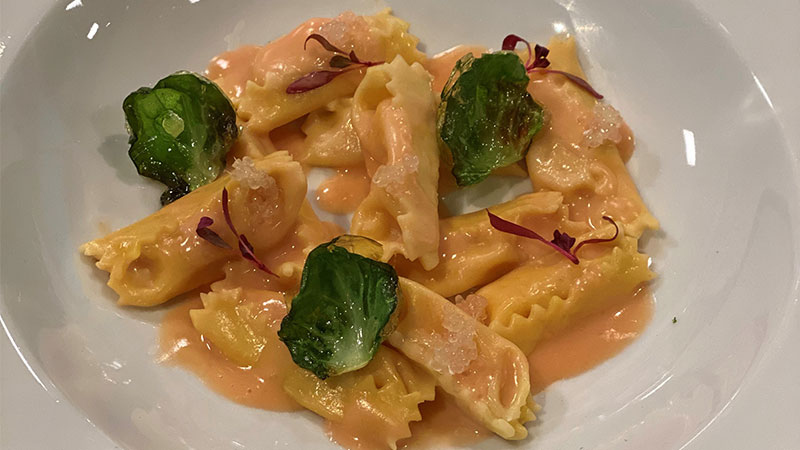 Butternut Squash
Serves: 4 to 6
Prep Time: 30 minutes, plus 1 hour to rest pasta dough
Cook Time: 10 minutes
Make-Ahead: Agnolotti can be rolled up to 3 hours ahead. Store covered on semolina-dusted baking sheets in refrigerator. Pasta dough can be made up to 1 day ahead; store covered tightly in refrigerator.
Ingredients
Pasta Dough:
8 oz. (about 1 1/2 cups) 00 pasta flour, plus more for dusting
3 egg yolks
2 large eggs
1 tsp. extra-virgin olive oil
Fine semolina flour, for dusting
1 beaten egg, for brushing pasta sheets
Butternut Squash Filling:
1/2 butternut squash (about 1 lb.), peeled, seeded, cut into -inch pieces
2 tbs. melted butter
2 sprigs thyme
1/3 cup grated Parmesan
3 tbs. mascarpone
Brussels Sprouts:
5 large Brussels sprouts, leaves only
Vegetable oil, for frying
Finger Lime Beurre Blanc:
1 cup rose champagne
1 cup champagne vinegar
1 cup fresh mandarine juice
1 shallot, finely chopped
2 sprigs tarragon
2 sticks unsalted butter, cut into cubes
1/4 cup heavy cream (optional)
4 finger limes, cut in half, pods/seeds removed and reserved (discard shell)
Method
To make pasta dough:
1. Place flour on flat surface and form a well in center of flour. Place eggs and oil in well. Using a fork, beat eggs to combine. Gradually incorporate egg mixture into flour. Knead until dough is smooth and semi-soft. Divide dough into two equal pieces and wrap each piece in plastic and refrigerate for 1 hour.
2. Knead dough for 10 to 15 minutes, or until dough is smooth.
Meanwhile, to make agnolotti filling:
1. Preheat oven to 425F. Toss squash, butter, and thyme on a rimmed baking sheet until coated. Season with salt and pepper; cover loosely with foil. Bake until squash is very soft, 35–45 minutes. Transfer to a plate and let cool.
2. Discard thyme stems. Purée squash, Parmesan, mascarpone, and lemon juice in a food processor until smooth. Season to taste with salt. Scrape into pastry bag or a large resealable plastic bag.
To form agnolotti:
3. Dust 1 piece of pasta with 00 pasta flour and flatten into a rectangle. Run dough through widest setting of pasta machine. Fold into thirds and repeat rolling and folding 4 times, dusting folded dough piece lightly with flour as needed before running it through machine each time. This helps knead the dough and make it more elastic. Reduce space between rollers one setting at a time until reaching last setting on pasta maker. Dough will be 1 to 2mm thick. Repeat to roll other piece of pasta.
4. Cut pasta sheets lengthwise into strips that are 3 inches wide. Cut 1/4-inch wide hole in piping bag and pipe squash-cheese filling along bottom third of each pasta strip. Lightly brush top third of pasta strips with beaten egg. From bottom, roll pasta around filling once, rolling tightly to secure. Using fluted pastry cutter, trim off any excess pasta above rolled pasta. Using your fingers, press down in 1 inch intervals along length of pasta sheet to seal shut the ends of agnolotti. Using pastry cutter, cut through these indentations to portion agnolotti. Transfer to baking sheet dusted with semolina and hold in refrigerator until ready to cook.
To prepare Brussels sprout leaves:
5. In large saucepan over medium-high heat, add enough oil to reach depth of 1 inch; bring oil to 350F. Deep fry Brussels sprout leaves until crisp – standing back and using splatter guard as oil will sputter as leaves hit the oil. Fry about 15 seconds, or until leaves are bright green and beginning to brown around edges. Using spider, transfer leaves to paper-towel lined baking sheet to drain excess oil and sprinkle lightly with salt.
To make finger lime beurre blanc and serve:
6. Bring champagne, vinegar, mandarine juice, shallots, and herbs to a boil in a medium saucepan over medium-high heat. Reduce heat to medium and simmer for about 10 minutes, or until liquid is reduced to about 1/4 cup. Remove pan from heat. Whisk in butter, piece by piece, until sauce is creamy. Whisk in cream, if desired. Strain sauce through fine-meshed sieve into another small saucepan.
7. Stir finger lime vesicles into beurre blanc. Whisk in some hot water to thin sauce slightly, if necessary. Season beurre blanc with salt. Keep sauce warm until needed.
8. Cook the agnolotti in a large pot of boiling salted water until tender and slightly undercooked, about 2 minutes. Drain agnolotti.
9. Transfer agnolotti to plates. Drizzle with finger-lime beurre blanc and garnish with a few crispy Brussels sprout leaves.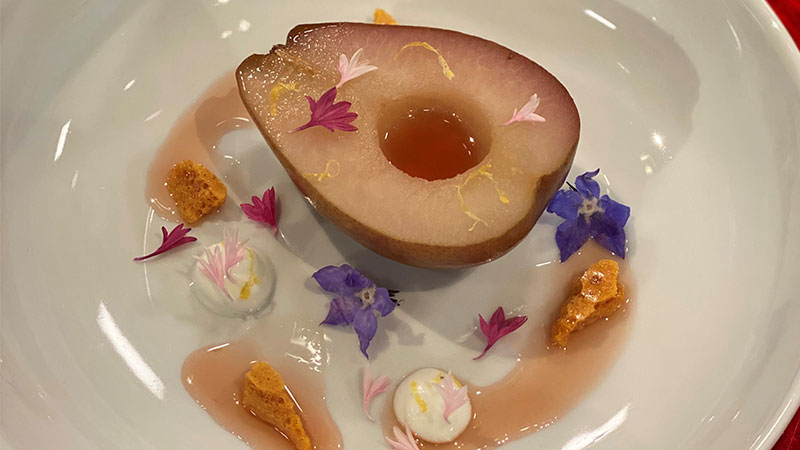 Roasted Anjou Pears with Honeycomb and Greek Yogurt
Serves: 4
Prep Time: 10 minutes
Cook Time: 40 minutes
Make-Ahead: Honeycomb can be stored in an airtight container at room temperature for up to 3 days.
Ingredients
Roasted Pears:
2 cups dry rosè wine
1/4 cup sugar
1 small lemon
2 large ripe but firm red pears, such as Anjou, halved, pitted
Honeycomb:
Nonstick cooking spray
1 1/2 cups sugar
1/4 cup organic honey
1 tbs baking soda
8 oz good-quality Greek yogurt
Special Equipment
Candy thermometer
Method
To roast pears:
1. Preheat oven to 350F.
2. In small heavy saucepan, bring wine, sugar, and 1 cup of water to boil. Cook mixture, 5 minutes, or until reduced by half. Using vegetable peeler, shave 4 strips of lemon peel from lemon and add peel to wine mixture. Reserve remaining lemon. Let lemon syrup stand 10 minutes, or until slightly warm. Discard lemon peel strips.
3. In an 8-inch square baking dish, arrange pears cut side down. Pour lemon syrup over pears and roast in oven, basting every 10 minutes, 30 minutes, or until pears are tender.
Meanwhile, to make honeycomb:
4. Lightly coat 13 x 9-inch baking sheet with nonstick spray. Set aside.
5. In large heavy saucepan, bring sugar, honey, and 1/4 cup of water to boil over high heat, stirring constantly. Reduce heat to medium-high and cook, without stirring, until candy thermometer reaches 305F. Remove saucepan from heat and whisk in baking soda just until blended and mixture begins to bubble. Gently pour hot mixture onto prepared baking sheet. Allow honeycomb to cool completely. Chop about one-fourth of the honeycomb into bite-size pieces and reserve remaining honeycomb for another use.
To serve:
6. Spoon yogurt into 4 bowls and top with warm roasted pears. Spoon warm syrup over pears. Sprinkle with honeycomb pieces. Using a rasp grater, finely grate zest from reserved lemon over pears, and serve.