Jeri Ryan Remembers That Time She Faced Off Against The Rock On Star Trek: Voyager
Ryan stars as Seven of Nine in Star Trek: Picard—with new episodes streaming on Thursdays—exclusively on CBS All Access.
Posted on Feb 21, 2020 | 03:00pm
If you were at L.A.'s Universal CityWalk almost a year ago and saw a cloaked figure walking through the park accompanied by a few guides, that may have been
Jeri Ryan
.
The
Star Trek: Picard
actress revealed to
The Talk
hosts
Sheryl Underwood
,
Carrie Ann Inaba
,
Sharon Osbourne
,
Marie Osmond
, and guest host Brigitte Nielsen that Episode 5 of
Picard
, "
Stardust City Rag
," was shot at the Los Angeles theme park. To preserve the secrecy of her
Star Trek: Voyager
character's reprisal in the new series, she wore a black hooded cloak that covered her entire body, leaving her able to see just the ground in front of her.
WATCH: Jeri Ryan On The Talk
WATCH: Catch Up On The Talk On CBS All Access
"Our base camp was on the backlot, everything was secret, secret, secret," she explained. "At one point, they're driving me to set and we're going really slowly, and I'm like, 'What is going on? Oh, we're behind the tram tour.'"
Ryan also reminisced on her
Voyager
days as Borg character Seven of Nine, including working with Dwayne "The Rock" Johnson in the Season 6 episode "
Tsunkatse
."
The Rock guest-starred on the show at the height of his wrestling career—before he was famous in mainstream circles—so Ryan didn't initially know who he was. After they finished filming, she said he left her an autographed photo of him as "The Rock," with the message, "The Rock smells what you're cookin'."
"I was like, 'What?!'" she explained. "What is wrong with this man? That is the weirdest thing I've ever [heard].' And the makeup guys were like, 'No, dude, it's The Rock, that's his thing: He smells what you're cookin'. And I was like, 'Oh.'"
STREAM: New Episodes Of Star Trek: Picard On CBS All Access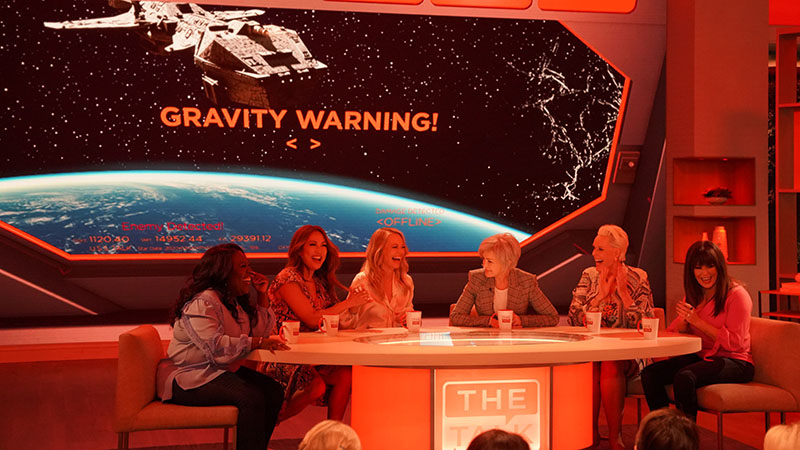 Ryan admitted she didn't have as easy a time getting back into the headspace of Seven of Nine for
Picard
as you might think. Fellow "legacy"
Trek
actor and friend
Jonathan Del Arco
—who also appears in
Picard
as his
Trek
character, Hugh—ended up helping her find her way.
"Reading the script, I couldn't find her, I couldn't hear her voice, and that was freaking me out so badly," she said. Del Arco came over and they worked on the script together. After two hours, he said, "What if she just makes the choice that she has to be as human as possible to survive?"
"That was like a little bell going off, and I was like, 'There she is!'" Ryan said.
But
Star Trek: Picard
isn't the only place you can find Ryan on CBS. She will also have a recurring role on Season 4 of
MacGyver
as Gwendolyn Hayes, Angus MacGyver's aunt. Gwendolyn is an ex-DXS agent who everyone thought was dead, but she's returned as the head of Codex, the organization Phoenix has been pursuing all season.
WATCH: All-New Episodes Of MacGyver On CBS All Access
Watch all-new episodes of
Star Trek: Picard
on Thursdays, exclusively in the U.S. on
CBS All Access
.
Tune in for all-new episodes of
MacGyver
on Fridays at 8/7c on CBS and
CBS All Access
.
And don't miss new episodes of
The Talk
Weekdays on CBS and
CBS All Access
.