Make Chef Scott Conant And The Talk Host's Favorite Thanksgiving Recipes
Try these delicious recipes for your Thanksgiving meal!
Posted on Nov 22, 2021 | 11:00am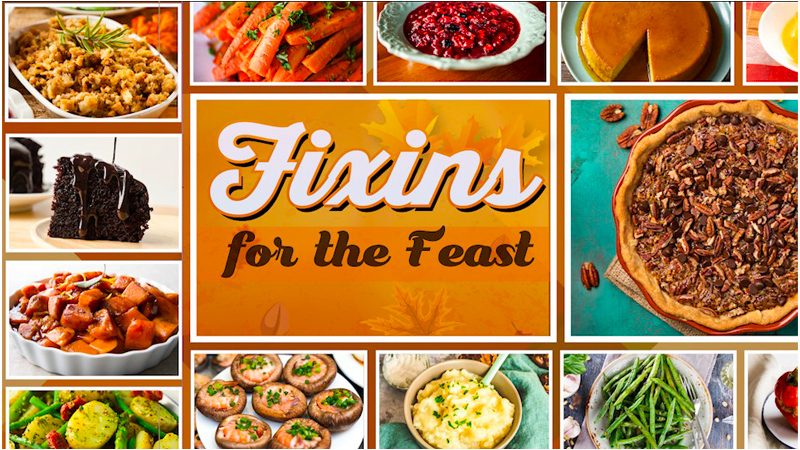 ESCAROLE AND BEANS BY CHEF SCOTT CONANT
From "Peace, Love, and Pasta: Simple and Elegant Recipes from a Chef's Home Kitchen"
One thing I've learned over all my years studying the way Italians cook: there are some things that the Nonne do that seem counterintuitive, but somehow yield the best results. Case in point: the double-cooked escarole in this dish. You wouldn't think that simply blanching the escarole – which takes only a minute – before it is sautéed would make such a difference, but somehow that step (which is a tried-and-true nonna technique) is what brings the flavors of this dish into focus.
Note: You can substitute 2 cups (340 g) of canned beans for the dried beans, but do not use the liquid from the can of beans, as the citric acid will interfere with the cooking. Instead, substitute water or vegetable broth for the bean-cooking liquid.
INGREDIENTS
¾ cup (140 g) dried cannellini beans, or 2 cups (520 g) canned cannellini beans
Kosher salt
2 heads escarole, halved then cut into thirds to yield 12 pieces
2 cloves garlic, sliced ¼ inch thick
Pinch crushed red pepper
¼ cup (60 ml) extra-virgin olive oil
2 tablespoons roughly chopped fresh flat-leaf parsley
Directions:
1. If using dried beans, soak them overnight in 1 quart (960 ml) water. The next morning, drain and rinse thoroughly with cold water. Place the soaked beans in a pot and simmer in unsalted water for 15 to 20 minutes, or until tender. Drain, reserving about 2/3 cup (165 ml) of the cooking liquid.
2. Bring a large pot of heavily salted water to a boil. (The water should have the salinity of broth.) Blanch the escarole in the boiling water. (This will happen very quickly – remove the leaves from the pot when they've just started to wilt, 2 to 3 minutes.)
3. In a large sauté pan set over medium heat, cook the garlic cloves and red pepper flakes in olive oil.
4. When the garlic starts to brown around the edges, add the blanched escarole and the cooked (or canned) beans.
5. Add the reserved bean cooking water (or 2/3 cup and cook until the oil and the water create a thin emulsion, 4 to 6 minutes. (You can crush some of the beans with the back of a spoon to release more starch.)
6. Remove from heat, stir in the chopped parsley, and serve immediately.
Serves 4-6 as a side dish
JERRY'S POTATO TURNIP MASH
Ingredients:
2 lbs of turnips (white or yellow)
2 lbs of potatoes (russet or Yukon gold)
6 TBSP sour cream
2 TBSP Butter
Salt and pepper to taste
Directions:
1. Wash and peel potatoes and turnips. Cut into cubes.
2. Put in pot and cover with cold salted water.
3. Bring to a boil and cook for 30 minutes on medium heat.
4. Check centers with a fork to see if soft. Drain and mash with a hand masher.
5. Add a dash of salt and black pepper, butter, and sour cream.
Can be stored in a refrigerator and heated in the microwave.
Serves: 10
AMANDA'S MUSHROOM RICE
Ingredients:
1 Cup Conventional (parboiled) Rice
1 Box or can of sliced mushrooms
1 cup chopped onions
¼ lb butter
1 Cup chicken consommé
1 Cup water or half mushroom/half water
Directions:
1. Saute until soft, mix well, add chicken consommé, water, or half mushroom and half water. Salt and pepper to taste.
Bake about 45 minutes to one hour at 350 degrees.
NATALIE'S PUMPKIN FLAN
Ingredients:
4 large eggs
1 can low-fat evaporated milk
1 can fat-free sweetened condensed milk
1 teaspoon vanilla
1 cup (8 ounces) pumpkin pie mix
Pinch of cinnamon and nutmeg
3/4 cup sugar
Directions:
1. In a blender, combine the eggs, evaporated and condensed milks, vanilla, and pumpkin mix. Blend until smooth and set aside.
2. Heat water in the bottom part of a double boiler pan (about one-quarter of the way full) or a roasting pan in an oven preheated to 325 F (also one-quarter of the way full).
3. While the water is heating, pour the sugar into a flan mold. Over a very low flame, caramelize the sugar. This is the hardest part of the recipe because the key is not to let the sugar burn or get too dark. The pan can be directly over the flame. Use a wooden spoon to work the sugar around the pan. Remove from the flame as soon as the sugar starts to turn a light brown.
4. Once the sugar reaches a light brown caramel color, it's important to coat the whole pan with it. Tilt the pan and using the wooden spoon coat all of the pan's sides. Now it's ready for the flan mixture.
5. Pour the flan mixture into the sugar-coated flan mold. Place it in the water in the double boiler pan or the water-filled roasting pan in the oven.
6. Bake for around 1 hour – until the top gets a little solid like jello and the sides begin to pull apart from the pan.
7. Set aside to cool, then refrigerate for at least 4 hours.
8. To serve, take a large dessert platter and place it on top of the flan mold as if it were a lid. Do this over the sink to ensure no spillage. Quickly flip the pan onto the platter. You might need to run a knife along the edge. The flan should come out of the mold perfectly with a beautiful caramel glaze. Enjoy!
SHERYL'S HOLIDAY CRANBERRY MULE
Ingredients:
1.5 cups of Vodka
3 oz Fresh Lime Juice
1.5 cups of cranberry syrup (recipe below)
24 oz. Ginger beer
Directions:
1. Mix all ingredients except Ginger Beer and pour into a pitcher.
2. Fill a Cooper Mule Mug with ice.
3. Pour mixture ¾ the way up then top with Ginger Beer.
4. Garnish with Orange or Lime Wheels and Rosemary or Mint sprig.
Cranberry Syrup:
½ cups of Sugar
2 cups Fresh Cranberries
1 Tablespoon Grated Orange Zest
½ cup of Water
Directions:
1. In a medium saucepan, combine the sugar, cranberries, and orange zest with a half cup of water to a simmer.
2. When cranberries begin to soften before they all pop, take the mixture off the heat and let it cool.
3. Use both liquid and softened cranberries when building the cocktail.
4. Unused syrup may be stored in the refrigerator for up to a week.
6-8 cocktails
SHERYL'S PROSCIUTTO-WRAPPED FIGS
Ingredients:
4 large whole figs, quartered
Goat cheese
3 oz package prosciutto
3 TBSP Honey
¼ teaspoon pumpkin pie spice.
Directions:
1. Preheat oven to 400 degrees F
2. Line a baking sheet with parchment paper; set aside.
3. Cut a small hole in the center of each fig, fill it with ¼ teaspoon of goat cheese.
4. Take a half slice of prosciutto and wrap diagonally around the fig. Tuck underneath at the ends.
5. Repeat until all figs are wrapped. Place on a baking sheet, evenly spaced.
6. In a small bowl, combine honey and pumpkin pie spice. Drizzle honey evenly over each fig.
7. Roast on the top rack of the oven for 8 to 10 minutes and serve immediately.
AKBAR'S SWEET POTATO GOOEY CAKE

Ingredients:
1 (18.25 oz) package yellow cake mix
1 stick butter, softened
3 eggs, divided
1 (8 oz) package cream cheese, softened
1 teaspoon vanilla extract
1 (29 oz) can sweet potatoes, drained
4 cups confectioners' sugar
Directions:
1. Preheat oven to 350 degrees F.
2. Mix the dry ingredients in a small bowl and set them aside.
3. Mix the wet ingredients and slowly incorporate the dry ingredients into the wet ingredients.
4. Chop the sweet potatoes into small cubes and fold them into the mix.
5. Place the dough in a 9x13 pan and bake for 50 minutes.
6. Let cool and cut into 12 squares.