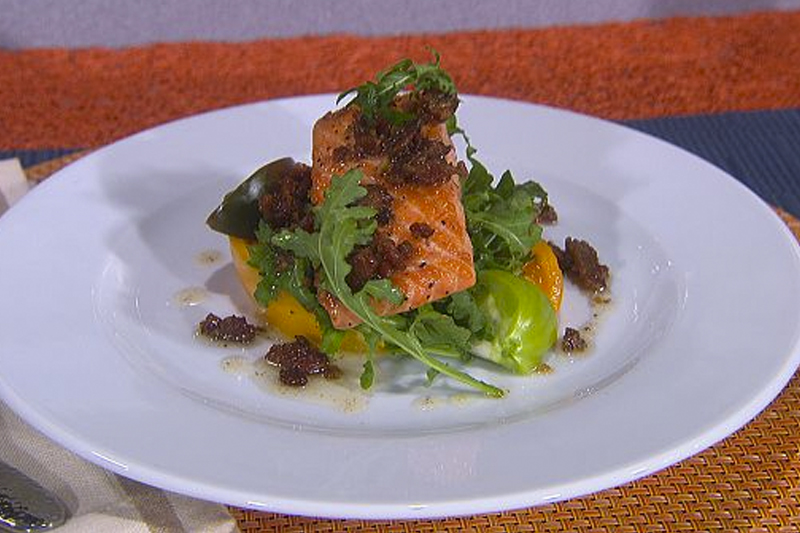 Graham Elliot's Salmon BLT (deconstructed)
Ingredients:
1 teaspoon lemon zest
1 1/2 teaspoons lemon juice
4 slices center-cut bacon
2 teaspoons olive oil
6 ounces salmon, cut into 4 fillets, skin removed
4 ounces wild organic arugula
8 slices heirloom tomatoes
salt / pepper to taste
NO BREAD

Vinaigrette
4 strips thickly sliced center cut smoked lean bacon, cut into 1/4-inch strips
1 shallot, minced 1 garlic, minced
2 tablespoons sherry vinegar
1 tablespoon of mixed herbs
Salt & pepper

Directions:
1. In a skillet over medium heat, render bacon until crispy. Add shallots and garlic and sauté until soft. Deglaze the pan with vinegar and stir in the sugar until dissolved. Add chopped thyme leaves. Season to taste. Set aside to cool.
2. Heat the oil in a skillet over high heat. Season the salmon with salt and pepper and sear to golden brown (1½-2 minutes). Carefully flip the fish, (butter optional) adding two whole thyme sprigs to the pan. Baste until cooked through (1½-2 minutes). Discard the thyme.
3. Toss the arugula and heirloom tomatoes in a bowl with half the vinaigrette, season to taste with salt and pepper, place the fish on top. Spoon the rest of the vinaigrette over the top of the fish. Serve immediately.