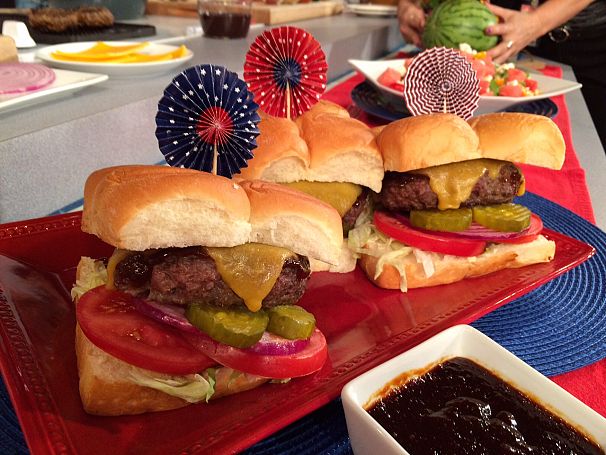 Eric Greenspan's All-American Butter Burgers
Ingredients:
2 pounds ground beef (90% lean)
¼ pound softened butter
tbsp. salt
1 pkg. Hawaiian buns
4 tbsp. mayonnaise
1 head of iceberg lettuce, shredded
1 beefsteak tomato, sliced
1 red onion, sliced thin
Bread and butter
Pickles
8 slices American cheese

For the Homemade BBQ Sauce:
1 red onion, diced
red pepper, diced
2 tomatoes, chopped
Fresno chili, chopped
½ cup garlic, chopped
1 Tbsp. tomato paste
1 cup sriracha sauce
1 cup molasses
½ cup brown sugar
1 cup cider vinegar

Directions: In a sauce pan, sweat red onion, red pepper, chili, garlic, and tomato until translucent. Add tomato paste and caramelize. Add molasses, chili sauce and brown sugar. Caramelize some more. Add vinegar. Reduce until dry Transfer to blender and blend until smooth.

Plating the burgers: Mix beef and butter with salt and form into four patties. Mark on grill on both sides. Slather with BBQ sauce and continue to cook. Melt cheese on top. Don't press the burger, as you don't want juice to escape. Take a four roll cluster of buns and slice them in half. Slather bun with mayo. Place burger patty inside, top with lettuce, tomato, onion and pickles, cover with bun and serve.