Y&R Actress Jensen Buchanan Opens Up About Her Return To Daytime
Buchanan dishes on the Y&R cast, social media, and what's it's like to work again.
Posted on Dec 1, 2015 | 11:50am
Daytime just got
much
hotter. After taking an extended break from acting, legendary soap star Jensen Buchanan returned to Daytime as Judge Elise Moxley on
The Young and the Restless
.
The Daytime Emmy-nominated actress has built quite the impressive resumé over the years, garnering praise for her roles on
Another World
,
As The World Turns
, and
One Life To Live
. Now, Buchanan spends her time in Genoa City, overseeing Adam's trial and battling Victor's loosely veiled threats.
Despite her trouble with the Newmans, Buchanan took some time out of her busy schedule to chat with CBS.com on working with the Y&R cast, joining social media, and what fans can expect from her character this season.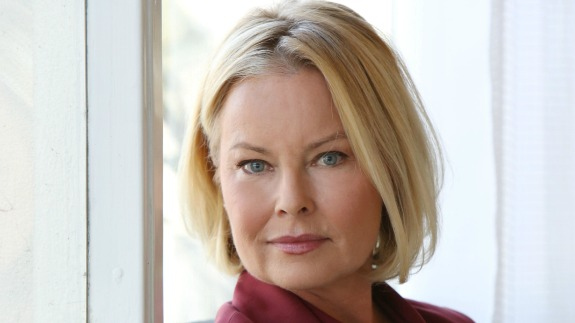 © JPI Photography
While some performers might be intimidated by jumping feet first back into television, Buchanan couldn't be more excited to be back on set doing what she loves.
"Sometimes you need to take a break from something to really get your enthusiasm and excitement back, and it really gave me a great appreciation for how fun it is, how challenging it is," Buchanan said.
Of course, it's easy to be happy to go to work when you thoroughly enjoy your co-workers. Buchanan noted just how friendly, gifted, and inspiring the entire Y&R has been during her time on set.
"Everyone made me feel so comfortable," she said. "Honestly, I felt like I'd been there for some time. It's a really welcoming place."
While Buchanan may be new to the Y&R family, she is certainly not a stranger to the Daytime world, noting that she's been reunited with some people she worked with in the past.
"It was sort of like a little bit of a reunion, because there are many people who work on Y&R that I've crossed paths with in New York," Buchanan said. "The cast members were so welcoming."
When you're as talented as Buchanan, it's easy to understand why other actors would be eager to do whatever they can to create a warm working environment. But for Buchanan, the real honor is all hers.
"Working with these guys
—
they are so good and so confident
—
it was like working with the cream of the crop," Buchanan said. "I can only believe that [working with them] has only upped my game as well ... I was just really impressed with all of them."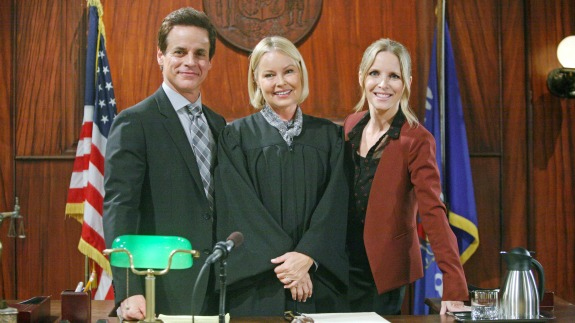 © JPI Photography
Aside from their talent, Buchanan also credited the cast for their incredible professionalism on set, stating that the actors' efficiency and skill is somewhat of a rarity. "I've never experienced a show that works so quickly without sacrificing the quality," Buchanan said.
As for her own role, Buchanan could hardly hold back her enthusiasm for her character's personality and storyline. Judge Elise Moxley showed up earlier this month as the hard-hitting judge in charge of handling Adam Newman's trial. It wasn't long until fans learned about Moxley's past affair with Victor Newman, which still haunts her, personally and professionally.
Buchanan described Moxley as a "very confident, capable woman who understands how to be political." While she applauds her character's strength and determination, Buchanan couldn't help but laugh when talking about her nickname, "Maximum Moxley."
"I think it's hysterical," she said. "All of my friends and family have started calling me that!"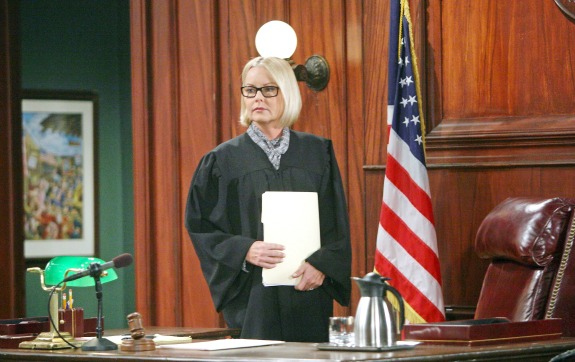 © JPI Photography
With such a stern reputation, it's easy to assume Moxley was hardened by her past experiences and relationships
—
an assumption Buchanan believes is simply incorrect. Like all of the characters on Y&R, there's so much more to Moxley than what meets the eye.
"[Moxley and Victor] had an indiscretion a few years back, and he alleges he was helping me through a difficult time," Buchanan said. "That's from his perspective ... Most importantly, I think they were friends in the past. Probably not a moment she's most proud of, but she's just a human being, too."
One thing Buchanan has noticed since being on Y&R is how committed the actors, writers, and director are to breathing life into every character, saying that the show truly "brings out a human element" in each relationship and storyline.
On the topic of relationships, Buchanan was happy to announce that she recently created a Twitter page (
@JBuchananYR
) that she says has made her "feel really connected to the fans."
First day in my dressing room#YR #CBSdaytime pic.twitter.com/UZhXLQ27TM

— Jensen Buchanan (@JBuchananYR) November 16, 2015
"It's been a real learning experience," Buchanan said. "You know, the whole social media aspect did not exist when I was on TV in the past ... I like to hear what people have to say."
Just in time for Thanksgiving, the actress expressed her gratitude for the outpouring of love she's received since her Y&R debut. While she'll be spending the holiday with her immediate family, Buchanan said this year wouldn't have been the same without the support from everyone in her Y&R family.
"I'm really grateful to have had the opportunity to work on Y&R and meet so many lovely people," Buchanan said. "I wish everyone a really happy Thanksgiving."
More: Photos: Y&R Stars Having Fun On Set
Ray Wise Relishes His Menacing Character On Y&R