Daytime workhorse and The Young and the Restless Executive Producer and Head Writer Mal Young produces more than 200 episodes of television a year.

That's no small task, but he's definitely up for it! In fact, Mal's trying something new this year to celebrate the holiday season on The Young and the Restless: An episode broken into four parts, each of which features a single storyline and is themed to a different Christmas carol.

We caught up with Mal to learn a bit more about what we can expect to see on Christmas Day when the Y&R special airs, and what you can look forward to in 2018.

So, what's different about this year's Y&R Christmas episode?

Mal Young: Normally, we pull out a rerun episode on Christmas Day. So I was thrilled when CBS asked me if we could give them an original. I'm a huge Christmas fan. Like, major.

In the U.K., the primetime soaps—Coronation Street, Emmerdale, EastEnders—are the [most]-watched show of the year on Christmas Day. They save all of their big stories—the killings, the exposure—all the peaks of their stories happen on Christmas Day.

The nation watches the Queen's speech, and then watch all the soaps. It's huge!

So I was a bit disappointed when I came [to the U.S.], and it's not as big, television, on Christmas Day. So when I got this opportunity, I dived in. Because I got to do a Y&R Christmas!

When I went to the writers about past ideas, everything sounded like it had been done. They'd done [episodes around] A Christmas Carol, they'd done It's a Wonderful Life.

Then I came upon the idea of doing four self-contained plays. Because the show had to feel like it could stand alone.

I wanted people to watch who hadn't seen the show to enjoy [the episode] on its own, as well as the fans. So it had to feel like these four eight-minute plays, which is a unique way of doing a soap.

The soap is always about the hook, the cliffhanger. So it meant I could sit down with the writers and write four little mini-movies.

And then I wanted to theme each of those stories, so I said, what if each of them was a Christmas carol? So each of these mini-movies is the name of a Christmas song.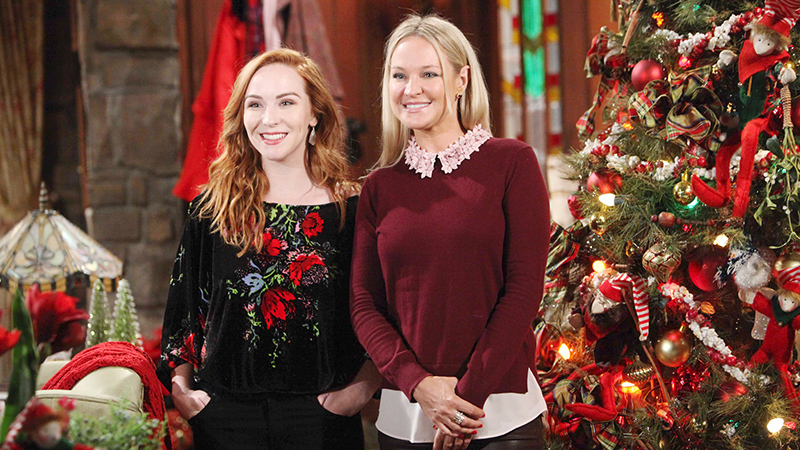 How did you settle on which carols to use?

Mal: I wanted to find four that would give us a story idea that would get people thinking or [let people] look at a song in a different way. They really chose themselves.

How did you settle on characters to pair with each song?

Mal: I started with about eight different stories knowing I'd have to be quite brutal and pare them down.

Here's the nice thing about a soap, which is different than movies: With a movie you create a character from the beginning. With a soap, some of these characters have been on for 30 years.

They have all of this history, so often a line I use is, "Does the character write themselves?" If it's a good character, you can be sitting in a room and say, "What would Sharon say if this happened to her?" And the character kind of answers you!

So I took these story ideas and threw them at the characters to see how they'd react. And that then informed how the story unfolded.

What was the mood like on set during filming?

Mal: We make 255 episodes of TV a year, so you're always trying to find ways to shake things up and make it interesting. We don't want to just feel like same old, same old.

So what you'll see coming up in the new year, anyway, are some self-contained episodes, where you just focus on one bunch of characters, one group, one family, one story.

And again, that's something that happens on the British soaps. You just strip everything away and write it like a movie. It adds richness and depth to the story and the viewer's understanding of what's going on.

It really feels like a treat that you build up to. It really does excite them all; everybody wants to be in it. That's what you want—you want people to be excited.

There's also a great atmosphere on the set because it's Christmas, but it's also a couple of months before Christmas. In this business, you get to have two Christmases and two Thanksgivings!

Can you tease any more special surprises from the Y&R Christmas episode?

Mal: One nice thing that came out of it that we didn't expect was we have a guest character who pops up in one of the four stories, and she impacted us so much, that we actually brought her back a couple of months later, in an episode that I just finished, for 2018. It was a nice, pleasant bonus for us all!

Watch all-new episodes of The Young and the Restless Weekdays on CBS and CBS All Access.