The Dimension And Humor Of Tommy Drew Star Edie Falco To Title Role
The actor said she couldn't pass up a chance to play the first female L.A. chief of police on Tommy, which premieres Thursday, Feb. 6.
On Sunday, Jan. 12, the 2020 Winter Television Critics Association was held in Pasadena, California, where Emmy Award-winning actress
Edie Falco
and Executive Producer Tom Szentgyorgyi sat down to discuss the upcoming crime drama
Tommy
, which premieres Thursday, Feb. 6 at 10/9c on CBS and CBS All Access—including why Falco knew she
had
to do the show.
The well-sought after actor is known for the strength and toughness she brings to the screen, so taking on the role of the titular Abigail "Tommy" Thomas may seem obvious, but Falco admitted to being picky when choosing her projects and says it was the character's dimension and the script's humor that ultimately led her to jump at the opportunity.
READ: CBS Winter 2020 Schedule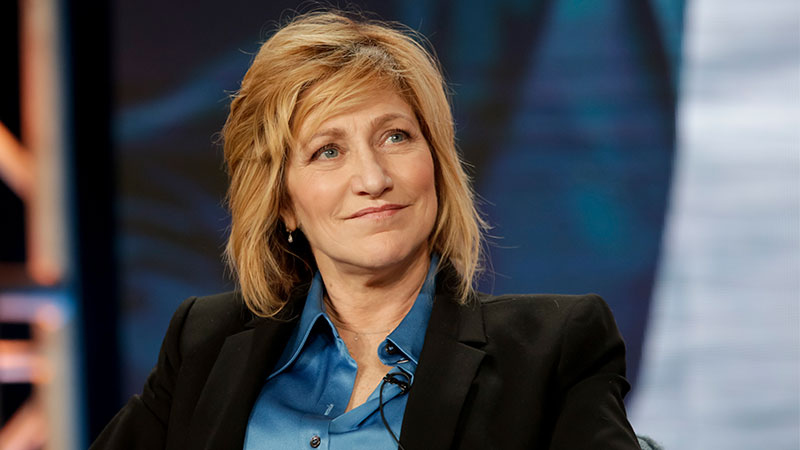 Falco spoke to how her busy life doesn't always allow her to take every role she's offered, but that's only made her more discerning in choosing projects that stand out to her. "If, in reading [a script], I can't put it down, or there's something about it and I have to know more, then I know I should go for it," said Falco. "It doesn't happen often but it did [for
Tommy]."
Falco was especially compelled by the nuance in Tommy's character, especially when it came to Tommy's multiple dimensions, saying, "[The script] wasn't all crime-of-the-week, it's about the decisions she makes and the way she interacts with her cohorts—and it was funny! There were lines that made me laugh, which is hugely important to me."
Tommy
follows Abigail "Tommy" Thomas, a former high-ranking NYPD officer, who becomes the first female chief of police for Los Angeles. There, she uses her unflinching honesty and hardball tactics to keep social, political, and national security issues from hindering effective law enforcement in the Southland.
Equal parts political, procedural, and family drama,
Tommy
comes from Paul Attanasio, the creator of
Bull
and
Homicide: Life On The Street
.
"Some people have asked if this show is inspired by somebody," said Executive Producer Tom Szentgyorgy, "I think it's more accurate to say it was inspired by the absence of somebody...The three biggest cities in America have never had a female chief of police."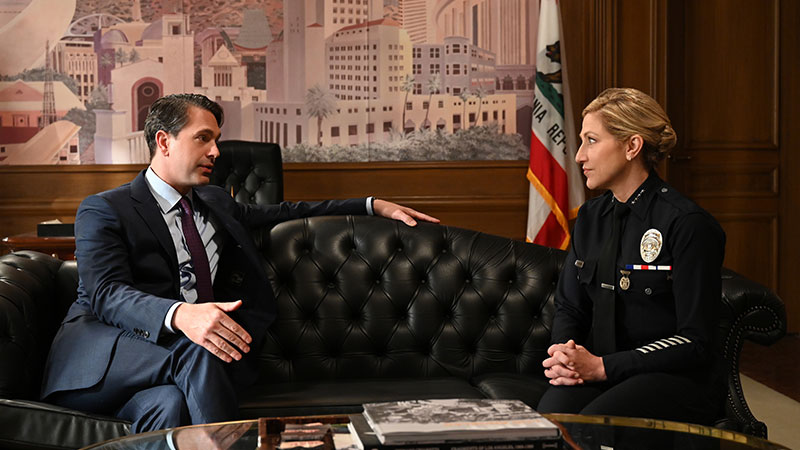 According to Szentgyorgyi, the show is political, but not how you'd think, saying, "It's a show about politics... the politics of who gets heard and who doesn't."
The showrunners even made a point to speak to a few female police chiefs currently doing this difficult job to better represent Tommy on the small screen. "One thing they spoke to frequently was pushback," Szentgyorgyi said, "[Tommy] is dedicated to her service in the face of that opposition... She preserves a sense of honor and duty."
And so, to represent a city as diverse as Los Angeles—despite shooting in New York City with the help of a diligent design team—the show's writer's room strives to be as equally diverse with representation in gender, sexual orientation, and race amongst the show's writing team.
"We're trying to represent all of that [L.A.'s diversity] and we'll always be struggling to do that, and get that right," said Szentgyorgyi.
"The world is changing and we have to change with it. She knows how to do this job. She knows she's qualified. She knows she's more qualified than a lot who've come before her," Falco said. "[Tommy] has a very solid moral compass. I think she really wants to do the right thing. She really wants to do her job and do it well... and it's easier said than done."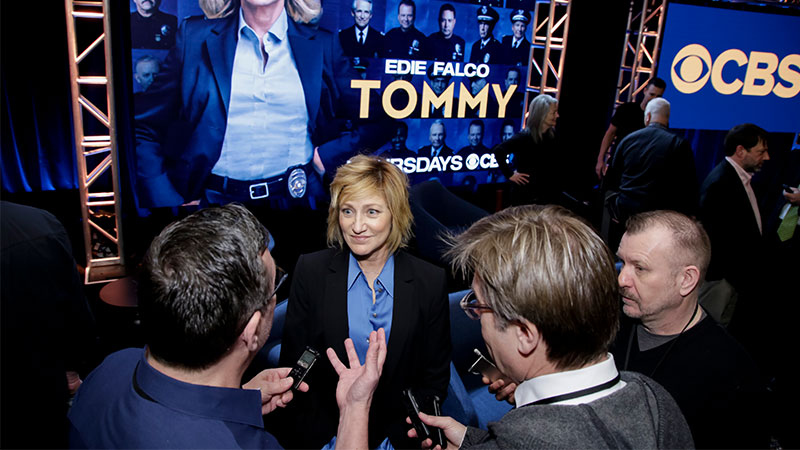 READ: Here's Your First Look At The New 2019-2020 CBS Fall Primetime Schedule
Is Los Angeles ready for a tough female New York-born leader to helm one of the country's most controversial police forces?
As Falco puts it, in a charmingly perfect New York accent, "People tend to come around, that's what I've found."
Watch the series premiere of
Tommy
on Thursday, Feb. 6 at 10/9c on CBS and
CBS All Access
.