James Corden's Best Moments From The 2016 Tonys
The Late Late Show host proved he deserves to be center stage.
The Tony Awards
have featured a long history of amazing hosts like Hugh Jackman, Neil Patrick Harris, Whoopi Goldberg, and many more. After last night's performance, James Corden deserves to be mentioned amongst any of those names.
The Late Late Show
host took a break from his talk show to host Broadway's biggest night of the year. It was obvious from the start that he belonged there; after all, he's a Tony winner himself. In 2012, he won Best Actor in a Play for
One Man, Two Guvnors
. Here are five of his finest moments from last night.
Requisite Hamilton Spoof
As everyone predicted,
Hamilton
dominated the Tony Awards, so a parody of the popular musical was a sure bet, especially since creator/star Lin-Manuel Miranda has a great sense of humor (which, among other things, we learned from his
Carpool Karaoke appearance
). We didn't have to wait long once the show started as the
Hamilton
cast appeared almost immediately, delivering a rewritten version of their musical's opening number. Of course, it was all about James Corden instead of Alexander Hamilton:
How does an upstart Briton best known for sittin' and jesting
From a desk in the middle of a forgotten slot on late night
Far from Manhattan, chattin' with Hollywood phonies
End up being the guy who hosts the Tonys?
Huge Musical Montage
Those who watch
The Late Late Show
know that James is a master at blitzing through live montages of
actors' filmographies
. He used that same skill set to roll through decades of Broadway musical history in his hilarious opening number:
Les Miserables, Phantom of the Opera, The Lion King, Grease, The Sound of Music, The Music Man, Funny Girl, Guys and Dolls, A Chorus Line, Gypsy, Fiddler on the Roof, Annie, Cats, Evita, Dreamgirls, Jesus Christ Superstar
, and more! If viewers had any lingering doubts why "an upstart Briton" was tapped to host the 2016 Tony Awards, James' singing voice, stage presence, and dance ability alleviated those doubts.
James And Oprah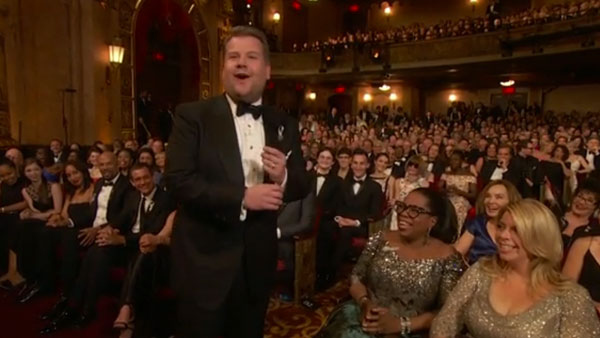 James has been honing his opening monologue skills weeknights for over a year every night at 12:35am/11:35pm c. The larger stage didn't throw him at all, as he delivered a string of killer punch-lines: "This is like the Super Bowl for people who don't know what the Super Bowl is;"
"Think of tonight as the Oscars, but with diversity;" and
"This show is so diverse that Donald Trump threatened to build a wall around this theater."
Two of Corden's best lines, though, didn't happen in the monologue; they occurred with his interaction with Oprah. During James' huge opening number, he kind of lost it: "Here I am, hosting the Tonys. This time tomorrow, back at 12:30! Sorry I'm not entirely sure what happened there. I blacked out a little bit. Have I ruined it? I have ruined it, haven't I? I've ruined the Tonys! Oprah, have I ruined the Tonys? Level with me, Oprah!"
Later, James was walking through the audience, stopped by Oprah and said: "There are so many people tonight who could be taking away a Tony. Except this little lady [looks at Oprah], who could be taking home a James."
James' Stellar Wardrobe Changes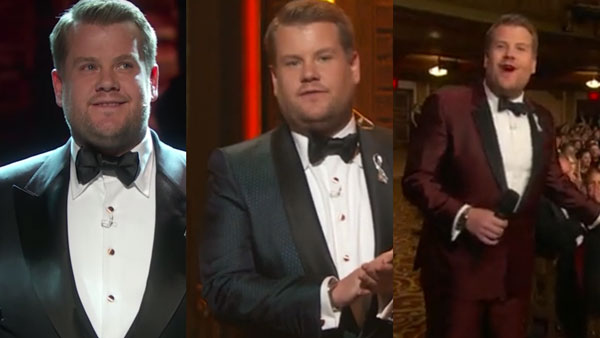 James proved quick costume changes aren't limited to leading ladies. In the past, he's admitted he's a bit of a fashion junkie and his various jackets proved it.
"The New Fall Broadway Season"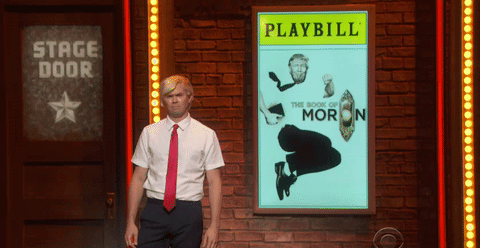 While theater is a way the escape the realities of life, it also has a long history of being used to satirize current events. James didn't let the presumptive Republican and Democratic presidential nominees get away without a poke with the musical theater stick. When he introduced "the new fall Broadway season," we got Andrew Rannells, who originated the lead role in
The Book of Mormon
, as Donald Trump in
The Book of Moron
. After that, three-time Tony nominee Glenn Close gave us a taste on what a musical featuring Hillary might look like in
A Clinton Line
.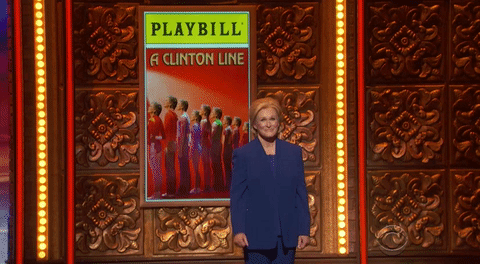 Overall, it was a great Tony Awards. The stage performances were spectacular. The impromptu outdoor songs were memorable. James established himself as a go-to host for future award shows. If you haven't yet, do yourself a favor and
watch the entire show online here
. If you've already watched it,
watch it again
and sing along since you already know the words.