Back to Cast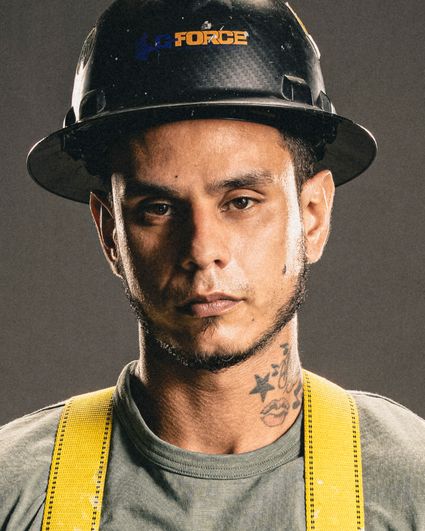 Biography
Job: Construction Foreman
Age: 29
Hometown: Miami

What do you do?
Coordinate and manage construction sites that associate themselves with waterproofing and restoration. Project Manager/Foreman/Superintendent.

What is a typical day like for you?
I head out for work at 4 a.m. and work till 5:30 p.m. Clean the house/cook, go to school/study for GC license/construction management degree, finish side jobs, train clients/power lift, music studio, and figure out ways to visit my son.

What would people be surprised to learn about your job?
I can get a job done with a small crew that would require many more men/women. I punch out job sites ahead of time. I get my hands dirty with my men even as a superintendent. My job brings a building back to life or makes it last more than 50 years.

What work related build/structure are you most proud of?
I was proud of working in the port of Miami and building a terminal for Royal Caribbean. Every time I drive by it people say how cool it looks and I feel such pride.

Who are you competing for?
I'm competing for my son and to change the stereotypes towards people that work in construction. Hopefully I can influence society and show myself how tough I am.

Why do you want to win?
I want to share my success with my son and the ones I love. I want to be an example of hard work, dedication, ambition, and positive energy. Reach those that are still stuck in a certain lifestyle. I want my son to be proud in calling me his father.

What makes you tough as nails?
I am the hardest worker in the room. I finish what I start. I hold my hand out for whomever needs it. My consistency and determination towards any task is unique—if I fall, I get back up. Even if I were pinned down, I'd find a way to get back on my feet. Failure isn't an option to me. If you tell me it's impossible, I'll make it possible. I take pride in my line of work. I'm a loving father and I battle it out every day with an obstacle or challenges in life to have my son succeed. I'm a family man. I do everything I can for my team and friends I know in/outside of work. I don't go in for a slice, I grab the whole thing and share it with those I love. I am tough as nails. My hands can prove that.