Adam Rodriguez On Criminal Minds and Returning To Primetime
CBS's homecoming king, actor Adam Rodriguez, gets real about his new BAU role, and much more.
It's a rare man who can fulfill every woman's fantasy. Whether your dream guy is a fugitive-hunting hunk, a phenomenally fit exotic dancer or a devoted family man, having all those characteristics has been an impossible combination.
Until now.
For fans in the know—and boy, does he have fans—that ideal combination of qualities can be found in
Criminal Minds'
Adam Rodriguez. Despite the true darkness of the weekly police procedural, the 41-year-old actor is a source of light and yes, lust, to his legions of female followers.
For his part, Rodriguez is thrilled to be "coming home" to CBS after seven seasons as Eric Delko on
CSI: Miami
. He had another homecoming of sorts when he recently returned to his native New York for a hot—literally and figuratively—
photo shoot
for
Watch!
He opened up to us about playing new character Luke Alvez, getting in crazy good shape for the
Magic Mike
movies and getting ready for baby No. 2 with his wife, model Grace Gail. Swoon...
How was your trip to New York?
This trip was a 36-hour turnaround! My flight was an hour and 15 minutes late and I squeezed in a dinner with really old friends I've known from the business. We had great Greek food and stayed up until 4 a.m.—but I did make the call time!
And your Watch! shoot was during a heat wave—and with a fog machine?
To create a little ambiance, you have to pump out some fake smoke—especially on a 98-degree day! And to top it all off, I was on the rooftop in cashmere pants and wool sweaters. The stylist, Luke, pulled some awesome stuff. I don't want to sound like a sweaty mess, but I sweat a lot! Somehow I convinced myself not to.
You shot in the Bronx—not far from where you grew up [in Yonkers]. Did you see family, too?
Well, I somehow managed to convince my parents to move to L.A., so they live about 20 minutes from me now. Both my grandmothers are still alive [and in their 80s] and I did not see them—please do not tell them because they will give me grief! Besides, about a month ago, we took a trip to see them and stayed for a week.
You recently got married in Tuscany. What was that like?
It was amazing—it was a weeklong affair and people came for five or six days and we made it so that the wedding was just something that happened in the course of the week. That part of the world is special to me. When I was about 10 or 11, I went to summer camp and made a friend whose mom was from Italy, and he lived there. When I was about 25 years old—this was sort of right before Facebook happened, I was making Ma Bell phone calls—I sought him out in Italy and it was like we didn't miss a beat. I visited him in Italy the summer before
CSI: Miami
started and stayed there five or six weeks, and fell in love with the food, the culture, the people. And I've been going back every year since. One of the first trips my wife and I took was to Italy. It was her first time going and while we were there, we magically conceived our daughter Frankie.
And your wife is expecting again...
Yes, but this time we took care of that before we went to Italy! We were riding high, because of the wedding and because we'd found out about the new baby the day we left for Italy and I'd worked on a sitcom pilot that I thought would go to series. When we got home, I found out it didn't and that took a little bit of wind out my sails—but then a week later I got the call: "Would you be interested in
Criminal Minds
?" I basically felt like I was going home to work on CBS—it's a comfortable place for me. When I met Erica Messer, the
Criminal Minds
showrunner, I was absolutely sold on it. I wanted in.
Is it intimidating to be the new guy in a series with such a long-standing cast?
I love the feeling of butterflies about anything. I can't call it anxiousness, because it's not anxiety. But when I have that feeling, I have to run toward it—whether it's meeting my wife or joining the cast of a hit show and being the new character [to replace a departed one]. I love the challenge of it. And I've been on the other side of it—when I left
CSI
after season 7, there was someone who came to replace my character.
And I've read that Reid isn't totally receptive to your character, Luke Alvez.
It's not Reid—it's Garcia who is really going to be resistant to me. I'm sure everyone will play a note of, "Who the heck are you, the new guy?"—but Garcia will be the one who's feeling it for the audience. At least it's not like a soap opera, where I am just coming in to play the same character. I am excited about the challenge of making everyone feel good about the change.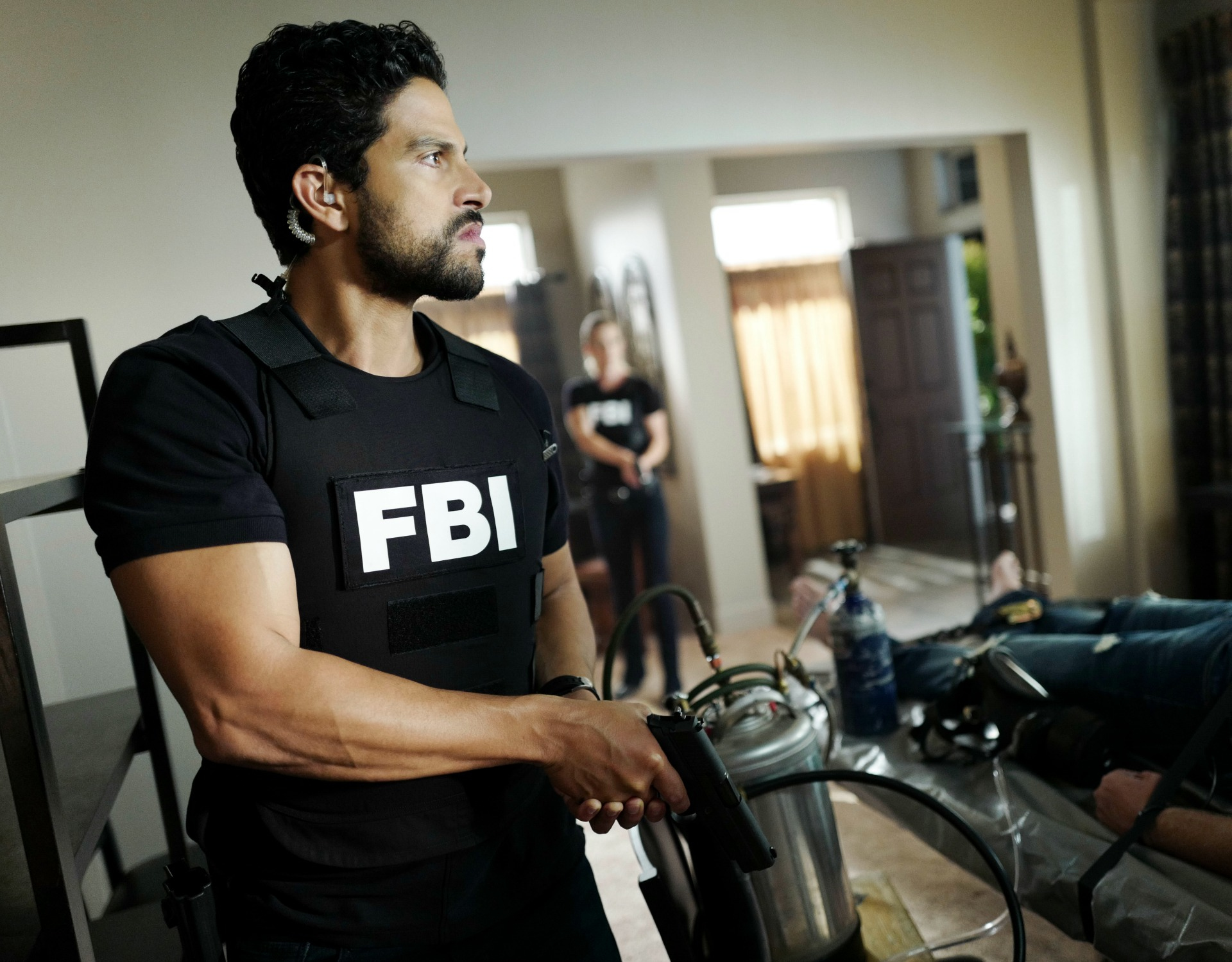 Criminal Minds can get pretty dark—
It is so much darker than
CSI
! The writers are not afraid to go there. They don't shy away from making things dark, and I think that's solidified the show's success.
But it's like the darkness of the topic is offset by how tight the characters are—how they care about each other, and are so smart in working together.
And what you see there is what it is behind the scenes. There is such a sense of family among the cast.
Given how scary the show can be, how old will your 2-year-old daughter need to be before you let her watch an episode? Will you start her off with you playing detective Alfie Betts on Sesame Street?
Ahh! Just the other day, I said to my wife, "When can I show her that I was on
Sesame Street
?" I loved that! It was one of my favorite things I've ever had the opportunity to do. When I was there, there was a camera operator who'd been there since day one, in 1969, and I remember wondering, "Do these guys realize how cool it is to be part of this?" [The character] Maria and others were revolutionary in terms of casting and not being condescending to kids.
You were also part of the Magic Mike movies. How hard was it to get down to 5-percent-body-fat dancing shape?
For the first one, we had only about five or six weeks max to get in shape, and that was scary—I was nowhere near the shape I had to be in to play that role. It scared the **** out of me to work for Steven Soderbergh, with Matthew McConaughey and Channing Tatum and all those guys. I'd actually met Chan when he did an episode of
CSI
and we did a scene together and we just clicked. And then his career took off, and I remember seeing him in
G.I. Joe
like, "Look at this kid. I remember when he was on the show!" For
Magic Mike
, he called me up and was like, "Hi, this is Channing Tatum, I don't know if you remember me, but..." which just solidified how I felt about him, and how much I wanted to do the movie. They could've said, "You are going to be in a clown suit and no one will see your face," and I still would have wanted to do it. In terms of the diet, I didn't have to starve; I just had to eat a lot of low-glycemic-index stuff. You have to lose weight, keep the muscle, get as ripped as you're going to get, and know that the camera might help you.
And you had to do it all over again for XL?
When the second one came around, I knew I could do it—I wasn't operating from a place of just learning about it. And we had eight or nine weeks to get ready. But at that time, Frankie had just been born, life was so good, my wife and I were eating with abandon—her brother is a phenomenal cook and he would come over and we would stuff ourselves with decadent meals and wine. And I had to rein it in, but procrastinated until the last moment. The other guys in the cast, we would text message like, "Yeah, are you starting to get ready?" We are all competitive, but we are also all supportive of each other.
Was J.Lo your style-inspiration for your hair in the second one?
Well, there is a connection—I did appear in her "If You Had My Love" video in 1999. But when the second
Magic Mike
happened, I had just been growing my hair out, and I started giving it some thought, like, my character wants to dye his hair blond and wear funky clothes and have a beachy vibe.
Are you a naturally good dancer?
I think I have a natural sense of rhythm, but I'm not a natural dancer in terms of learning a routine. I love to move my body to music but I'm not good at dance steps—and knowing that the world will see it, that's an intimidating task!
Which leads to the last question. You've been hired to dance at a bachelorette party. Who do want as your backup, Joe Mantegna or Joe Manganiello?
It depends on who the bachelorette is. But I would venture that Joe Mantegna has some surprise moves.
By Rory Evans | Photography by Michael Parmelee | Originally published in
Watch!
Magazine, October 2016
Criminal Minds
airs Wednesdays at 9/8c on CBS and on
CBS All Access
anytime. Tune in to the Season 12 premiere on Sept. 28!
Related articles:
Photos: Adam Rodriguez Is Back!
Paget Brewster To Return As Emily Prentiss On Criminal Minds
Where We Left Off With Emily Prentiss On Criminal Minds