Talitha Getty's Bohemian Rhapsody
Decades later, a Dutch flower child's ways still leave a fashionable mark.
Fashion can be fueled by a brief, beautiful memory—like a meteor that zips across the night sky in an instant but leaves a lifelong impression. Following spring's flower-child bohemian trend, this fall socialite
Talitha Getty
and her jet-set bohemian style from the late '60s seem to be inspiring designers. She was a doe-eyed beauty of Dutch heritage, born in what is now Indonesia, a sometime actress (she made a brief appearance in Roger Vadim's
Barbarella
) and the wife of
John Paul Getty Jr
., heir to one of America's great oil fortunes. (The two would go on to have a son to whom they gave the trippy name
Tara Gabriel Gramophone Galaxy Getty
.)
The couple were introduced at a dinner party thrown by
Claus von Bülow
, and, free from the inconvenience of actual work, hopscotched around London, Rome and the louche playground of Marrakech, where
Yves Saint Laurent
,
Mick Jagger
and
Marianne Faithfull
, along with a smattering of free spirits and obscure European aristocrats, were frequent companions. That demimonde was immortalized in a 1969 photograph by
Patrick Lichfield
, showing Talitha crouching in a colorful long coat, white harem pants and white boots, with her husband lurking behind in a caftan on the roof of their 17th-century Moroccan home, aptly named "Pleasure Palace." The picture so captured its hedonistic time that it is in the collection of Britain's National Portrait Gallery.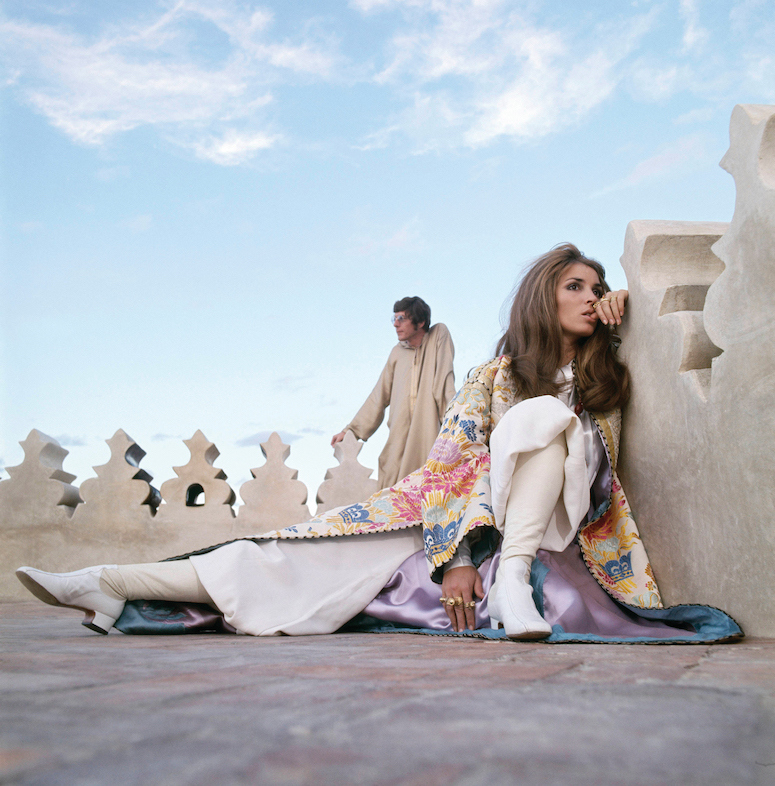 A famous Patrick Lichfield photo of socialite Talitha Getty and her husband taken in Morocco in 1969.
But her legacy doesn't stop there. At
Altuzarra
this season, it was as if you could see Talitha's ghost gliding through a party in one of the designer's flowing prints or sequined scarf-hem dresses. Perhaps you could glimpse her in the Kasbah, hunting for ethnic jewelry, wearing a caftan embellished with embroidery and mother-of-pearl buttons from
Chloé
. With the ethereal dresses off the
Roberto Cavalli
runway, the patterns often resembling a hallucinogenic experience; the rich, opulent floral lace, velvet and silk dresses at
Etro
; and the omnipresence of long printed or sequined scarves, Talitha's influence is everywhere this fall. "When I knew Talitha, my vision completely changed," recalled Saint Laurent. Maybe it takes a fashion legend to know one.
By David Denicolo | Originally published in Wa
tch!
Magazine, December 2016
Photo Credit: Jamie McCarthy/FilmMagic/Getty Images (Huma Abedin); Victor Virgile/Getty Images (runway); Patrick Lichfield/Getty Images (Talitha Getty and husband).