In its seventh and last season, The Good Wife went out with a bang—or, rather, a slap.

As top attorney Diane Lockhart, Emmy winner Christine Baranski delivered the final blow to Alicia Florrick (Julianna Margulies) after her longtime colleague and mentee betrayed her in the courtroom to defend her husband, embattled Illinois Gov. Peter Florrick (Chris Noth).

"Alicia was still to the bitter end trying to be the good wife, trying to get her husband off," Baranski says. "She wound up being the bad friend; the bad colleague."

Now, The Good Fight is just beginning.

SUBSCRIBE: Watch The Good Fight Exclusively On CBS All Access

In this spin-off of the original legal drama created by Robert and Michelle King, Diane returns a year later at the helm of a much bigger law firm, with a fresh wardrobe and a new colleague, Lucca Quinn (Cush Jumbo), the ambitious young lawyer who helped Alicia double-cross Diane in that infamous series finale.

We caught up with co-stars Baranski and Jumbo at a recent Watch! photo shoot in Manhattan to get the full debriefing.

What have you heard from viewers about that slap?

CUSH JUMBO: [Laughs.] Oh, I've had a few moments with fans. People are so invested in the show. Six weeks later, you're in an elevator going to a very high floor, and the person traveling with you is like, "You know, I thought that what you did was really unnecessary. You screwed Diane."

You chuckle away, but it is a reminder of what was effective about it. It caused debate. You want to be on the show where everyone's talking about it, and then weeks and weeks later, people are still thinking about it.

I love that you two are big fans of each other. Cush, you used to watch The Good Wife when you were a newly graduated drama student in London?

JUMBO: I always watched from the first episode. I'm a massive fan of the show. I know all the judges, the storylines, I know what court worked with which lawyer, and I know who is in the ASA's office.

And then you get a job on the show, and you are stepping into your own brain, because you never think you're going to get a job on a show that you actually watch.

Christine, is it true that you "discovered" Cush while she was performing her one-woman show about Josephine Baker, Josephine and I, at New York's Public Theater?

CHRISTINE BARANSKI: I came to see Cush, and I looked at her and I said, "We've got to have this young woman on the show." Archie Panjabi [who played Kalinda Sharma] was leaving, and I was emailing [the producers] that night. I said, "You've gotta see this young woman."

With the spin-off, I also took Cush aside and said, "I want you with me. Can we make this happen? You gotta be on the next one." We adore each other. Oh my God, the levels of irreverence and silliness.

JUMBO: Christine's very silly. We have a kind of silly set, though.

You're clearly both very theatrical. Will Diane Lockhart ever have a Mamma Mia! moment, singing and dancing?

BARANSKI: There was so much musical talent on The Good Wife. We'd have Nathan Lane, Alan Cumming, Laura Benanti, Danny Burstein. We always joked that maybe Alicia, in her dream, is at a Christmas party where they all start singing. It wasn't in keeping with the style of the show. But we're always singing when the cameras stop rolling.

What do you sing?

BARANSKI AND JUMBO: [Singing together.] This is how we dooooo it...

Wait, Montell Jordan?

JUMBO: Montell Jordan. You wouldn't think it's our jam. It's our jam. Especially on a Friday night, and it's late. And then I'll get the whole crew going.

BARANSKI: [Still singing.] Thiiiis is how we shoot it, shoot it. We sing it for the camera people. It's pretty silly.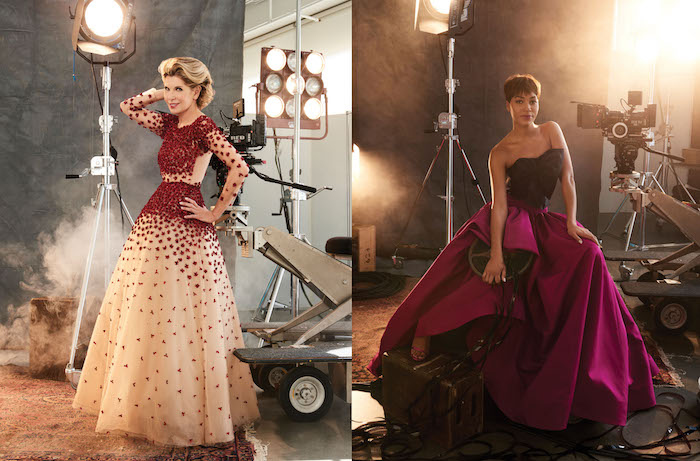 Speaking of more silliness and irreverence, not long ago Sarah Silverman revealed that her boyfriend, Michael Sheen, has an interesting name for his penis.

BARANSKI: Yes. It was out there. Sarah Silverman apparently tweeted that Michael Sheen … you have to say it. I can't even say it.

… Named his penis "The Christine Baranski."

BARANSKI: "The Great Christine Baranski." He refers to his penis as "The Great Christine Baranski." I was getting emails from people saying, "Oh my God, have you heard this?" And I was like, "What?" I am going to take it as the ultimate compliment. I like that actor a lot. So, hey, whatever works for them.

JUMBO: Well, you're working for them. You're keeping people together. That's how you know you've made it, OK?

BARANSKI: If I ever see him, I don't know how I'm going to look him in the face. I'll just keep my eyes down.

JUMBO: I feel a guest spot coming on!

You've had some fantastic guest spots in the past—even Gloria Steinem did a cameo on The Good Wife. What was it like having her on?

BARANSKI: Julianna was beside herself with excitement. I didn't get to meet her. But it's wonderful when a great feminist icon is willing to come on the show. The Good Wife was groundbreaking in presenting women as smart and capable, dealing with the complexities of their personal lives.

The phrase "having it all" comes to mind. Does it mean anything to you—or do you think it's just an empty catchphrase?

BARANSKI: Well, I raised two girls and had a marriage and a career, so I guess I had it all, but I can only say you can't have it all at once, because when you're working, you're away from your kids, and when you're staying home with your kids… I always compared it to a crucifixion where you're pulled in two directions.

I worked with Julianna for seven years, and I said, "I get what you're going through, girl. You have a small child, and you work long hours, and it's really hard." Talk to any woman who's trying to do family and work, and you will talk to a woman who's exhaustively stressed out and coping as best she can.

The best thing you can do is get your rest and take care of your health.

JUMBO: It's an alchemy that's not real, is it? Everything costs something.

Alicia embodied some of these issues as a working mother of two on The Good Wife. But Diane also dealt with the balancing act that is modern womanhood, marrying her career first and, later, ballistics expert Kurt McVeigh (Gary Cole).

BARANSKI: I can't tell you how many people loved that relationship. They were really stricken by the idea that he would cheat on her. That infuriated women. But Diane, for all her power, did not fall into the cliché of being a bitch or a bitter woman when she goes home. So often the woman in power of a certain age, she's [portrayed as] successful—but she's unhappy, she's an alcoholic, she's a raging bitch.

Diane's not a saint; she's multidimensional. What a gift to an actress to be given, at this point in my career, a chance to play a highly intelligent, highly accomplished woman who's a leader, who knows how to negotiate power, who deals with the complexities of the modern professional landscape and her personal life. There's just so much intelligence there, and to say nothing of a well-produced show, beautiful clothes... I mean, I never stop thinking how lucky I am as an actress to have landed this [role] at this point in my life. I was never the ingénue.

[To Cush] Were you ever the ingénue?

JUMBO: No… I think I skipped it.

BARANSKI: You're too interesting to be.

Lucca is also too interesting to be "the ingénue." Cush, what do you love about playing her?

JUMBO: As a British actor, this is the first part I ever played that wasn't specified "mixed race" or "black." It was just a part. [Robert and Michelle King] always pushed the idea: "We want you to be the Switzerland of race. You defend [clients] if you need to defend them, and you're hard on them when you need to be hard on them, and you sleep with everyone if you want to sleep with everyone, but you're not there as our black lawyer. You're not there to represent anybody."

Our world is so wide, so let's not have one version of everybody. Let's have a huge reflection of all kinds of different people. And in that way, we can all begin to just watch the show—a bit like Hamilton. You start watching the show—and stop thinking about color.

If your characters were cocktails, what would they be?

BARANSKI: Oh, I think Diane would probably be a glass of Jack Daniels on ice. Something strong that goes down like liquid fire. Everybody thinks martinis, but I did martinis as Maryann Thorpe [on Cybill], and next thing you know, everyone was sipping martinis on television.

Diane used to always pour some scotch with Will [Gardner, played by Josh Charles]. She'd pour a dark liquid—and I think she would be bourbon or whiskey.

JUMBO: I think Lucca's probably a margarita with the smoky salt. Like, get you going, a bit unpredictable, but can also just be enjoyed… salty and sexy.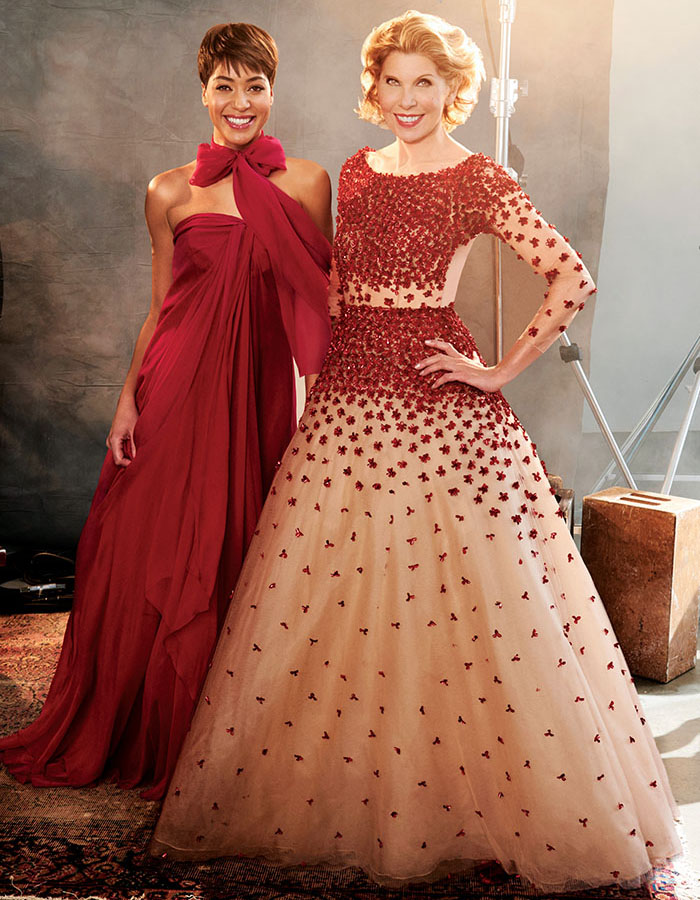 Well, I'd be remiss if I didn't ask about the fashion on the show and what costume designer Daniel Lawson has planned for you over the next 10 episodes. Christine, you've called yourself "Litigation Barbie." Cush, what does that make you?

JUMBO: Black Associate Legal Barbie? [Laughs.] Being a new character, you're trying to assimilate yourself clothing-wise into something, but the genius of Dan is, he doesn't ignore any natural elements of you.

He doesn't ignore the fact that you're of a different race or that you might be a different shape and just shove you into something, because it's like, "Well, you're the young one. You wear this."

BARANSKI: I can only say that at the beginning of this next incarnation, you will see Diane in top form. She's going to look pretty amazing, and it's going to be very light colors because she's happy, she's fulfilled, she's moving on with her life.

Have you borrowed any good fashion insight from your characters and used it in real life?

BARANSKI: I've learned the power of a pin. Women will stop me on the street and say, "That episode where you wore that pin, you know, the bird—where did you get it?" Women really are looking. Top-to-toe fashionable women. We will never want to lose that aspect of the show.

Can you give us a forecast of what's coming up, in terms of storylines and future cases?

BARANSKI: Here's what I can say generally: I loved that the Kings would write about cultural issues on The Good Wife—gay marriage, the internet, drones, right to life, right to die. We took on moral issues and discussed them in court—you would see both sides of issues that are very hard to adjudicate, very hard to take a strict moral position on.

I think that's one of the strongest reasons people so loved the show. The most interesting court cases we had were about discussing the gray areas. In life, it's never one way or the other, right or wrong, go to jail. I've always loved that element of the show. And I think that will continue.

It will be interesting to see how the headlines of 2016 will play into the plotlines of 2017. The election—and the infamous Trump tape in particular—was stranger than fiction.

BARANSKI: I emailed Michelle when I saw Melania having to sit there in her little pink Gucci. I said, "It's The Good Wife. It never ends." After that tape came out of [Trump] in the bus, and the stories, she still had to smile. She actually did an interview where she said, "I can't believe my husband would do that." She had to be in that position of, "You're the wife; if you say it's okay, it will be okay."

JUMBO: Right. Whether you believe it or not is not the point. What you think is not the point.

BARANSKI: She's having to do what Hillary Clinton did, which is, "I'm going to stand by my man for the sake of his political future." It just doesn't go away.

Speaking of Hillary Clinton: Christine, is it true that when The Good Wife ended, you took a photo of her from Diane's office?

BARANSKI: I tried to, and I don't have it because I think it may play into a story—her taking it. You're going to see it again.

By Brooke Hauser | Originally published in Watch! Magazine, February 2017.

Photo Credit: Kristian Schuller.

Stream The Good Fight now on CBS All Access.