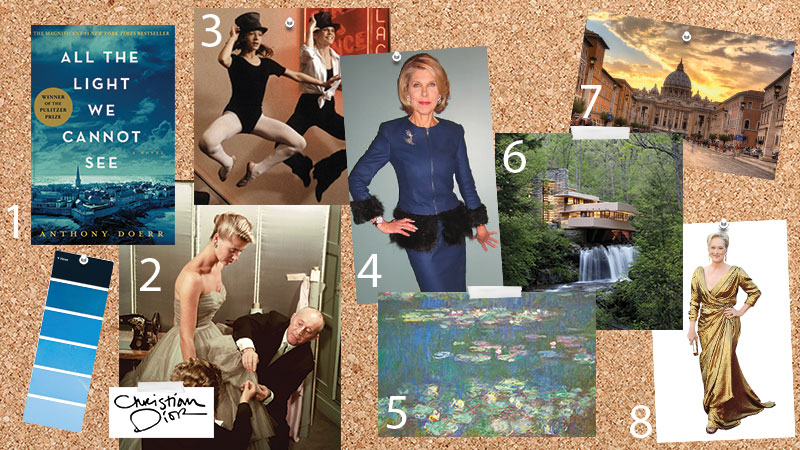 What's on your bedside table?
My favorite thing is one of two matching midcentury modern lamps in light blue rustic clay with black and white broken porcelain tiles embedded in the clay. I also have a stack of 14 books: some already read, some waiting to be read and a majority that are about half read, which reflect my Colonial American history phase. My least favorite thing on the table is the alarm clock that wakes me each morning to the sound of pealing church bells.

What are some of your recent favorite books?
The last book I read was When in Rome: A Journal of Life in Vatican City by Robert J. Hutchinson. My daughter and I read together and loved Wildwood Imperium by Colin Meloy, which is the third in the Wildwood series. My favorite books in a long while were The Boys in the Boat by Daniel James Brown and All the Light We Cannot See by Anthony Doerr [1].

Who are the iconic designers you most admire?
Absolutely Frank Lloyd Wright. Christian Dior [2]. Artus Van Briggle. Gustav Stickley.

Which costume designer's work do you most admire?
Albert Wolsky [who won Academy Awards for All That Jazz and Bugsy] [3] is a genius. He is a master of character development with an amazing eye for period detail and the uncanny ability to translate that detail into the tapestry of the story.

What object on your desk do you most treasure?
A multicolored striped ballpoint pen I bought in Paris with my husband a few years ago. All I need to do is look at that pen and I am back in Paris with him and our great friends.

Who inspires you?
My daughter and her unbound energy and creativity are incredibly inspiring to me. Often my leading ladies are very inspiring as well: of late, Julianna Margulies, Christine Baranski [4], Mary Elizabeth Winstead, Mary Elizabeth Mastrantonio. Of course, fellow costume designers and their work are wonderfully exciting: Lyn Paolo (Scandal), Jenn Rogien (Girls), Janie Bryant (Mad Men), to name just a few. I love learning and I think inspiration is like learning—keep an open mind and you never know when something new is going to be coming around the corner that shapes the way you think.

How do you get into a creative frame of mind?
By immersing myself in a script—when I read a script, a million different ideas come into my mind. It's very exciting. Also, working very early in the morning when no one else is around is my favorite time to be creative and get things done. Art always puts me in the creative mode, too!

If you could own one piece of art, what would it be?
I've never seen a Monet painting [5] that hasn't absolutely transported me. To own, or rather be the guardian of, one of Monet's Water Lilies paintings would probably be the ultimate. I love the Musée de l'Orangerie in Paris and just sitting in the world Monet created.

If you could live in any building, what would it be?
[Frank Lloyd Wright's] Fallingwater [6]. It's simply breathtaking.

Top vacation destination?
Rome [7]. But only if my family can be there, too. No fun without them.

Who would you like to dress?
Meryl Streep [8]. To be able to collaborate with her would be a dream come true.

To see what else inspires Lawson, follow him on Twitter @danlawsonstyle.

Photo Credits: Lawson: John P. Filo/CBS; Corkboard: vuk8691/Getty Images; Color chart: Image Source/Getty Images; Dior: KAMMERMAN/Getty Images; All That Jazz: ©20thCentFox/Courtesy Everett Collection; Baranski: Courtesy Daniel Lawson; Monet: Peter Barritt/Getty Images; Fallingwater: Courtesy Western Pennsylvania Conservancy; Rome: Loic Lagarde/Getty Images; Streep: Michael Buckner/Getty Images; Tape: loops7/Getty Images.

Stream The Good Fight now on CBS All Access.